I am very busy preparing for my vacation in Berlin which is just a month away. Last month I intensified my study of German but this month I concentrated on improving my knowledge of the city. Google Street View is now available for Berlin so I've been using that to pinpoint the location of landmarks and buildings. Transportation is one of my major concerns so I've been searching for photos of various U-Bahn stations. Online maps and photo sharing sites make it easy to do extensive armchair traveling. Although I have read dozens of guide books this research is really helping me to know what to expect.
On Saturday I saw the new action thriller Unknown starring Liam Neeson. This is a great movie to watch if you are planning a trip to Berlin. The arrival of the main characters in Berlin was a very interesting sequence for me. It shows Liam Neeson arriving at Tegel Airport which is where I will be landing. I noticed that he did not have a problem finding the taxis because they were waiting for passengers right at the exit. And the taxi driver knew English. Liam Neeson went to the Hotel Aldon on Pariser Platz near the Brandenburg Gate. That luxury hotel is far too expensive for me but I will probably see it when I visit the Brandenburg Gate. I will be staying at the Lux 11 Berlin-Mitte hotel near the Television Tower. I wanted a hotel near the Fernsehturm so I will always be able to find my way back to the hotel. That Television Tower is visible from everywhere in the city. It is close to the Volksbühne theater.
I already have my Berlin Welcome Card and a BVG transportation ticket. You can order that online although it is more expensive when you factor in the shipping. But I figured it would save me the trouble of finding one in Berlin.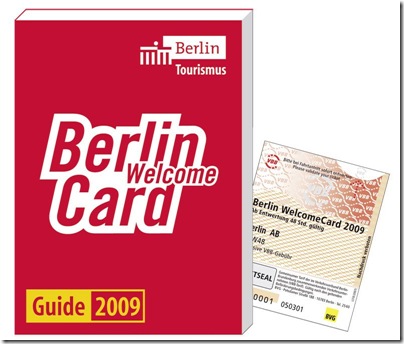 I have enough Euros left over from my Paris vacation for this trip as initial cash for a taxi. The only thing that I still need to do is book my flight. In March, I plan to memorize the most useful German phrases. Although I can now read German a bit, my pronunciation and hearing skills are poor. I'm afraid that self-study through books does not develop those skills. But now that I have a car with a CD player I can listen to one of my German language learning CDs on the short drive to work.
After Berlin, the next European city that I visit will be London. I was planning to make Venice next but I don't have the time to learn a third language like Italian. At least I won't need to learn English for a trip to London! I'm not sure if I should continue to learn German after returning from Berlin or go back to studying French. My German is further along than my French and I have sunk a lot of money in the resources to learn German. German is a more useful language in Pennsylvania because the Amish speak a form of German.