On Saturday, January 22nd 2011 I made my first trip to New York City for the new year. I was not planning on doing much traveling in the winter but my brother was going on this trip so I made a reservation too. He wound up cancelling. Although it was bitterly cold I was bundled up like a homeless person with too many layers of clothes and actually spent most of the day sweating.
My focus for this trip was Chinatown, a New York neighborhood which I've never visited on any previous trip. Since it was a very cold day in winter, Chinatown was not busy, with only a few tourists wandering about. I immediately made my way to the famous Peking Duck House restaurant for lunch. This is rumored to be former NYC Mayor Ed Koch's favorite restaurant. I was a little too early so I had to wander around and take photos of the statue of Confucius in front of the Confucius Plaza Apartments, the Benjamin Ralph Kimlau Memorial Gate at Kimlau Square, and the statue of Lin Ze Xu. I was the Peking Duck House Restaurant's first customer of the day when I went back. I ordered the fried squid which is a rubbery type of food, but tasty. You cannot order the Peking duck unless there are four people in your party. I was worried that it would upset my stomach but I did not experience any discomfort of any kind for the entire day. After lunch I found Ting's Gift Shop where I wanted to buy a souvenir but I was not sure they were open. I should have been more daring and tried the door.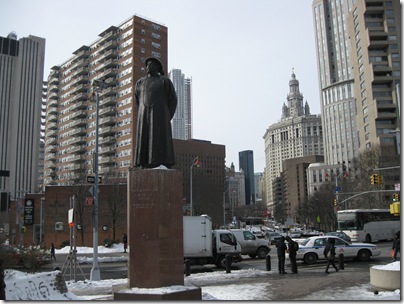 Next I went to the Museum of Chinese in America, a small museum in Chinatown. It did not take me long to view their exhibits because I did not read many of the descriptions. To be perfectly honest, I was not very interested and only went to this museum because it was something to do in Chinatown. I did buy an interesting graphic novel from the museum store, Johnny Hiro by Fred Chao.
After that I lost my enthusiasm for Chinatown and decided to go to the Strand Bookstore. I relied on my custom NYC travel guide on my iPod Touch for directions. It does not require a wireless connection and includes all the I research I've done for navigating the city. So I was able to determine that I should take the subway to the 14th Street Union Square station and then walk south to reach the Strand Bookstore. Before I reached the Strand I saw a little bookstore around the corner selling rare books. I thought it was the Argosy Book Store but it was too small and I now see that it was the Alabaster Bookshop. I had trouble finding any book I wanted and eventually settled for The Land of Green Plums by Herta Muller, a Nobel Prize winning author. I remember seeing this book on Amazon. The book is about how German ethnic minorities suffered in Romania under the dictatorship of the Ceausescu regime. Cheerful stuff! I'm actually trying to avoid this kind of German misery. In order to learn the language, I need to associate German with positive and pleasant things to offset the dreary chore.
Based on my previous visit to the Strand Bookstore, I knew to head down to the basement where they keep their books in foreign languages. New York City tourists from Europe should head to the Strand Bookstore if they want to find reading material in their language, although I doubt that most tourists want to find a good book to curl up with when they have so much to see in New York City. I specifically went to the Strand Bookstore to find books in German because I knew they would have them and they are expensive to order from Germany. I found an entire bookshelf of books written in German but it was hard to pick one without being able to read every title. I could figure out what some of the books were about. Eventually I found some nice hardcover books on a nearby bookcart. These books were brand new in shrinkwrap so they seemed a little better than all the used books. I bought two novels by Theodor Fontane, Effi Briest and Frau Jenny Treibel oder Wo sich Herz zum Herzen find't .  Theodor Fontane is a famous Berlin novelist from the decline of the Prussian empire. I've already read an English translation of Effi Briest, the only one of his novels translated into English. So I consider the Frau Jenny Treibel book a real find. Unfortunately, literary works are beyond my level of German. I have trouble even reading a children's book like Kleiner Eisbär, kennst du den Weg? I also bought Joseph Conrad's The Heart of Darkness in German, Herz der Finsternis. At least I recognized the noun Herz which means Heart.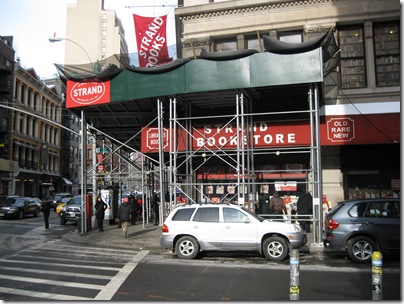 It was still only 2:00 pm so I decided to visit one of the minor museums on my NYC to do list, The Museum of the City of New York. This museum is way uptown on the Upper East Side. So I took the 6 train all the way to the 103rd Street station. I'm always getting mixed up by the street names on the Upper East Side so I frequently needed to consult a saved Google Map on my iPod Touch. The subway lets you off at Lexington Avenue. If you reach 3rd Avenue you are heading in the wrong direction, away from Central Park. If you are heading in the right direction you should cross Park Avenue and then Madison Avenue. Unfortunately, I don't have that memorized.
Most of the permanent exhibits at the Museum of the City of New York were closed. This always seems to be the case when I visit a museum! What I could see where the exhibits Glorious Sky, Herbert Katzman's New York and Denys Wortman Rediscovered: Drawings For The World-Telegram And Sun, 1930-1953. Denys Wortman's cartoon drawings of everyday life in New York City were a particularly fascinating cultural artifact of the city. I liked them enough to buy a book of his cartoon drawings at the museum store. I also could not resist buying Store Front (Mini) – The Disappearing Face of New York, a great book of photos of classic New York City. The Museum of the City of New York museum store is a good place to find NYC souvenirs, although all the museums tend to sell books on the city itself.
I left the Museum of the City of New York at 3:30 pm so I still had four hours to kill until my bus left. I thought about walking through Central Park but that would have been tiresome for four hours. So I decided to visit the The Metropolitan Museum of Art again. The Met is always a great place to kill some time in New York City but I think I've finally seen everything there. I did have my camera with me as I viewed the exhibits and was not shy about taking photos so I have some great shots of what you can see there. Some notable artworks that caught my eye were; Jean Beraud's The Church of Saint-Philippe-de-Ronde,  Paul Delvaux's Small Train Station at Night, and Gustave Moreau's Oedipus and the Sphinx. Since the Met is open until 9:00 pm I was able to spend several hours there and only left at 6:30 pm in order to make it back to the bus pick up spot via the subway and walking. On the bus ride home we watched the movie Wild Hogs because many of the other passengers were in NYC for the motorcycle show at the Jacob Javits Center.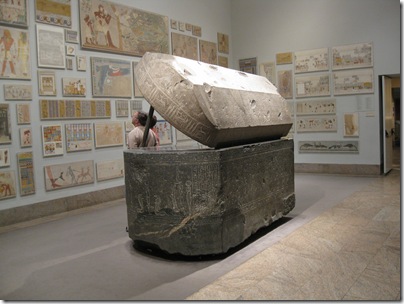 This may be my only trip to New York City this year. I have seen all the major tourist sites in Manhattan. I could begin to explore Brooklyn, as every New York City resident frequently urges you to do, but that requires extra travel from Manhattan. I definitely plan to make this my big year for exploring Philadelphia. There are three bus trips I could take to Philly; the Philadelphia Flower Show in March, the Philadelphia Zoo in July, and the Murals of Philadelphia and National Constitution Center. I'm not sure about the Flower Show because that does not interest me and it costs extra.