Yesterday I made my 22nd trip to New York City. The purpose of this trip was to explore the theater district more thoroughly. I wanted to locate and photograph many theaters, particularly Off Broadway theaters in the Hell's Kitchen area.
Unfortunately the trip got off to a bad start because after parking in the parking deck I realized I had forgotten my camera. I was really pissed off at myself for forgetting my camera because I needed it for an important aspect of the trip. I usually bring my camera in a small shoulder bag that I use for my small electronics. I was too focused on my iTouch and new cell phone to notice that I'd forgotten to put the damn camera in the bag.
So the first thing I had to do in New York City was spend several hundred dollars on the unnecessary purchase of a new camera. Fortunately there are many stores in New York City selling electronics; cell phones, digital cameras, lap tops, and all the other electronic gear that is so popular now. I only had to cross the street from where the bus dropped me off to find a little store selling digital cameras. I bought a Fujifilm FinePix JX400 for less than $200.00 with a 4 GB SD Card. This is comparable to my regular Canon PowerShot A1300 which I forgot to bring. However, it does have one major drawback. It uses a rechargeable camera battery instead of the AA batteries the Canon PowerShot uses. This meant that later on I had to find another camera store to buy an additional camera battery which was expensive. I have to admit that the Fujifilm FinePix does seem to take better pictures than the Canon PowerShot. The camera store sales person thought I was French and tried to speak French with me which was funny.
The first photo I took was a photo of Ellen's Stardust Diner and the Iridium Jazz Club next door to it. The Stardust Diner has become a significant landmark to me because the bus always leaves us off in its vicinity so I've seen this restaurant on every trip to New York City. I never noticed the small Iridium Jazz Club until I researched the area for this trip. Unfortunately most of their shows start at 8:00 pm which is usually when my bus leaves. At this point I should mention that I have begun to research overnight trips to New York City. I could drive to New Jersey and take public transportation into the city. There are several motels and hotels in New Jersey which are far cheaper than anyplace you will find in Manhattan. But this requires navigating the massive New Jersey highway system which gets quite confusing in the greater metropolitan area and knowing the New Jersey public transportation system; PATH subway, buses, hotel shuttles, etc.
After that I headed to Times Square. Native New Yorkers avoid Times Square like the plague but it becomes more significant if you are interested in Broadway Theater. A lot of the billboards and digital signs are advertising Broadway shows, and Times Square is where you will find the TKTS ticket booth selling discount tickets for Broadway shows. I spent a lot of time here because I wanted to familiarize myself with which street the Broadway theaters were located on in relation to Times Square. For example, I was interested in the Paramount Building because it houses the offices of the Dramatists Guild. The ground floor of the Paramount Building is taken up by a Hard Rock Café and if you don't do your homework this building will go unnoticed as a commercial establishment. It is important to note that this is on the southern end of Times Square while the TKTS ticket booth is on the north end. Going towards the southern end takes you to 42nd Street where many of the Off Broadway theaters are located. The distinctive Yahoo! sign is gone from the south end of Times Square so don't look for that.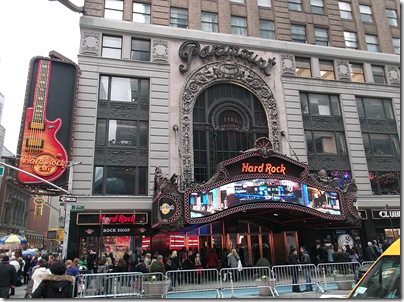 One of the more interesting streets I explored was West 45th Street where two of David Mamet's plays are currently running. His play The Anarchist is a flop at the Golden while just down the street his play Glengarry Glen Ross is a huge hit at the Schoenfeld Theatre because Al Pacino is starring in it. But I also located the home of New Dramatists and the nearby Actor's Studio. There was a limousine trying to park across the street from the Actor's Studio which led me to think a movie star was visiting.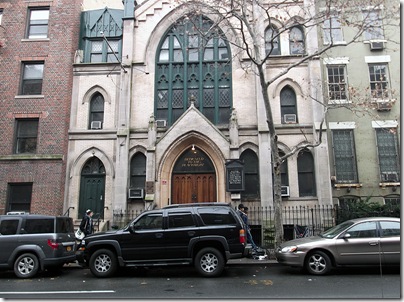 At 12:00 I went to the Theatre Row Diner for lunch. Although located on West 42nd Street it is closer to the many Off Broadway theaters on that street than to the Broadway theaters around Times Square. Fortunately the restaurant was not too crowded and I was able to get a seat. It has a nice interior with photos of Marilyn Monroe. I ordered the Grilled Chicken Louisiana club sandwich which was a little too big for me to eat. Lunch only cost me $15.00 so this is definitely a more affordable option than the fancy restaurants I visited on my last trip.
After lunch I went to the Drama Book Shop for a little shopping. This bookstore is the best place in the city to find books of plays, although I think it mostly caters to actors. I had intended to look for the work of Steven Berkoff, an experimental British playwright famous for playing villains in major movies, but unfortunately I forgot his exact name. Well – I don't think they had anything by him anyway because I did look in the Bs. Instead I bought the centennial issue of The Dramatist published by the Dramatists Guild of America.  I used to belong to this organization back in 1995 but I stopped paying dues. I also bought Plays From Playwrights Horizons: Volume Two because Playwrights Horizons was one of the Off Broadway theaters I located on 42nd Street. This bookstore even has a small performance space and I think something was going on during my visit because I could hear it.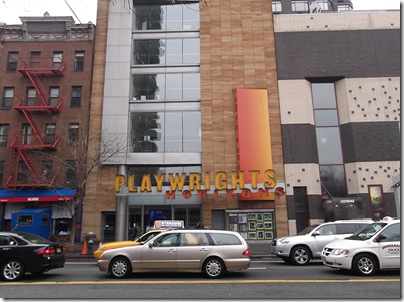 Then it was time for the highlight of my trip, a matinée (i.e. afternoon performance), of a play by a playwright I'm familiar with at an Off Broadway theater. I selected the Signature Theatre Company because they have a new and impressive facility, the Pershing Square Signature Center, with three stages, a café, and even a book store. It is rare for a theater to have its own bookstore but I love the concept! The reason for that may lie in the Signature Theatre Company's unusual practice of devoting an entire season to a single playwright's work. In other words, they give the playwright a lot of love. I wanted to see The Piano Lesson by August Wilson because that playwright is associated with Pittsburgh PA but unfortunately that play was sold out on that day. Fortunately I did manage to get a seat for Golden Child by David Henry Hwang. I'm not entirely unfamiliar with David Henry Hwang because I must have read some of his shorter plays in some anthology; his name appears in my reading list database. Before the show began I bought a copy of the play at the Signature Theatre Company's bookstore which was much smaller than it appears from the online photo. The Golden Child was a great play! It was like a trip to Chinatown, only better. I had a center balcony seat so I had a godlike perspective on the human drama being played out. I especially liked the scenes with ghosts so maybe I should write a play with ghosts. I like the supernatural aspect of that. The only complaint I have with the Pershing Square Signature Center is that they don't have a coat check so everyone had to arrange their winter coats and shopping bags around their seats. I was actually too bundled up for the day because it was extremely warm in New York City for December. I could have been comfortable with a light jacket and I never even put on my winter hat.
After the play my next destination was the Empire State Building. Frankly, it was a big mistake to visit the Empire State Building that day. I feared that it would be bitterly cold that high up but the actual problem was zero visibility. Everyone in the building was warning visitors about the zero visibility but I decided to go up anyway. Unfortunately they weren't kidding and you couldn't see anything at all. There was just a solid white wall of fog. Looking straight down you could barely see some traffic. I forgot to mention that coming in to New York City was also disappointing because you could not see the skyline from the New Jersey approach roadway, The Helix. Where the New York City skyline should have been there was just a solid wall of white fog as if the city had disappeared. I did pick up my Empire State Building Official Souvenir Book which I ordered online with my ticket only to get a voucher which I had to present at the ticket counter. I also bought a New York City Digital Postcard at the Empire State Building. I decided to buy this because I was tired of searching online for quality photos of NYC landmarks.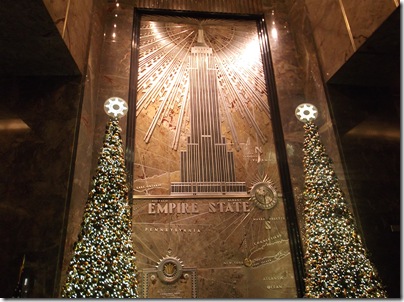 For the rest of the trip I just hung out on Times Square like any other tourist. I saw the famous Naked Cowboy in Times Square. He was still practically naked because it wasn't too cold. He was banging a bongo drum while a belly dancer danced. There were all sorts of other street performers including Mickey and Minnie Mouse, the Statue of Liberty, Batman, and even the Predator. The Predator tapped me on the shoulder when I was in his way at a crosswalk. I also saw a few camera crews filming a professional entertainment reporter (or so I assume).
To conclude, this trip was certainly very inspirational. I've been giving some thought recently on how to sustain my interest in playwriting. I know some powerful techniques to develop and stoke an obsession but it is difficult to maintain my interest in something for long. I've been thinking that I really need to dream of a fantasy theater, a theater that would be more profound and mysterious than anything that exists, and then work on creating material for that vision of a theater. This has the advantage of allowing for a mythos. In order to sustain an obsession you really need to satisfy the mythic imagination. You need to be dealing with matters of high significance and commercial entertainment and even literature often can't touch that.