Tonight I paid twelve dollars for a three penny opera. That is how much prices have been inflated since 1928 when this musical was first written. The Threepenny Opera is the most famous work of the German dramatist Bertolt Brecht. I have read twenty three of Bertolt Brecht's plays so it was a thrill to finally see one performed live. During my trip to Berlin I could have visited the Berliner Ensemble but unfortunately I did not find time for that. However, it is interesting that The Threepenny Opera is set in SoHo, London and I did visit that neighborhood during my trip to London. That is part of the thrill of travel.
I forgot to mention that I saw this musical at the Mary L. Welch Theatre on the campus of Lycoming College.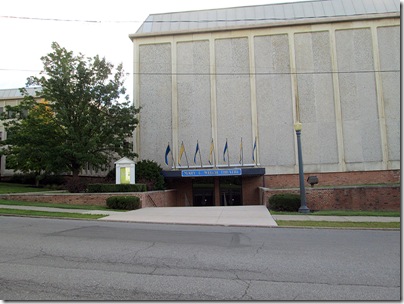 The costumes and set design for this production were very elaborate and professional. The entire cast wore Cabaret style makeup which made them look like zombies. I actually found this the most fascinating aspect of the show. I am strangely fascinated by theatrical makeup and the Expressionistic aesthetic of this production was very surreal. It gave the show just the right touch of German decadence. "The Ballad of Mack the Knife" was a catchy tune which sounded very familiar. I may buy a DVD and cast recording CD of The Threepenny Opera later on. Tom Ryersbach played the part of Jonathan Peachum. I recognized him from many Community Theater League performances.
Hopefully the residual inspiration of this musical will encourage me to continue writing ten minute plays. I am working on one now for a playwriting contest which I'm eager to finish. I am also still expanding my travel notes on New York City to include more Off Broadway theaters. My next trip to New York City will probably be a tour of the Off Broadway theaters but I don't know if I can find an actual show to attend in the afternoon. However I can visit the Drama Book Shop again and have lunch at the Theatre Row Diner. New York City has always been a major theater city.