Yesterday I made my third trip to Charm City, aka Baltimore Maryland. Baltimore is often overlooked by East Coast tourists but it has so much to offer that I have not exhausted its potential after three visits. On this trip my goal was to explore the neighborhoods of Little Italy and Fell's Point.
But before going to Little Italy I visited each of the four historic ships docked at the Inner Harbor. First I visited the the USS Torsk, a WWII-era submarine. This is the third submarine I've been in. The other two submarines were the USS Growler at New York City's Intrepid Sea, Air & Space Museum and the submarine Becuna at Philadelphia's Independence Seaport Museum. There is one more submarine I could visit in Pittsburgh. Then I went aboard the Lightship Chesapeake which was a very short self-guided tour. I remember their exhibit on all the dogs they had as mascots. After that I went to the USS Constellation, a sloop of war that saw action in the Civil War. This was the best historic ship of the lot in my opinion. It was the oldest ship and had sails. Finally, I visited the U.S. Coast Guard cutter the USCGC Taney which is somewhat hidden behind the National Aquarium on Pier 5. It cost me $18.00 to visit all four ships and only took about an hour. I'm glad I got that out of the way so I can concentrate on other things during future trips to Baltimore.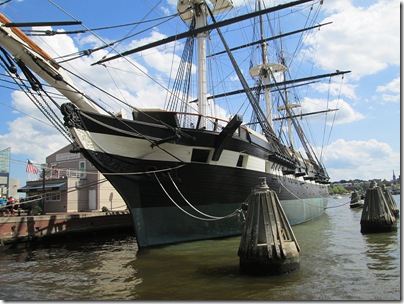 After leaving the USCGC Taney it was a short walk east to reach Little Italy. Since Venice will be my next major vacation, I was very interested in this ethnic neighborhood. I had lunch at Amiccis. There are many fancy Italian restaurants in Little Italy with genuine Italian cuisine but I choose Amiccis because it has a reputation for being less formal. I ordered the Donna, shrimp sautéed with sweet bell peppers and fresh mushrooms in a garlic butter white wine sauce. Served over a  bed of fettuccini. I also had an alcoholic drink, some kind of grape cocktail which I don't find listed on their web site. There was a Little League game on the television which amused me because I totally blew off the games to come here. But if it had been the last game of the Little League Baseball World Series the bus trip probably would have been canceled since nobody in Williamsport would want to miss that.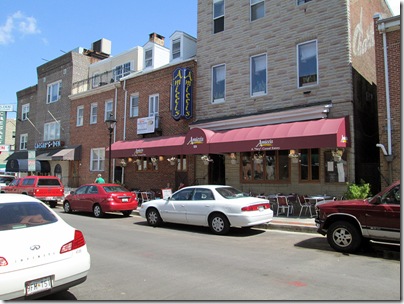 As luck would have it, there was an Italian street festival taking place that day, Feast of St. Gabriel Festival, so I paid the $1.00 donation to walk through the street festival. It was a fairly small street festival featuring various vendors in sidewalk booths and a live band. I did buy a 8×10 photo print of the Grand Canal in Venice to serve as inspiration for my dream vacation. I also found an ATM where I withdrew $60.00 because I had already spent half my money. The ATM was a bit unusual because it was a portable model set up in the street for the street festival.
After leaving the Little Italy street festival it was a long walk to reach Fell's Point, the main goal for my trip. Fell's Point is a quaint waterfront neighborhood of boutiques, bars, and fine restaurants. There seems to be an urban trend to convert old neighborhoods into boutique villages for the tourists. Philadelphia has its Old City district and Washington DC has its Old Town Alexandria. The first establishment I visited was Sound Garden, an independent music store which also sells DVDs. Unfortunately, digital media has ruined shopping for me because virtually every music store, book store, and video store has gone out of business. But I still like to buy something physical like a book, a DVD, or a CD. At Sound Garden I bought a DVD of the movie Angel Heart, a horror movie set in New Orleans and a jazz CD by Preservation Hall, a famous jazz performance hall in New Orleans. Unfortunately, I read the Wikipedia article on the movie Angel Heart which ruined the surprise ending. They need a spoiler alert warning on that article!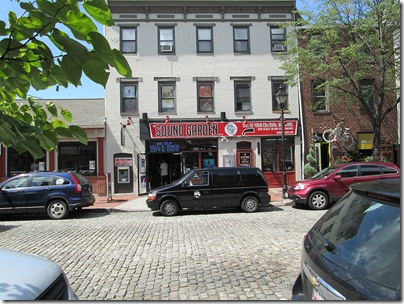 I also had some Crema gelato at Pitango Gelato which was very good. It was very expensive but high quality exactly as described on their web site. While in Fell's Point I managed to buy a copy of the Baltimore Sun newspaper. Obtaining a copy of the local newspaper is one of the more serious aspects of my regional trips because it could be useful if I ever need to relocate to find work. After inserting four quarters into the newspaper vending machine I opened the box only to find it empty so I returned the "fuck you" by taking the display copy. At least everyone else could see it was empty then.
I still had many hours left in Baltimore before my bus left so I walked along the piers and took photos of many yachts. I really like yachts. They are like the sports cars of the sea. A yacht is a potent symbol of wealth and leisure and travel. Off in the distance I could see the famous Domino Sugar sign so I tried to take photos of yachts with the sign in the background. Unfortunately, the sign is barely visible in my photos because it was too far away. Eventually I walked clear around the Inner Harbor to visit the American Visionary Art Museum yet again. I've visited this museum every time I've been to Baltimore and they hadn't even changed the exhibits since my last trip. But since I have a membership card it did not cost me anything to see everything again. I took my time and tried to absorb more details. My favorite artwork was sculptures made out of old vacuum tubes and a rocket ship made out of an Electrolux vacuum cleaner.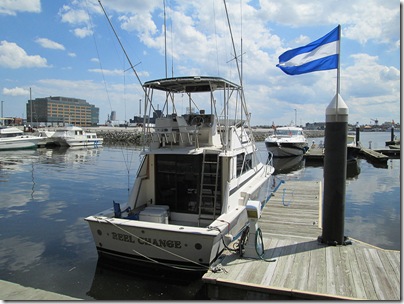 There have been enough books published about mysticism, visionaries, visionary art, and mythology to fill a bookstore. Unfortunately the Sideshow bookstore at the American Visionary Art Museum chooses not to stock any of them. But I did manage to find two books that I thought worth buying, a Wormwood: Gentleman Corpse graphic novel which is gothic enough to appeal to my tastes, and a cult cinema book on the films of Italian director Mario Monicelli which will help me to explore obscure aspects of Italian pop culture. To be fair, I did see Carl Jung's Red Book on display at the American Visionary Art Museum which is very cool indeed.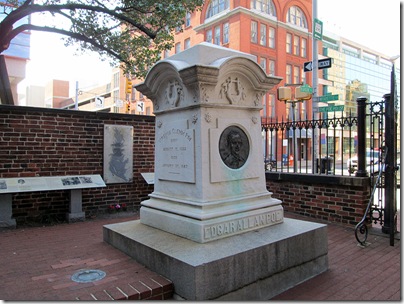 After leaving the American Visionary Art Museum I still had time to do one last bit of sightseeing before leaving Baltimore. I walked uptown and found the grave of Edgar Allan Poe. I have to admit that I'm not as interested in Edgar Allan Poe as I should be. He was a major inspiration for the French poet Charles Baudelaire and the gothic subculture adores Edgar Allan Poe. Some of his metaphysical ideas are interesting. But for some reason he just doesn't grab me. I wanted to at least finish reading my Edgar Allan Poe biography after visiting the Edgar Allan Poe National Historical Site in Philadelphia but I don't have any enthusiasm for that. It seems too much like a literary chore, doing one's literary duty. The most interesting thing I found at Edgar Allan Poe's grave was a memorial from a French literary society, a testament to how much the French love this poet associated with Charles Baudelaire.