I started my fourth day in Berlin with breakfast at Bell Chico again. This time I had the sweet breakfast which consisted of a bowl of sliced fruit and two flaky croissants. I liked it better than the other breakfasts. I've been doing too much walking around the city and standing around in museums. Now I have blisters on my feet, although just on the fatty pads below the toes. My first priority was to address this painful problem. I did some research online and there is much more that you can do to prevent blisters than just using gel inserts. You can buy special socks that will keep you feet cool and foot powder will keep them dry. I will need to invest in all of those specialty products because I like to walk around a city but I often have this problem.
I looked up the foot care products available from German drugstores online. Rossmann is a German drugstore company that I researched before my trip. But you have to know the German vocabulary to find the right products. Foot care products go by the name Fussplege or Fuss Wohl (Foot Wellness) in Rossmann brands. I needed Blasenpflaster, blister band aids. I could not find a Rossmann drugstore nearby but I did find a Schlecker drugstore where I found some stuff for my feet. I bought Fuss Eisgel (Foot Ice Gel) and Blasen Pflaster. I also bought a pair of nail clippers and a pedicare kit.
Today I tried to use the subway more often, for obvious reasons, and transferred from the U2 line to the U6 line to reach the Museum fur Naturkunde. This is Berlin's Natural History Museum. I suspect most European tourists skip this museum on their whirlwind tours. I really think Berlin needs three weeks to do it justice. Anyway, I saw the world's tallest mounted dinosaur skeleton, a Brachiosaurus, and Bobby the Gorilla. I think Bobby the Gorilla used to live at the Berlin Zoological Garden and there was some controversy when he was stuffed for the museum. I know the English newspapers pulled an April Fools prank in reporting that Knut would also be stuffed and put on exhibit at this museum.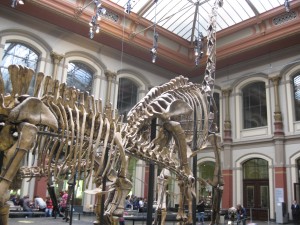 After that I returned to the U-Bahn and traveled just to the next stop to reach Oranienburger Strasse where I found the famous Kunsthaus Tacheles, although I did not go inside. I also passed the Jewish synagogue which survived the Nazis. But my goal was to visit the Ramones Museum. The admission fee was only 3.50 euro and they permit photography so I took lots of photos. The Ramones Museum is basically just a Ramone's fan collection of music memorabilia. But I can relate to that because I used to have quite a Blondie collection. I sold it all to buy my first car. I did see an interesting album cover photo of the Ramones posing in a NYC subway. I should try to find a CD with that cover art because I love NYC.
Nearby I continued my American Rock N Roll adventure in Berlin because I found a Sixties Diner which was playing American music videos from the late 1980s. The Sixties Diner is a small restaurant chain that tries to recreate an American Diner from the 1960s'. I ordered a Bacon Cheeseburger and a milkshake. I've read a lot of bad reviews of the food there, but McDonalds sets the standards pretty low and the food served by the Sixties Diner is way better than McDonalds.
After lunch I walked back to my hotel because Oranienburger Strasse is not far from the Lux 11. I did pass a Rossmann's so I stepped inside to buy more Fuss Wohl products. The cashier looked like a punk rock girl with a soviet star shaved into her dyed hair. She did not speak English. Now is a good time for a rant. Everyone I asked told me that everyone in Germany speaks some English. But this definitely is not true. As I suspected all along, many cashiers can't be expected to be bilingual. This is not a problem, but I think you will be less intimidated by Berlin if you know some German. I've been hearing a lot of French and Italian also. Probably some Russian too but I am unable to distinguish that language from many other languages.
After freshening up in my hotel room I headed back to the Museum Island to visit the Pergamon Museum. This museum has the most impressive exhibits in Berlin including the famous Pergamon Altar, a Greek temple, and other monumental building facades. I was slightly annoyed to find my Berlin WelcomeCard did not entitle me to a discount but I'm not on a budget for this trip. I don't have much to say about this museum that you can't learn from a guidebook. It was thrilling for me to stand on the Pergamon Altar steps because I've seen it in my books on ancient Greece. There was also a special exhibit about some antiquities that were destroyed in World War II. The exhibit showed how they are trying to put all the pieces back together. Unfortunately I saw some sad examples of stone statues that were highly fragmentary.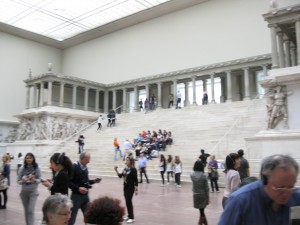 The museum visit was pretty hard on my feet but I hobbled into the city to visit Galeries Lafayette, the Berlin store in the famous French department store chain. I went to their bookstore and bought some French books, even though I abandoned that language to learn German. I bought Stephan Clarke's Francais, Je Vous Haime. Anne-Marie Garat's L'Enfant des Tenebres (I just liked the cover), and a Michelin guide to Londres (aka London). Then I took some photos of their famous glass funnel. I was a little nervous about taking photos in a department store. They usually frown on that. But this was a tourist attraction surrounded by tourists so I felt free to act like a tourist. Then I bought an expensive and overly fancy umbrella because it looked like rain and I did not want my books to get wet. I did head for the nearby U-Bahn station rather than walk all the way back.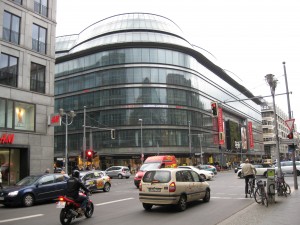 Tomorrow is my last day in Berlin. Unfortunately, I can't squeeze in all the museums, landmarks,and neighborhoods I uncovered in my research. But I plan to visit the Bode Museum, the Alte Museum, Kreuzeberg, and maybe the Victory Column.