I started my second day with breakfast at Bell Chicco, a little restaurant on my street, Rosa-Luxemburg Strasse, that only sells breakfast. The owner did not seem quite as fluent in English as other Berliners but I had no trouble ordering. I had the big breakfast which was mainly three rolls and some cold cuts that I used to make sandwiches. There was also some fruit and vegetables which were arranged more for decoration than eating. I think I'll order an American Breakfast tomorrow. My hotel does not provide breakfast but they do have an expensive restaurant where breakfast would cost twice as much.
I forgot to mention that I had dinner yesterday at Susuru, a Japanese Noodle Bar just up the street. I want to be more adventurous in eating out than I was in Paris, where I stuck to the first cafe I found that understood English.
My first goal was to try the U-Bahn. In order to use my Berlin WecomeCard for a discount on tickets, I have to show the BVG ticket which must be validated. Fortunately, the Alexanderplatz Bahnhof is a short walk from my hotel. I decided to take the U2 line to Potsdamer Platz. Although there are clear directions to the U2 line, it seemed like I had navigate quite a maze of stairs to find the train platform. I spent considerable amount of time researching the U-Bahn so I knew exactly what the ticket validation machine looks like. I have a photo of it in my notes. It is a 40 euro fine if you are caught riding the subway without a validated ticket. I also knew in which direction I should be headed, towards Ruhleben. My first trip on the U-Bahn went very smoothly and I arrived at Potsdamer Platz.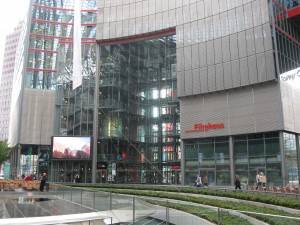 After taking several photos, I went to the Filmhaus Museum in the SONY Center, Deutsche Kinemathek – Museum fur Film und Fernsehen. This is a great museum if you are interested in contemporary German culture because nothing expresses a culture's mythology like its films. I really liked this museum and saw photos and exhibits from many unfamiliar films that I want to find when I get back home. The exhibits on Marlene Dietrich were very extensive because she was born in Berlin. I have to admit that I have never seen one of her films. But I was familiar with The Cabinet of Dr. Caligari which I've owned on DVD long before I planned to visit Berlin. The Cabinet of Dr. Caligari is quite popular with the Goth community and it is frequently mentioned as a classic surrealistic film. Since my imagination is very surrealistic, I tend to explore anything with a reputation for being surrealistic. The exhibit on Metropolis, another classic German expressionist film was very impressive. As a vision of a German city of the future, it is now a perfect expression of Berlin. Now that I think of it, I bet some of the architecture around Potsdamer Platz was based on Metropolis. This could be the reason that Berlin is making such a big impression upon me. It is really a very science fiction sort of city now.
After my very slow tour of the Filmhaus museum, I had lunch at the famous Cafe Josty. This used to be a really famous cafe at the original Potsdamer Platz but now it is just a part of the touristy SONY Center. I ordered the Brotwurst and a Sprite. I made sure to drink two glasses of Sprite because I'm a bit worried about getting dehydrated. I almost passed out at work after becoming dehydrated so I buy more Gatorade now. Cafe Josty has candles on its tables. Unfortunately, I was holding my menu over the candle and it caught on fire! That was pretty funny. Fortunately I smelled the smoke and stopped the fire before anyone noticed. You would have been hearing about me on the evening news if I had burnt down the SONY Center!
After lunch I planned to walk to the Kurfurstendamm and visit another museum, The Story of Berlin. This was a bad plan because the famous Ku'damm avenue is too far to walk to from Potsdamer Platz. However, I did come across the Berliner Philharmonie first and then the Kulturforum, so I visited the Gemaldegalerie instead. The Gemaldegalerie was not high on my list of museums to visit but it was pretty amazing. It has one of the world's leading collections of European art from the 13th to the 18th century. I saw many paintings by Rembrandt and a special exhibit on Caravaggio. I recognized his painting Amor Vincit Omnia from one of my art books. But I especially liked the paintings of Venice and took special notice of many Dutch paintings, as I may turn my attention to The Netherlands next.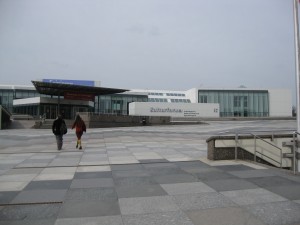 Unfortunately, I know little about classic art since I have always preferred modern art. So I was very pleased to find the Neue Nationalgalerie a little further on. The architecture of this museum is kind of strange because it appears to be a completely empty one story building with walls of glass. It looks like an abandoned car showroom. You have to go downstairs to find the real museum. The Neue Nationalgalerie has many artworks by my favorite German artist, Otto Dix, plus other paintings in the grotesque style that paint society in an unflattering manner. And it was a real treat to find a lot of paintings by Max Beckmann. I should buy a book on that artist. However, what really impressed me where some metal sculptures that I have never seen before. I definitely want to learn more about these sculptures because they were very striking in their design.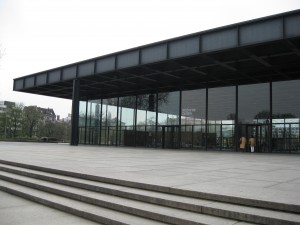 The Neue Nationalgalerie has an excellent bookstore which tempted me to buy a lot of books. I restrained myself to only buying the English guide to Neues Museum Berlin, a museum for Egyptian art on the museum island, not to be confused with this museum, and a thin book on Berlin's New Architecture. There was a thicker book on Berlin architecture but I did not want to carry heavy books around for the rest of the day.
After leaving that museum I made my foolish attempt to walk to to the Ku'damm avenue but eventually got tired and took the U-Bahn back to Alexanderplatz Bahnhof. I found an ATM (Geldautomat) near the exit and used my debit card to resupply myself with euros. Then I hobbled back to my hotel because being on my feet all day was becoming quite painful.
Once I had freshened up and rested my feet a bit, I put them to further abuse by walking down Unter den Linden to Dussmann das KulturKaufhaus, a department store devoted to German culture on media; books, CDs, and DVDs. This store would be equivalent to Borders in the United States. This place is a treasure trove for anyone studying German. They even have a entire separate area on one floor for English books. But my goal was to buy some DVDs that you just can't get in the United States; Berlin Calling, Christine F., and Effi Briest, all films set in Berlin. I did download Christine F from the Internet but the DVD is surprisingly hard to find in America. You could make a little money by importing it. Fortunately, the Bahnhof Berlin Zoologischer Garten is no longer the haunt of teenage drug addicts and prostitutes. So far, Berlin seems to have been cleaned up like New York City.
Then I returned to my hotel room before heading out again to go up the Fernsehturm, the TV Tower. I chose a hotel near this tower because it makes it easy to find my way back. For the same reason, staying near the Eiffel Tower is a wise move in Paris. Only in New York City does this trick fail because nothing is really visible from anywhere in the city. The Empire State Building comes close but the skyscrapers are packed so tight you often can't find even the tallest buildings from street level.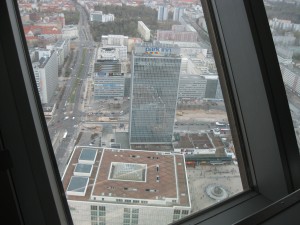 I did have some trouble finding the entrance to the TV Tower because it is not indicated in any of my guidebooks. You actually have to go around the back, the side facing the Alexanderplatz Bahnhof. I used my Berlin WelcomeCard again to get a discount on my ticket. You have to scan the ticket at the turnstile but at least there was no security like you find at the Statue of Liberty. When I reached the observation deck I had an excellent 360 degree view of Berlin so I took lots of photos. It was just like the Eiffel Tower or the Top of the Rock in NYC.
The only other thing I did on Tuesday, was do some shopping at the nearby Galerie Kaufhof. The interior of this department store is really impressive in some photos I found online but in real life it looks nothing like the photos. It is just your typical department store, like a Macys. I did find some batteries I was looking for and bought the latest Nina Hagen CD.