On Saturday I visited Indian Echo Caverns, one of Pennsylvania's many caves which are open to the public. I can barely remember visiting a cave when I was a boy. I remember that we bought Indian blankets and an Indian drum which we had for a long time. I'm not sure if this was that cave since there is also an Indian Caverns in Pennsylvania. Indian Echo Caverns is located between Harrisburg and Hershey. It took me two hours to drive down there.
Indian Echo Caverns is featured on the cover of the only book on the caves of Pennsylvania:
You can only visit this cave as part of a guided tour. The cave is outfitted with electric lights so you can see everything. I took a lot of photos and most of them turned out all right even without flash.
The cave had many rooms and a pool of water. At one point, our tour guide turned out all the lights to show us how pitch black the cave would be without light.
I like to visit show caves because these roadside attractions are very retro. These attractions haven't changed much since the 1950s and remind me of rare road trips I went on in my youth. So far, I have seen Penn's Cave and Woodward Cave plus Indian Echo Caverns. There are six other caves in Pennsylvania that I could visit. I did find some other cave brochures at the Indian Echo Caverns gift shop.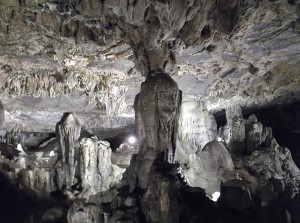 I've really been getting around the state this summer and seeing a lot of attractions that I've been meaning to visit. I hope to keep up this pace into the fall and only stop during winter. The quaint town of Jim Thorpe will probably be my next destination.