It was another gorgeous day and I had off for Memorial Day so I decided to visit Penn's Cave today instead of next week as planned. Show caves are a popular tourist attraction in Pennsylvania. My number one goals for this summer were to go on an excursion train and visit one of the show caves. Penn's Cave is the nearest cave to me, only one hour and fifteen minutes from where I live. I remember being taken to this cave at least twice when I was a boy. Unfortunately, it has taken me this long to revisit Penn's Cave.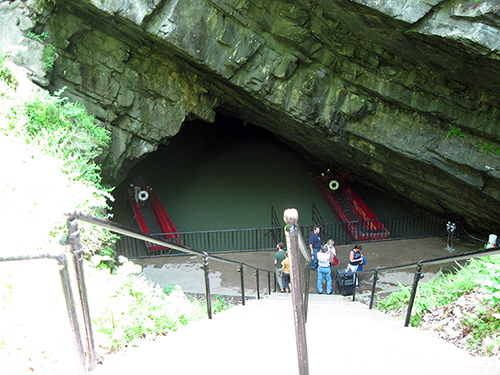 The drive to Penn's Cave was surprisingly complicated. I especially disliked PA-445 which was a narrow mountain road with an entire series of hairpin curves. However, it was a very attractive route through the woods in the mountains. On the way back I got lost and wound up in Loganton and Oriole before finding Jersey Shore again. But it was interesting to see how many Amish live around there and if I had continued east I would have gone through Elimsport.
Penn's Cave is the only all-water cavern in the United States. You have to ride a motorized boat through the entire cave which is partially submerged in water. This makes the cave particularly scary because not only are you in a dark cave, you are also in an unsteady boat. Nothing could be more frightening than to find yourself submerged in water in a cave! Of course, it was all perfectly safe although I did have to bend over sometimes to avoid bumping my head on the cave ceiling.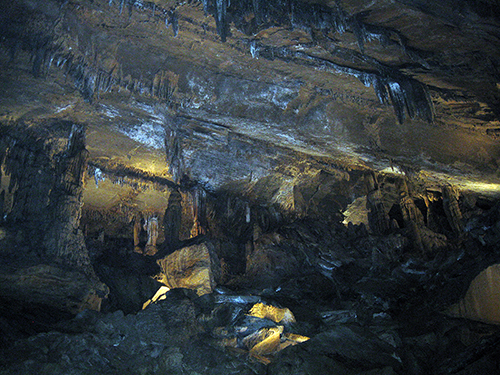 I bought my ticket in the Penn's Cave Visitors Center which included an extensive gift shop and a café. I did not expect the gift shop to be so large. They had lots of books on the Amish, the book Pennsylvania Caves & Other Rocky Roadside Wonders by Kevin Joseph Patrick, lots of gifts made of quartz, and stuffed animals of Pennsylvania wildlife like black bears, owls, and deer. After the boat tour through the cave I bought a pack of souvenir playing cards, a quartz egg (made in Pakistan), and the novel Rosanna Of The Amish by Joseph W. Yoder. What is interesting about this book is that it has some maps of Central PA inside which indicate that it is set in the area. I already have a paperback edition of this book with a more attractive Pennsylvania Dutch folk-art design on the cover. I actually saw some Amish on one of the other tour boats inside the cave.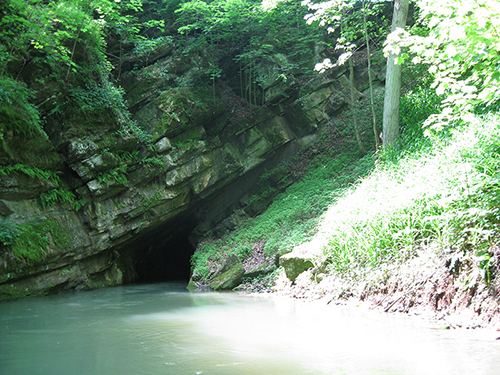 There is water dripping down inside the cave so I got a few droplets splashed on me. I brought my jacket because it is 50 degrees Fahrenheit in the cave making it a little chilly. I took lots of photos and surprisingly most of them turned out alright although some are very dark. One photo has a mysterious mist before the picture of the cavern. It looks like ghosts! But naturally it was very damp in the cavern and the boat's motor would have been putting out some exhaust. The cave opens out into a lake where the boat turns around for a return trip through the cave. I thought the lake was very picturesque as well and they had some deer there so I took photos of that.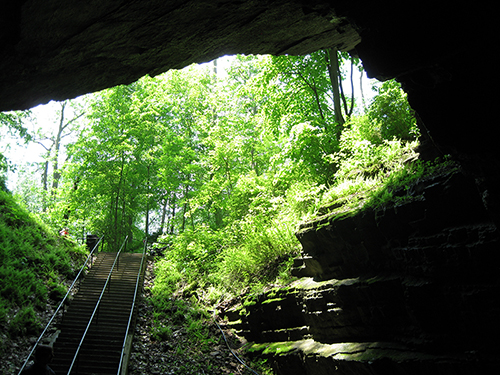 The entire trip only took me four hours so that was a good way to spend Memorial Day. There are at least two other caves I want to visit this summer or fall; Indian Echo Caverns and Woodward Cave.