I don't remember ever blogging about the custom travel guides that I create for the cities I visit. I may have mentioned them in my blogs about my trips but I don't think I've ever revealed the technical aspects. I spend a lot of time gathering the information for these offline travel guides. It is a wasteful exercise but it does serve as an excuse to do the research. Currently I have been working on my Philadelphia travel guide in preparation for my trip to Philly this weekend. As you can see in the screen capture below, I can view my Philadelphia travel guide on my iPod Touch device.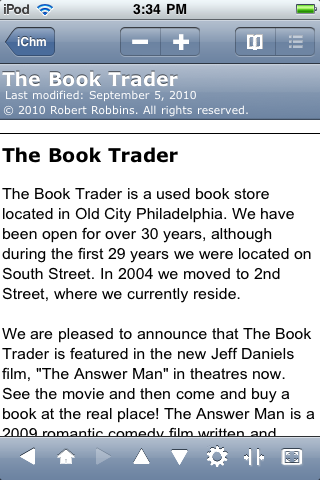 The travel guide is actually a help file for the Windows operating system. I generate an H2 Help File project to integrate my travel guide into Microsoft Document Explorer. This allows me to combine my travel guides with MSDN documentation, something only a developer who likes to travel would do! But I can also generate a CHM version of my travel guide and this can be imported into my iPod Touch device using the iCHM application. iChm is an ebook reader for CHM (Microsoft Compiled HTML Help) files.
The chief advantage of the iCHM application is that you can gather your notes into simple web pages and view your notes without an Internet connection. The iPod Touch is only capable of connecting to the Internet through a WiFi connection. Unfortunately, the App Nazis at Apple have made it very difficult to store any kind of document on your iPhone so this is the best method I've found to copy my notes to this device. With my custom travel guides on my iPod Touch, I always have access to all the information I have gathered about my destination even when I don't have a WiFi connection.
As you can see in the screen capture, my web pages are properly styled to look good on the iPhone. This is done through CSS and JavaScript. The same web page looks quite different in the Windows system help files. I wrote some JavaScript to dynamically modify some aspects of the page to get the header to look different and to scale images. The jQuery JavaScript library does work on the iPhone so I use it to do some of the tricky DOM manipulations.
I now have 161 web pages created for my Philadelphia travel guide. This is going to be my most extensive travel guide because I may move to Philadelphia some day. In any event, Philadelphia is the nearest big city so it deserves more of my attention than anyplace else. Although you can find iPhone apps to help you explore any major city, my custom travel guide works offline and can include detailed information on anything I am interested in.
I have not shared these iPhone travel guides. They are strictly for my own use and may include copyrighted material. I certainly have poured a lot of time into creating the help files but it has become my way of studying a complex topic. I only consider it worthwhile to create such travel guides for major cities that I will visit often like New York City and Philadelphia or European cites that represent a major investment of time and money to visit like Berlin and London. I am currently doing the research to visit London and that requires a custom travel guide to gather together all the information I am collecting.