Yesterday I went to Lancaster City PA. The city of Lancaster is located in Central PA. Williamsport is also located in Central PA but we are in the north and Lancaster is in the South. Although it only takes two and a half hours to drive from Williamsport to Lancaster, there does not appear to be much interaction between the two cities. I've never known any local groups to organize a trip to Lancaster and the local media rarely mentions the city. I guess it is too far away to be considered a local town. Various other cities to our south are considered to be part of the region;, like Milton, Lewisburg, and Selinsgrove which I always drive through on my way to Harrisburg. So although I've lived in Central PA all my life, this was my first visit to Lancaster PA. It only really occurred to me to visit the city because it is mentioned in all the travel guides for Philadelphia.
I was pleasantly surprised by Lancaster. It is twice the size of Williamsport PA and somewhat similar to our city but it does appear to be more prosperous. I found Lancaster to be very chic with many cool stores. The 300 block of North Queen Street is a pocket of bohemian culture like Philadelphia's South Street. Lancaster also has some museums, an art gallery row, a convention center, and all the trappings of a major city although it does not seem to have the scale to quite pull that off.
Driving to Lancaster is not as straightforward as driving to Harrisburg. To get to Harrisburg you can just follow Route 15 South pretty much all the way without bothering too much with exits. But to drive to Lancaster you need to take several highways east. I found the directions so complicated that I spent almost an entire day studying the route. Fortunately, this served me well because the only mistake I made was taking the first US-322 exit which was West and not East.
When I finally arrived in Lancaster at 8:30 a.m. I parked at the Prince Street Garage on 111 North Prince Street. I was able to park on the first deck and found it quite convenient to return to my car throughout the day. The first place I visited was the famous Central Market which opened at 6:00 a.m. This is the country's oldest indoor farmers market. The first thing I bought was a small framed painting of a rural scene in winter. Then I went to the German Deli and bought a Christmas Stollen and Jagdwurst "Hunter's Bolgna" by Schaller & Weber. I was familiar with the name Schaller & Weber because it is a deli in New York City's Yorkville neighborhood right next to Heidelberg Restaurant. The German Deli had a wide variety of German food. After that I bought a book on the Central Market from an Amish woman, some goat cheese from Linden Dale Farm, and a jar of plum jam from Esther Sangrey. Other than the Amish standholders at Central Market, I did not see any Amish in Lancaster City and I did not pass any buggies on the roads and highways. I did see several large farms along Interstate 283 West.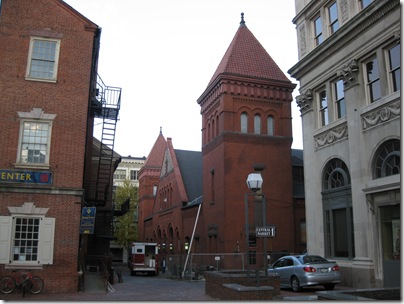 I walked around the downtown area and took a lot of photos (check out my Flickr set). I killed some time by having breakfast at the Red Rose Restaurant, which is a pleasant, upscale restaurant on Kings Street with great views of the Lancaster County Courthouse. Most of the stores and museums open at 10:00 a.m. So after breakfast I went to The Demuth Museum. The entrance to this museum is a bit hard to find. You actually have to walk through an archway to the garden out back and then find the door back there. This museum is devoted to the work of Charles Demuth who was born in Lancaster PA and lived in the house that is now his museum. Charles Demuth is best known for his painting The Figure 5 in Gold, 1928 which I've seen in books on modern art. I think I've seen this painting at the Metropolitan Museum of Art in New York City. I don't think the Demuth Museum even has any of his major works, but they did have three rooms of exhibits which did not take me long to view. One room had Charles Demuth's bed with a view of his garden below. The museum was running a special exhibit on the artist Elie Nadelman. Before leaving I bought two books, Out of the Chateau: Works From The Demuth Museum and Elie Nadelman and the Influence of Folk Art. This books were very expensive for how thin they are.
After returning to my car to stow my museum purchases I went to another museum, the Heritage Center Museum which is also on King Street. On the top floor I saw their printing presses which are part of an operating print shop with printers to explain the process of printing. The second floor was an impressive Masonic Lodge Hall with some decent exhibits on early American furniture and Lancaster historic artwork. Another gallery on this floor had an exhibit on Amish culture called Amish Choices. I discovered that the Amish learn High German and English in school besides their own dialect. I find that interesting because I'm currently studying German in preparation for my trip to Berlin. All during my stay in Lancaster I was tempted to surprise someone with some German but I really don't speak it very well.
The Lancaster Visitor Center is on the ground floor of the Heritage Center Museum so I found myself in there and picked up a few brochures. The lady handing out the brochures and directing visitors asked for my zip code which revealed that I was from Williamsport. She remarked that is getting cold up there as if we were so far north that our weather is artic. LOL.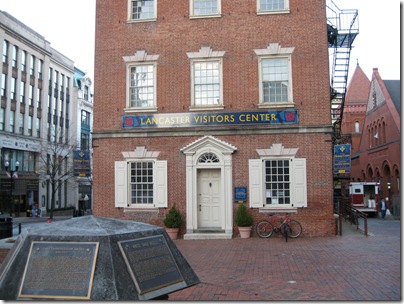 That was the last museum I visited although Lancaster also has a quilt and fabric museum and a contemporary art museum. After that I went shopping. First I checked out the 300 block of North Queen Street where all the quirky stores are located. I took some photos of Mommalicious, Rachel's Café & Creperie, and Zap & Co. But I only went into Zap & Co which is a very cool store filled with vintage clothing and retro design merchandise. You could tell that the owner was really into design because there were many design books strewn about the store. It was a really amazing place, packed full of high quality antiques and retro culture like cocktail lounge decorations. All of the historic buildings in Lancaster must have had an effect on me because I bought a really expensive Art Deco lamp for $200.00. Normally I would not buy something like that but it did make for a better souvenir than any of the tourist crap. I would much rather have a fine antique to remember Lancaster by, something with history like the historic city, than a cheap trinket.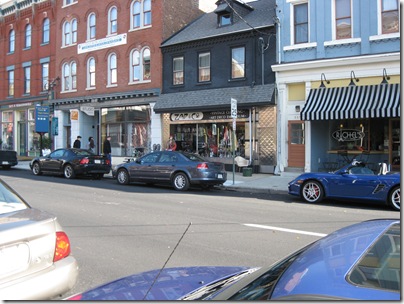 My second major purchase was a giclee print from Red Raven Art Company on Lancaster's Gallery Row. Lancaster has many art galleries, art museums, and even art supply stores so it seems to have a vibrant cultural life. I wonder if this is the influence of Philadelphia which causes nearby towns to flourish as artist colonies when the hipsters discover potential loft spaces? (Actually the explanation is that Lancaster is home to the Pennsylvania College of Art & Design). Unfortunately Williamsport is rather mundane as far as culture goes. I've always thought it was a cultural wasteland. People have disagreed with me on this but I don't think Williamsport can compare with Lancaster. I suppose our Millionaire's Row would attract artists if we were closer to Philadelphia. Those old mansions would make fine museums and art galleries.Any way, I bought a print of Steve Wilson's painting Autumn Ghost. I saw this print online while looking through Red Raven Art's online store. This was another expensive purchase but it appealed to me. While I was in Lancaster I daydreamed about a rural witch living in a rundown farmstead protected by a hex. This was a dream about the isolation of rural PA which can seem somewhat idyllic if you want to get away from it all.  Steve Wilson's painting Autumn Ghost really fit in with my gothic daydream. When I filled in my address on the sales receipt the gallery sales clerk mentioned that he was originally from Williamsport.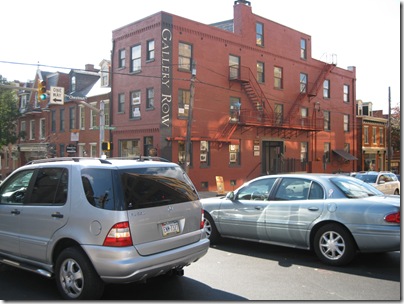 I was planning on staying in Lancaster until around 6:00 p.m. when it would start to get dark but I felt I had accomplished enough to leave early. But before I left I went to Yorgos Restaurant & Lounge and ordered two pancakes, primarily in order to use their restroom. Fortunately I did remember to check out a bookstore before leaving. I walked all the way to DogStar Books in Chestnut Hill. This was a pleasant walk because I saw many more historic buildings in that part of town. At DogStar Books I bought the Cambridge Illustrated History of Germany by Martin Kitchen.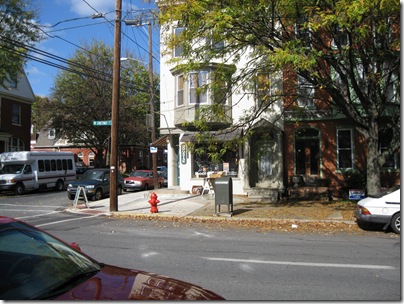 Unfortunately, I did not study the directions for the return trip so I got lost a few times on the way home. I did turn on my GPS system which seemed to automatically program itself for the correct destination. It has been unplugged since I had my car inspected so I thought it would have lost my home address. Anyways, I wound up driving pass the Dutch Apple Dinner Theater and drove through Harrisburg's airport because I followed the GPS instructions too closely. But it did eventually help me to reach Route 15 North and then I was home free.
In conclusion, Lancaster PA looks like a great place to live. It is far more sophisticated than you would think based on the Pennsylvania Dutch stereotypes. Lancaster has an Amtrak station so you can take the train to Philadelphia or New York City. If I had to find a new job I might look for something in Lancaster. There were a few warning signs though. I saw some religious nuts with signs warning sinners about hell (this was kind of comical, a literal warning sign) and a homeless man asked me for some change. There were also some Hispanic newspapers which indicate the ethnic diversity of the city.