On Sunday I got up early and walked along 51st Street to the subway station on Lexington Avenue. This was a long walk but I did get to see a nearly deserted New York City at 6:00 AM in the morning. I took the 6 train to the Brooklyn Bridge. This ride took a long time because the train was delayed near Canal Street. But since my subway car was empty I took a few photos.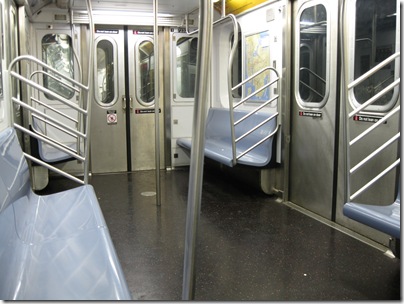 By the way, on Saturday it was 97 degrees, tying the 1999 record for hottest July 24th ever. And with the humidity, it was more like 102. No wonder it was so uncomfortably hot! Fortunately it was cooler on Sunday morning which was a perfect time to walk across the Brooklyn Bridge.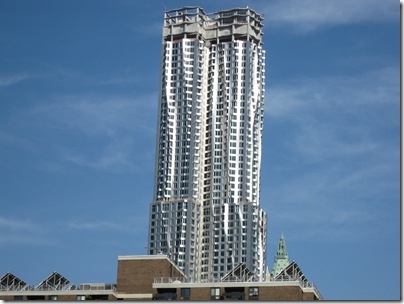 One building that caught my eye was the Beekman Tower which is currently rising in downtown Manhattan. It is located near the Brooklyn Bridge just south of Pace University. I took many photos of this gleaming, twisting skyscraper which will become the tallest residential building in New York City. I thought it might be the Freedom Tower but the new construction to replace the twin towers is not that far along. Other interesting buildings visible from the Brooklyn Bridge include the Manhattan Municipal Building, the United States Courthouse, South Street Seaport, and the Verizon Building. The Statue of Liberty and Governor's Island could be seen in New York Harbor but they were distant and hazy.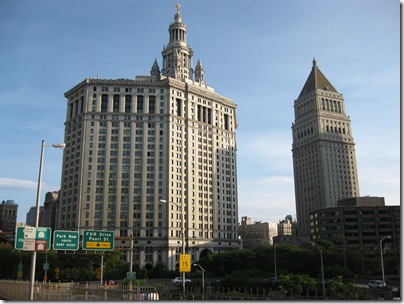 On the Brooklyn side of the Brooklyn Bridge I followed the signs to DUMBO (keep left and walk towards the underpass tunnel). I saw the "Welcome To Brooklyn" bulletin board in the underpass and followed the signs to the  DUMBO neighborhood. Unfortunately everything was closed on a Sunday morning and the streets were deserted but this did give me an excellent opportunity to take lots of photos. I found the following landmarks on my list; Grimaldi's Pizzeria, Jacques Torres Chocolate Factory, Pete's Downtown Restaurant, St. Ann's Warehouse, Barge Music, and the Manhattan Bridge. The street was all dug up in front of St. Ann's Warehouse but I took a photo of a bulldozer with the theater in the background.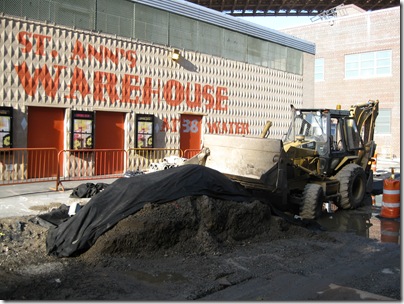 I had planned to take the subway back to Manhattan but unfortunately I could not locate the High Street Station in Cadman Park Plaza. Maybe this station was demolished as part of the budget cuts or it may have been hidden in one of the many construction sheds I saw nearby. I walked around the park and could not find a subway entrance so I had to walk back across the Brooklyn Bridge. At one of the arches I was able to buy a bottle of water from a street vendor. When I got back to City Hall on the Manhattan side I found the Brooklyn Bridge – City Hall Station and took the 6 train back uptown to 51st Street. It was another long walk along 51st street back to the Skyline Hotel on 10th Avenue. As I walked pass the Rockefeller Plaza I saw many production  trailers because they were filming a crowd scene there. I stopped at a Starbucks along the way and had a Skinny Vanilla Latte. I had to check out by Noon so after taking a cold shower I took care of that. They placed my luggage in a conference room so it could be loaded on the bus at 5:30 PM. I certainly did not want to have to lug it around Manhattan until then!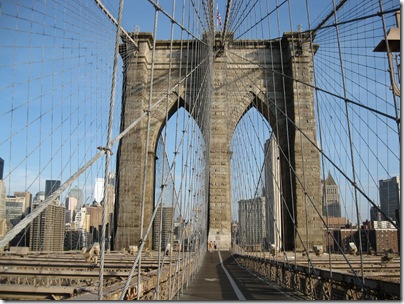 I was planning to return to Hallo Berlin for lunch but they did not open until Noon. So instead I took a subway to 34th Street, Penn Station. I eventually bought three metro cards on this trip. Some of the machines would not accept bills so I had to pay with my credit card. On 34th Street I headed for Macy's Department Store. Macy's is like a mall with its own chain restaurants and a few stores that are not part of Macy's. For example, on the first floor I went to the Metropolitan Museum of Art store and bought a bookmark and a CD of NYC music. Then I went to Starbucks and had another Skinny Vanilla Latte to help me cool off. Fortunately Macy's is air conditioned so I spent a lot of time riding its elevators. You don't need to be well dressed in this store. I saw many poorly dressed tourists in shorts. I also had a caramel sundae at Ben & Jerry's Macy's Scoop Shop and a quarter pounder with cheese at McDonald's. I was rather surprised to find a McDonald's at Macy's, just like a Walmart! After I tired of Macy's I went to Penn Station and bought foreign language magazines at Hudson News; Stern in German, L'Express in French, and Voici in French. Unfortunately they did not have any Italian magazines. Then I went to the Borders book store in the Penn Station vicinity where I bought New York: The Movie Lover's Guide: The Ultimate Insider Tour of Movie New York
. That book should help me to find the landmark sites in films. I also bought an Access Philadelphia 7e (Access Guides)
because I eventually want to explore that city as thoroughly as New York City. As a resident of Pennsylvania I should find Philly more interesting than NYC but unfortunately Philly is not as prominent in American culture. I also picked up a Lonely Planet Italian phrasebook but I really should not start on Italian while I am still learning German.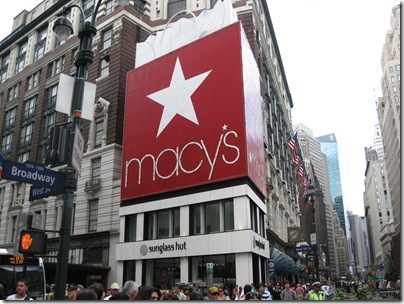 At this point I was burdened with packages so I went back to the Starbucks in Macy's to plan my next move. I decided to visit a small park near the Skyline Hotel to wait for the bus which would leave at 6:00 PM. Since I was already checked out I could not go back to my room. I decided to have lunch at Hallo Berlin again. I sat at the bar and ordered a Sprite and Berlin Currywurst. Unfortunately I was unable to finish my meal because I was feeling full. A Ghost Busters movie was playing on their widescreen TVs. I watched the ghostbusters slime the Statue of Liberty and animate her. The special effects were quite poor by today's standards.
Unfortunately it began to rain as soon as I left the restaurant. A lot of fire engines and ambulances appeared and raced to a scene near the Skyline Hotel although I did not see any smoke or fire. The rain made it impossible for me to visit the park so I spent the next two hours stuck under a sidewalk shed near the Skyline Hotel. I did have my iTouch with its earplug headphones so I was able to listen to music. The only interesting thing to happen was a homeless man showed up pushing a large canvas dumpster filled with bottles. He proceeded to lay out a blanket and went to sleep under the sidewalk shed.
Although my last two hours in the city were not much fun, I had another successful trip and memorable experience in New York City. It may seem mundane to be a tourist in New York City but for me it is pretty exciting due to the central role the city plays in American culture. As I was growing up I was inundated with television shows and entire stations broadcast from New York City with local news so I got used to hearing about the Big Apple. It became a familiar place through the media but I never went there. Of course, back in the late 70s and early 80s New York City was virtually bankrupt and not a safe place to be. Visiting New York City now after all that television exposure is like traveling to the future and seeing the futuristic skyscrapers that are going up. There has been a lot of development during the last decade as Wall Street prospered so there are many new buildings.
I have scheduled two more trips in August. The first trip in just two weeks will just be to Ellis Island and the Statue of Liberty. This will be a good opportunity to catch those two tourist sites which I have not managed to see on any previous trip. I have to figure out what to do on the other trip to NYC. I may take the Lincoln Center tour because I cannot attend a performance.