Yesterday I made my pilgrimage to the East Village. To appreciate the significance of this trip for me, you need to be familiar with some counterculture history. Although Greenwich Village has always been the bohemian neighborhood of the United States, gentrification pushed the artistic community to the East Village by the mid 1970s so the punk rock movement began in the East Village. I became a fan of punk rock in the 1980s when New Wave made it more mainstream. Although I was only obsessed with Blondie at first, I eventually expanded my musical interests to include the other early NYC punk rock groups like the Ramones, Patti Smith, Television, and the New York Dolls. Of course, that led to their early influences; Velvet Underground, Iggy Pop, and David Bowie. Since Deborah Harry was still closely associated with Andy Warhol I also read a lot about his Factory scene. All of this combined to make New York City seem like the mecca for the world of cool.
By the late 1980s punk rock had devolved into hardcore punk which I don't like because it excludes women and fashion. I was more into Death Rock which remained true to the wild style of glam rock and the dark side of the Velvet Underground aesthetic. Unfortunately, the extent of my involvement was the Zine scene, a network of self-published underground culture magazines. Zines predated the Internet but they functioned much the same way by making publishing available to everyone. It mostly attracted creative people so there were many quirky zines.
So I've read a great deal about the East Village but I never went there and was unable to picture the scene. Of course, I've seen lots of photos in my books and magazines but most articles don't bother to describe the neighborhood.
Upon arriving at Penn Station on an Amtrak train, I walked east along 33rd Street to the subway entrance at Lexington Avenue. I took the same 6 train, Lexington Avenue Local, as I usually do only this time I was heading downtown and got off at the Astor Place station. The first landmark I saw was the famous Cube, a public sculpture. I've recently read Arthur Nersesian's novel The Fuck-Up which mentions this neighborhood landmark. Or maybe it was mentioned in his other novel Chinese Takeout.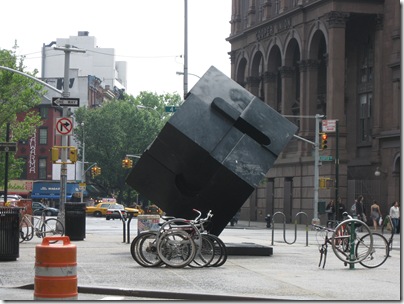 I walked past the Cube and went down St. Mark's Place, the most famous street in the East Village. I walked past Trash & Vaudeville, the legendary punk rock clothing store, but it was closed. Fortunately it was open later on and I went in but I'll describe that later.
I continued down St. Mark's Place to 1st Avenue where there were two establishments I planned to visit; Kim's Video and Music and Wechsler's Currywurst. Unfortunately Wechsler's Currywurst was closed at the time but Kim's Video and Music was open so it became the first store I entered. Kim's Video and Music sells hard to find art film videos and rare music CDs, the kind of stuff the local creative community probably seeks out. This video store is undoubtedly part of the contemporary East Village scene but it isn't part of the legend I'm familiar with. But since I've never been to the East Village before I was not going down memory lane so I was willing to explore the current neighborhood. Kim's Video and Music selection is so extensive that they even have a section for German films so I could continue my exploration of German culture. I bought Werner Herzog's Heart Of Glass on DVD, which is described as haunting and visionary, and Rainer Werner Fassbinder's Niklashauser Fart and Rio das Mortes. This is a PAL DVD and the DVD box appears to be in Spanish but I think it has English subtitles. Now where else could you buy a German film packaged in Spanish except in the East Village?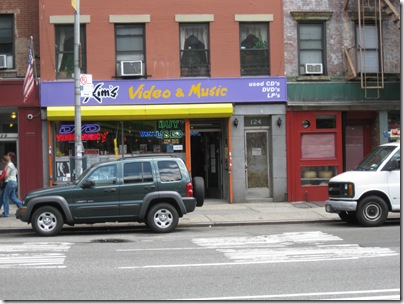 The next street was Avenue A which brought me to Tompkins Square Park. The park is where everyone from the neighborhood hangs out so I've read a lot about the park and even follow a photo blog which often has pictures taken there. I was surprised to find the park was more impressive than I expected. It was even lovelier than it appears in contemporary photos, maybe because it is Spring. I already knew so much about this park that I was even able to understand what was going on. For example, the long line of ethic people must have been the Hare Krishna soup line. Apparently, the park has a tree that is sacred to the Hare Krishna faith so they run a soup line at the park. I also saw a few people passed out on the sidewalks around the park and a few crusties, i.e. homeless punks, but the public was using the park so it seemed safe. There also seemed to be some preparations for a bike rally which is a neighborhood activity I've seen mentioned online.
Anyway, I did not immediately enter the park. My initial point of interest was the Joe Strummer memorial mural. You know you're late to the party when you arrive and find everyone long dead, with a memorial erected in their honor.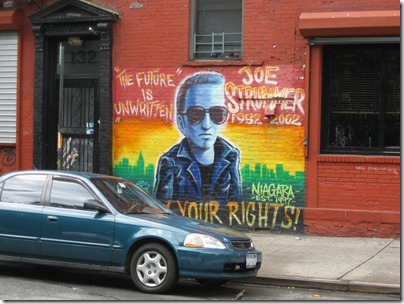 After consulting my custom NYC travel guide installed on my iTouch, I went north on Avenue A to find the Vampire Freaks Store. This store can be considered part of the legacy of the puck rock scene which continues to draw other alternative music hipsters to the area. Unfortunately, the store was closed but I'm not sure I would dare to enter. I wasn't wearing my garlic. Seriously though, I don't want to be seen as the creepy middle-aged man wandering into Hot Topic by mistake. The main reason I sought out this store is because it runs the huge online social network for goths and vampire freaks. That online community is a great resource for Death Rock and freaky people in general.
I wandered all around the East Village but I had a long list of places to see and photograph. For example, Gem Spa is an unassuming corner store that sells sunglasses, hats, and other tourist crap. You would not suspect that it has any cultural significance. But Gem Spa was the backdrop for a New York Dolls album photoshoot. It can also be seen in the movie 200 Cigarettes which was shot in the East Village. So I took a photo of that store. You can see a barricade on the left where a street was blocked off for a little block party.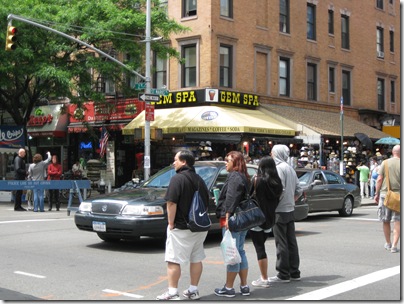 I also sought out the KGB Bar and La MaMa Experimental Theatre Club on East 4th Street. I was quite familiar with these cultural institutions even before I planned this trip. The KGB Bar is famous for its poetry readings. Many authors are invited to read there so any knowledgeable bookworm will have heard of this place. I have their poetry collection book but I've never read it. But I have read many plays that were performed at the La MaMa Experimental Theatre Club. This theater is part of experimental theater lore. I'll have to look through my extensive collection of theater books to find some plays that originated there.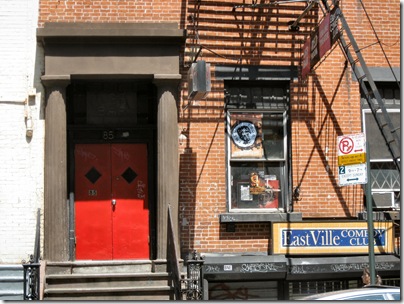 After walking around the neighborhood locating landmarks, I went back to Wechsler's Currywurst on 1st Avenue which was now open. I wanted to eat there because I intend to go on vacation in Berlin next year and this German restaurant serves some quintessential Berlin fare; currywurst and Berliner Weiss. Currywurst consists of grilled pork and veal sausage, sliced, topped with a zesty, ketchup-based sauce, sprinkled with curry powder, and served with tiny plastic or wooden forks. My currywurst also included french fries. Berliner Weiss is a low-alcohol beer with raspberry syrup to make it sweet. I don't actually like the bitter taste of beer but Berliner Weiss could grow on me. There was a group of loud, talkative Germans sitting next to me. I did not mind this because it was an excellent opportunity to hear some real German. I was surprised by how boisterous real spoken German can sound. It was quite unlike the slow, careful phrasing of German language CDs.
After lunch I resumed shopping and exploring the neighborhood. I found the St. Mark's Church in-the-Bowery which is famous for its Poetry Project. Many famous poets have read there including; beat poet Allen Ginsberg, punk poet Patti Smith, Jim Carroll, and Andy Warhol associate Gerald Malanga. This is a fine example of a cultural institution that you find mentioned over and over again but there is never an accompanying photo. I had pictured a huge brick church on a street corner but the actual building is quite different and looks more colonial.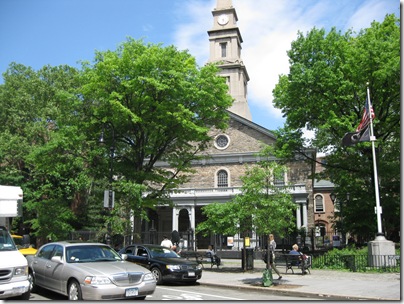 Nearby is the St. Mark's Bookshop which has been on my list of New York City bookstores to visit. I bought a copy of a book on Patti Smith there; Break It Up: Patti Smith's Horses and the Remaking of Rock 'n' Roll by Mark Paytress.
I have to admit that I'm really not into Patti Smith. I should be a big fan because she admires Arthur Rimbaud and she was a punk rock pioneer but frankly she has always seemed too pretentious to me. However, there are certainly plenty of good reasons for her to intrigue me so I should make the effort the know her work better. I recently bought two more of her albums which I have yet to listen to. Later on that day I visited the Strand Bookstore which has miles of books. Patti Smith once worked at the Strand Bookstore and it is beloved by bookworms as one of the world's largest bookstores.
The next time I strolled down St. Marks Place I found Trash & Vaudeville open so I entered the upstairs section. This was pretty daring of me because Trash & Vaudeville is a rock fashion store and I'm about as unstylish as you can get. I set off an alarm as I entered and was asked to surrender my shopping bag of previous purchases. Trash & Vaudeville has a lot of expensive punk clothing. I eventually settled on a pretty lame purchase, a civil war hat, which was one of the cheapest hats they had at $25.00. I'm never going to look like a rock star so this was just a token purchase. I did see that they had the Rock Junket book on sale at the counter. I used that book to research this trip. And they had a lot of rock photos on the wall including a large print of the Ramones.
I also shopped at the little antique store, Obscura Antiques & Oddities. This store is famous for its outré inventory. Someone on the Vampire Freaks message board recommended this place, probably because they appreciate the macabre collection of glass eyes, poison bottles, and animal skeletons. I bought a statuette there for $85.00. It is a desktop statue of a woman holding aloft a sledge hammer surrounded by a wreath, with her other hand on a clamp sitting on an anvil. The statue is called L'Industrie. I bought it because an old fashioned statue to Industry seems the perfect souvenir for a visit to the East Village, in an ironic sense. Maybe the Statue of Industry was meant to keep the Statue of Liberty company during the Industrial Revolution.
After I bought the statue I was through with shopping because I felt I was too encumbered with shopping bags. I spent the rest of the day bar hopping. This was not my intention but I wanted to visit the Zum Schneider restaurant on Avenue C and Manitoba's Bar on Avenue B. Zum Schneider is more of a beer hall than a restaurant. I asked for a Berliner Weiss but they just laughed and said it would be a cold day in hell before they served Berliner Weiss. Apparently there is some snobbery in Germany over beers and Berliner Weiss is considered a lesser beer. So I had a bitter tasting beer while sitting at the bar. After that I went to Manitoba's Bar on Avenue B. This bar is owned by Richard "Handsome Dick" Manitoba, lead singer for the punk rock group The Dictators. I have their first album in my CD collection. Manitoba's Bar was a bit smaller than I expected based on the photos I found online. Dick Manitoba was not there but I ordered a bottle of Corona from the barmaid in a black leather jacket and sat facing the photo gallery of punk rock's heyday. This includes many of the photos I've seen in my various books on punk rock history. It was like a fan's shrine to punk rock. I especially like the photo of Lou Reed from his Transformer album.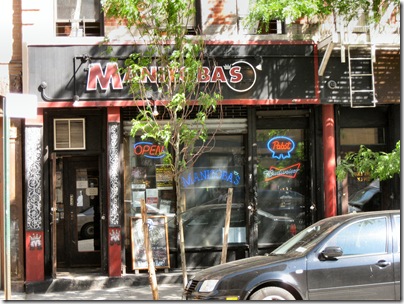 I was feeling pretty drunk after that so I sat on a bench in Tompkins Square Park. I thought to myself, Now I just need to pass out drunk on the sidewalk and I'll really be going native. I had to spend a half hour just sitting there. Later on I made my trip to the Strand Bookstore where I still felt pretty woozy. The Strand Bookstore has an entire section devoted to books on New York. I found a copy of The Last Party by Anthony Haden-Guest, an interesting history of New York's famous disco Studio 54. I also bought a copy of the Time Out guide to New York with the Guggenheim Museum on the cover. Downstairs they have books in foreign languages so I bought a few books in German. I found a book of plays by Gunter Grass Theatrspiele and an odd book on Berlin which seems to be about a slaughterhouse district in the city before the war. Berlin Central- Viehhof. Eine Stadt in der Stadt which translates as Berlin Central Stock Yards. A City Within A City. I really have no interest in the Berlin Stock Yards.
On the trip home my train was stuck in Newark for almost two hours because there was a power outage further up the line. Amtrak trains are really an unreliable mode of  transportation. I did not get home until 3 AM in the morning which almost made this a 24 hour trip because I left at 4:30 AM. I read quite a bit of my The Last Party book while on the train.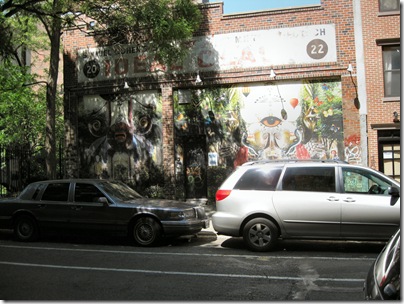 This is a striking art mural I passed on 22 East 2nd Street. I just checked it out online and found out it is the location of the Ideal Glass Gallery.