Today I went to the Christkindl Market in Mifflinburg. A Christkindlmarket is a German holiday market. I've read about this tradition in my travel guide to Berlin, although it used the term Weihnachtsmarkt.
I almost did not go because my furnace stopped working last night and I spent two hours this morning trying to get it to start without any luck. Fortunately, it fired up when I got back. This confirms my suspicion that the outside fuel line is the only problem. It freezes up when the temperature falls below the freezing point of water. By 12:30 PM today the temperature was above the freezing point of water so I was able to get fuel to flow. I spent hours putting even more insulation on the outside fuel line.
Mifflinburg is near Lewisburg which I always drive through on my way to Harrisburg so it was easy to find. You just take a right on Market Street and follow PA-45 West. This takes you through a very rural area where many Pennsylvania farms with corn fields and silos can be seen. Mifflinburg itself is a very quaint little town with a traditional main street and a surprising number of churches. It was famous for its buggy and sleigh factories. I saw a few buggies while I was there but not often enough to get a photo.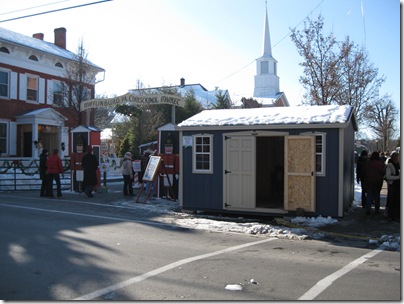 The shuttle bus, which is actually a school bus, was a bit hard to find because it was parked in a strip mall parking lot. I drove right past it and had to circle back. In the photo above you see a fine example of the wood sheds they used as booths. Almost every vendor was in a cramped wood shed. Some of them had space heaters. There were many food vendors and craft vendors. I had a knatwurst with onions, an apple strudel, and a glazed pretzel stick. I bought the knatwurst from a crusty German couple who seemed like the only authentic Germans there. There was a pleasant smell of fried foods in the air which reminded me of amusement parks. Besides food, the only other thing I bought was an adorable Fawn Puppet which I bought from Puppetry Pastimes of Stillwater PA. It is part of the Folkmanisî line of hand puppets. You can stick your hand up the fawn's chest and a finger up each foreleg.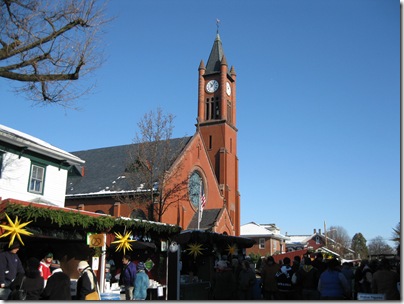 Mifflinburg seems to have a lot of picturesque churches. I saw at least four churches within a block. The houses were also very picturesque. I can't imagine anyone from Germany travelling all the way to the United States just to visit a small Pennsylvania town but you couldn't find a finer example of a historic looking town than Mifflinburg.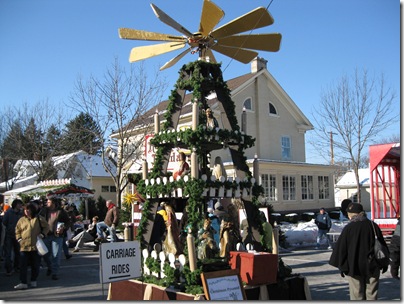 I only spent an hour and a half there because there wasn't much for me to do except have a bite to eat. I didn't see much that I wanted to buy except puppets. I did see some interesting artwork that used silhouettes. I would have bought one of those if I wasn't worried about furnace expenses.
In regards to German heritage, there was a lot of German food available including knatwurst, strudel, some kind of soup in a bowl made of bread, roasted peanuts, and sauerkraut. I did see two signs that translated some useful German words. In the photo above you can see a German Christmas Pyramid which seems to be some sort of traditional Christmas carousel. They are usually made with candles and bells that ring as the heat from the candles turns a wooden rotor at the top.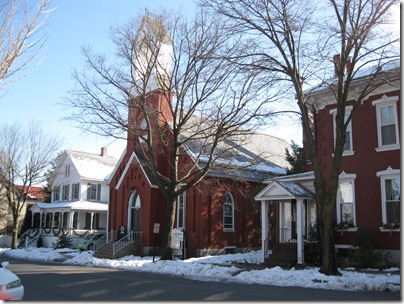 Here is an interesting tidbit from http://german.about.com; The word "Kris Kringle" is a corruption of Christkindl. The word came into American English via the Pennsylvania Germans, whose neighbors misunderstood the German word for the bringer of gifts.
This was a festive way to get into the holiday spirit. It made me dream of a traditional Christmas on a farm with sleigh rides and a village.