Today was spent on a half-day bus ride around Paris followed by an afternoon at The Louvre. I started the day with a free Continental breakfast in my hotel. I felt sufficiently alert enough to make an attempt to respond in French. When I feel exhausted or overwhelmed I just can't make the effort.
Our tour guide for today was a native French woman who spoke English with a British accent. I thought she was British until she introduced herself. The bus drove us around Unesco, Hotel des Invalides, the Rodin Museum, the Sorbonne, the Pantheon, Notre Dame, Hotel de Ville, Champs Eylsees, the Arc de Triomphe, the Pompidou Centre, and ended at the Opera de Paris Garnier. Then we had a short tour at the Fragonard Perfumery. The Fragonard Perfumery is a very lovely Napoleon III town house built in 1860 by Lesoufaché, a student of Garnierand and has paneled walls and a chandelier. I saw some antique perfume labels including one with a pierrot. The tour guide sold me a two day museum pass for 32 euros so I walked to the Louvre after taking some photos of the Opera de Paris Garnier.
I almost forgot this. I saw my first street demonstration. There were some Indians protesting the Sri Lankan government's assault on the Tamil Tiger separatists. This was at the Palais de Chaillot were we stopped to shot photos of the Eiffel Tower.
I entered the Louvre at the I. M. Pei glass pyramid and was able to walk right into the Denon Wing after getting my pass stamped. I immediately saw the Nike of Samothrace (winged victory) which is one of their most famous works. This was a thrill for me because I've read a lot of books on ancient Greece while studying mythology. The Louve has an extensive collection of Greek antiquities and I especially liked the red figure kraters. Unfortunately I could not find the Venus de Milo. I did see the Mona Lisa though. The painting had a large crowd around it and was protected by a huge pane of glass.
I saw some amazing Italian art in that wing which were completely unfamiliar to me. There was an impressive statue of Athena, a colored marble bust of an Italian youth that was particularly handsome (Portrait de Commode jeune), and a very curious painting of a monk with a cleaver through his head (Saint Pierre martyr et une donatrice agenouillée). The figures were done in stark black and white like a photo. It was quite impressive on that score alone but the cleaver through the head made it seem like a classical horror movie still.
Another big thrill for me was seeing some massive French paintings which are very famous. For example, I saw "Bonaparte Visiting The Plague-Stricken in Jaffa". And I stood before "The Raft of the Medusa". Curiously I am familiar with this painting because it was used on the cover of an old book I read when I didn't have many books, "The Raft of The Medusa" by Jean Bruller (Vercors). The only thing I remember about that book is the child characters were way too adult.
More importantly I saw "Liberty Guiding The People" by Eugene Delacroix which is an iconographic image of the French republic. I have a book on French history that uses this painting on its cover but I've never read the book because it is a collection of extremely dry essays. Jaques-Lois David's "The Consecration of Emperor Napolean" was also thrilling because I've seen photos of it while researching my trip.
I had lunch at the Cafe Mollien. The meal was overpriced and not that good. I was particularly disappointed by the expresso in the tiny shot glass. Maybe that was a true expresso but you wouldn't get a shotglass of coffee at Starbucks! I'm probably being gauche there.
After that I toured the Greek and Egyptian antiquities and was about to explore Northern European works when there was an announcement about the museum closing soon. While looking for the way out I found the sculpture garden but only had time to see a few.
I was going to finally give the Paris Metro a try but I could not locate the station in the Louvre's underground levels. However I did come across a Virgin Megastore which is the jackpot of media (books, CDs, DVDs, and graphic novels). I bought a DVD documentary of Paris history. I also bought a French graphic novel (known as Bande Dessinée), something called AquaBlue Volume 4. Although Japanese anime is famous around the world, the bande dessinée is completely unknown in the United States (at least, I've never heard of it). All of the graphic novels I saw there came in oversized hardcovers which is also a little different.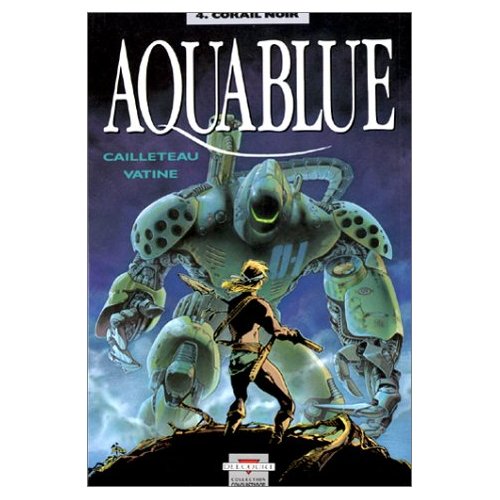 I also bought a Petits Classiques Larousse edition of Arthur Rimbaud's Poesies diverses. This will make a fine addition to my collection because it appears to be a study guide.
While walking back to the Left Bank from the Louve I passed the Musée d'Orsay which I may visit tomorrow to get the most out of my 2 day museum pass.
NOTE: My Flickr username is YouTuber. That is were I am uploading my vacation photos.