I now have an Apple iBook G4 which I purchased with my economic stimulus money. It has a 1.33 GHz processor, 1.5 GB SDRAM, and a 60 GB hard drive. It is running OS X 10.4.9 Tiger. This is the first Mac I've owned which can run OS X. My vintage Macs were limited to OS 9.1.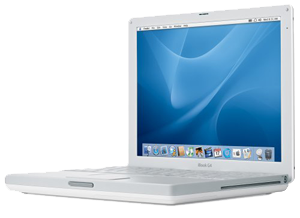 I'll be using this laptop for web development and multimedia work. I don't plan to do any Mac development because that would be too time consuming.
There is quite a lot of free software available for the Mac. I've installed the Firefox browser with the web developer's toolbar add-on and Firebug. I also installed Aptana Studio and Komodo Edit for working on JavaScript and other code. I downloaded MAMP (Macintosh, Apache, MySQL, and PHP) which installs everything a web developer needs to create dynamic web sites.
I've already managed to connect to my iBook through the Microsoft Windows Network and transfer files back and forth from my Windows XP workstation. However, I have been unable to get onto my wireless network. I have a Buffalo AirStation Wireless LAN Access Point and my Mac finds it but insists on a password and then won't accept anything as the password. All of my Windows clients connect to the Buffalo AirStation without any configuration at all using the client software so I don't know how to manually configure it.
I'm very impressed by the iBook which can play CDs and DVDs. It makes for a good mobile DVD player. The built-in speakers are terribly and can barely be heard when cranked up all the way but I can plug my headphones into it for better audio.
It came with iMovie and GarageBand which I'm eager to play with. I will also be running Photoshop, After Effects, and maybe Dreamweaver.