Today I made yet another trip to Stroudsburg. Ordinarily I would not visit a city so soon after a previous trip but I'm seriously considering moving to Stroudsburg. That means my research has to be far more extensive than a trip made from idle curiosity. I had a long list of things to check out and photos I needed for my custom travel guide for Stroudsburg. I currently have 80 web pages of material on Stroudsburg.
I parked at my usual spot on Ann Street. The parking lot was nearly full because a lot of people where attending church at Light of the World Church. The first place I went to was Earthlight Natural Foods, a health food grocery store. I thought this store might be located in the textile mill that houses the American Ribbon Fabric but it had a separate building. Apparently nobody has ever bothered to take a photo of this grocery store. Earthlight Natural Foods does not open until 11:00 a.m. on Sundays and I arrived in Stroudsburg shortly after 10:00 a.m. so I didn't go inside then.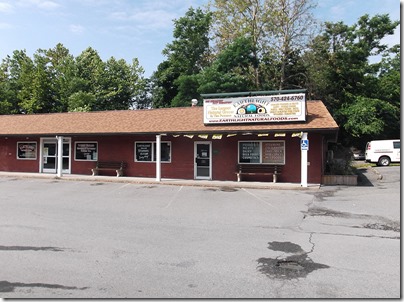 Next I walked up to Main Street and then went further west than on previous trips. I saw the Pocono Mountains Visitors Bureau and then found a Wawa store. Wawa is a famous chain of convenience stores based in the Philadelphia area.  Wawa is practically a Philly institution. We don't have any Wawa stores in my area but Sheetz is another popular chain of convenience stores and we have one of those. At the Wawa store I bought the Sunday edition of The Pocono Record and a bottle of Wawa iced tea. The Sunday edition of The Pocono Record was really thick with inserts which pleased me because it will be better research material than the really thin Saturday edition. I also picked up a copy of The Pocono Times.
After depositing the newspapers in my car I went back to Main Street and took some photos of Main Street Jukebox, a record store. I did find a good photo of this establishment online but it was outdated. Main Street Jukebox is in a different location and looks completely different now. So this was something I wanted to correct in my notes.
I entered Dunkelberger's Sports Outfitter on Main Street to see if they had any hiking gear. They did have a pretty good selection of camping gear so I bought a deluxe brass whistle and a multi-colored headlamp by Coleman. I don't think I need overnight camping equipment but I do want to carry emergency equipment while hiking. Dunkelberger's Sports Outfitter did not have any trail maps or books on hiking.
I then located McMichael's Falls. Here was something that I completely overlooked on my previous trips. There is a fantastic waterfall right in town and a small park with a viewing platform so you can enjoy the waterfalls. I shot some video of McMichael's Falls and took lots of photos.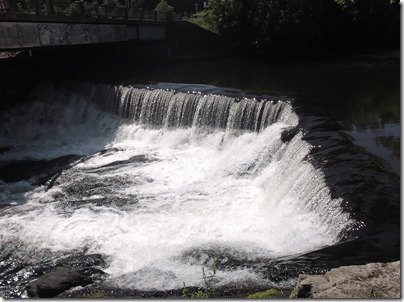 When I got back to my car on Ann Street it was past 11:00 a.m. so I returned to Earthlight Natural Foods which was now open. They had an interesting selection of food, not the usual stuff you find in grocery stores. Unfortunately I could not buy anything that requires refrigeration since I was two hours drive from home but I did buy a bag of Maple Pecans by Sahale Snacks. Main Street Jukebox also opened at 11:00 a.m. on Sunday so made my way there next. Main Street Jukebox is a good old fashioned record store with vinyl records, compact discs, and books on rock bands for sale. I bought a two CD set of Blondie music including the CD of Ghosts of Download which I've never even heard of before. I used to be obsessed with Blondie so buying this CD was a deliberate act to invest Stroudsburg with some personal significance.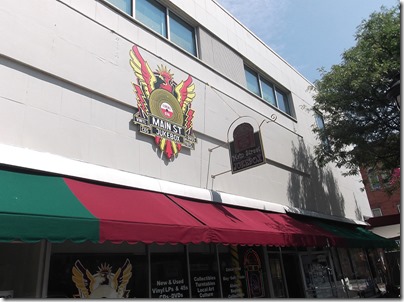 After that I walked along Sarah Street and took photos of any building that was of some interest. I found the Stroudsburg Fire Department building which was pretty interesting. I probably should have spent more time downtown but I had other places to visit so I drove to the Pocono Plaza in East Stroudsburg. The Pocono Plaza is your typical strip mall and I usually would not make a point of visiting a shabby little strip mall, but I intend to investigate every nook and cranny of this town. There is also a Kmart store in the strip mall which was the only store I entered. Kmart has become a pretty shabby department store which is barely surviving. They do sell a lot of heavily discounted DVDs now. I found a really cool Japanese science fiction movie Assault Girls for only $5.00.
I continued further into East Stroudsburg and finally visited the Pocono Medical Center and East Stroudsburg University which was on my itinerary for previous trips. It is kind of surprising that nobody has taken any photos of these important facilities and put them online. I could not find any decent photos of the Pocono Medical Center or various buildings on the East Stroudsburg University campus. These are the two largest employers in the Stroudsburg area so this was some serious sleuthing and not idle tourism. I was particularly interested in seeing the Fine Performing Arts Center and felt quite pleased after making a long walk in the hot sun just to find the place. There really isn't much to East Stroudsburg except for the university which has grown into a vast empire.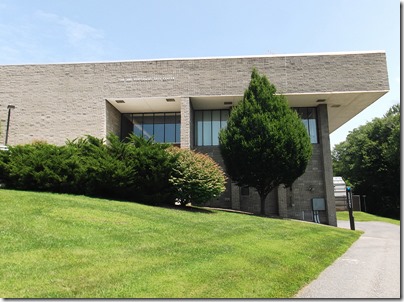 Before going home I went to the Stroud Mall and bought a book on Hiking Pennsylvania at Books-A-Million. I also had a slice of pizza at the food court. I was hoping to find Sbarro's Pizzeria which is still listed in the mall directory but they have been replaced with another pizza restaurant. It is easier to get back on Interstate 80 West if you go to Stroud Mall.
I probably should have spent more time in Stroudsburg. I left at 2:00 p.m. and got home by 4:00 p.m. I don't think I will make any more trips to the Poconos for awhile because I'm dangerously low on money. I need to do more research on Honesdale, Jim Thorpe, and Milford before I can visit those quaint towns in the Poconos region.