For my last day in Rome I didn't want to stray far from my hotel because the blisters on my feet were very painful. I had to take an aspirin every few hours. The first thing I did was get cash from an ATM in the Roma Termini station because I would need to pay a hotel tax in cash the next morning.
I then walked to the Palazzo Massimo alle Terme which isn't far from the Roma Termini station. I had some trouble getting through the metal detector but eventually they let me in. This museum has four floors and I think I went to each floor. The bottom floor had a Roman coin collection with some Papal coins too. In this museum I saw the famous Boxer at Rest, the Discus Thrower, a gruesome mummy, and the frescoes from the villa of Livia. There was a special exhibit on Monsters. Fantastic Creatures of Fear and Myth.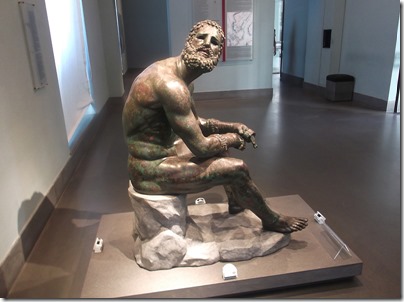 After that I intended to visit the Basilica di Santa Maria Maggiore but a wedding was taking place so I did not go inside. I think I got a photo of the bride and groom entering the church. Instead of that I went to  San Pietro in Vincoli where I saw the chains of St. Peter, the tombs with skeletons, and Michelangelo's Moses. I used a Euro coin to light up Michelangelo's Moses since nobody else wanted to spend anything. When I backtracked my way to Basilica di Santa Maria Maggiore I stopped into a Casa del Rosario store where I bought a rosary and a cheap crucifix as gifts. Next I headed for Palazzo del Freddo for gelato. I passed through Rome's Chinatown and saw many shops along the way there. Somewhere along Via Napoleone III, near the train station, I stopped in at a restaurant and had a pizza for lunch. I think the pizza was covered in prosciutto crudo, a common pizza topping. I then returned to the hotel to rest my feet.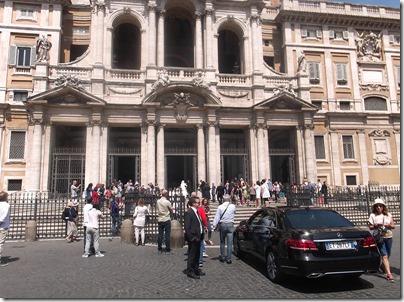 I didn't want to waste my last day in Rome so I walked north to Piazza della Repubblica just to wander around but I eventually visited the Baths of Diocletian. I used the same ticket I got at the Palazzo Massimo alle Terme but could not get into the Rodin special exhibit. The best part of this museum was the inner courtyard which was lined with hundreds of ancient statues.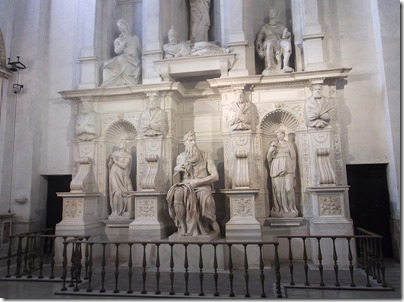 That evening I had my last meal at Ristorante Donati, mixed cheese and an espresso.