The sixth day of my week in Rome got off to a bad start when the cashier at the Farmacrimi Stazione Termini only gave me a few Euro coins in change for a 50 Euro bill I gave her to pay for $17.02 in purchases. That pissed me off for several hours. Never give somebody a larger bill than is necessary. I took Metro Line A in the direction of Battistini to Barberini Station. My goal for this day was just to locate a few more landmarks in the center of Rome. First I went back to the Trevi Fountain because there were other things in the area on my list. I found the Teatro Quirino which is now named after Vittorio Gassman, one of Italy's best stage and film actors. I liked him in "The Scent Of A Woman" so much that I looked for more of his films. He appeared with Sophia Loren in the film Questi fantasmi which is based on a play by the playwright Eduardo De Filippo. I read a few of Eduardo De Filippo's plays in translation in preparation for my trip. He is not well-known in the United States or the theater here but I saw theater posters in Rome and Venice advertising performances of his plays. You need to see things like that to establish the significance of a writer. This is the sort of detailed cultural exploration I like to do for my major trips.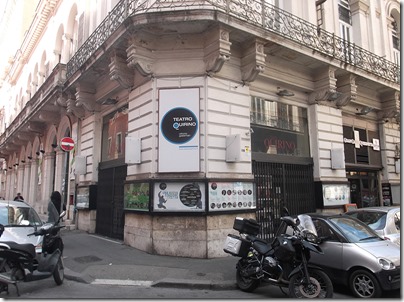 I then found Giolitti and ordered a gelato; a cone with coffee, apple, and raspberry scoops. You have to try some gelato while you are in Rome! The procedure for getting a gelato was another minor trial. First you place an order at the cashier and pay to get a ticket which you take to the ice cream counter. I should mention that you get a receipt for everything in Italy. I mean every little thing. Buy a can of soda at a food cart, you get a small receipt. Pay a fee at a church to see something, you get a little receipt like a ticket. It is the law that you must receive a receipt for every financial transaction. You used to be fined if you did not take a receipt but now only the vendor gets fined. I've even received a receipt for things I've ordered over the Internet from Italy!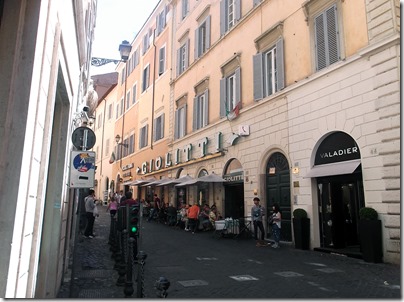 I also visited the Pantheon again because it is worth seeing twice. I went inside and took more photos and marveled at its grandeur. Just think, I've been inside the Pantheon which has stood for thousands of years and has been seen by illustrious men for centuries. I saw many of the great artworks pictured in my World Art textbooks which I never expected to see in real life.
There were several Catholic churches I wanted to visit but the first church I came across was not on my list, Sant Ignazio di Loyalo. Built in Baroque style between 1626 and 1650. I definitely saw the "Gloria di San Luigi Gonzaga" by P. Legros and the Monument to Pope Gregory XV. Part of the purpose of these blog entries is to record what I saw, but could not immediately identify. There was also a curious model of a round church which may not exist. I've never seen anything like it.
It was on this day that I entered the Santa Maria sopra Minerva where I saw the tomb of Fra Angelico. After that I entered yet another church, San Luigi dei Francesi. This is a French church and there was a large tour group outside. Inside there was a choral group singing and being filmed by someone with a video camera. However, the big attraction in this church was the three paintings by Caravaggio. I'm pleased that I managed to see so many Caravaggios on my trip. I remember there was a sign warning about pickpockets near the chapel with the Caravaggios.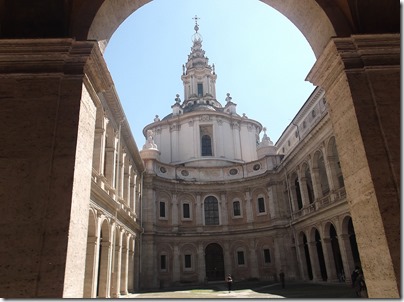 Another church I sought out was Sant'Ivo alla Sapienza but I could only photograph the exterior because the church was closed that day. Sant'Ivo alla Sapienza is famous for its architecture. After that I must have returned to the Piazza Navona to get my bearings and found my way to Campo de Fiori, another famous square I wanted to see. Campo de Fiori was filled with market stalls so I found it difficult to get a good look at the Giordano Bruno monument. I didn't buy anything at the market although I did notice a Libreria Fahrenheit 451 bookstore which tempted me.
I had lunch at Caffè Bianco, which is near the Campo de Fiori but not actually on the square. I ordered a large ball of Buffalo mozzarella with ham. I did not particularly care for this but I saw other tourists ordering large pizzas which seemed too much for me. After lunch I went to the Galleria Alberto Sordi and entered La Feltrinelli where I bought a DVD of "La Grande Bellezza". There was a 2×1 special which they encouraged me to take advantage of but I declined. I kind of regretted that but buying anything was awkward. La Grande Bellezza is a great movie. I have watched it now that I am home. It has many scenes featuring the landmarks of Rome and I liked the main character because he was a literary writer and a sardonic observer of life.
The last landmark on my list was the Adriano Temple, the ruins of the Temple of Hadrian. All that remains of the temple is some columns embedded into the Rome stock exchange building but I wanted to see it anyways.  I headed off in the wrong direction at first, but eventually I managed to find the Adriano Temple. Finally I took Metro line A in the direction of Anagnina from Barberini Station to Termini Station. That evening I ate at Ristorante Donati yet again and ordered the cold seafood salad and artichoke.