Today I went on a bus trip to Scranton and the Poconos. I went on this trip mainly for the sake of visiting Scranton which is one of the major Pennsylvania cities I've been planning to explore. I plan to drive to Scranton this Saturday for a more extensive visit. Currently I still have the following major cities to explore in my state; Scranton, Wilkes-Barre, Reading, Allentown, and Pittsburgh.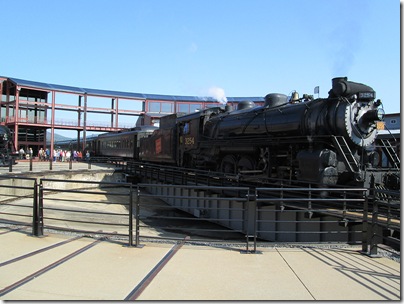 Williamsport is in the viewing area of Scranton / Wilkes-Barre television stations which cover local news in Lycoming County. So I'm very familiar with places names in Luzerne and Wyoming Counties even though I've never been there. Scranton is a two drive from Williamsport but it still seems local because television lumps us together. For example, I saw the WBRE office in downtown Williamsport when I was taking photos this Sunday.
Besides local television news, Scranton is known to me as the home town of playwright and actor Jason Miller. Jason Miller is famous for his role as a priest in The Exorcist movie. Jason Miller once visited the James V. Brown library here in Williamsport where I met him. I also saw him in his one-man play Barrymore's Ghost which he performed at our community college theater.
But now Scranton is famous due to the television comedy, The Office, because the fictional company Dunder Mifflin is supposed to have a Scranton branch. I've never watched that show because I'm too poor for cable television but I did buy the first season on DVD. Scranton has also been in the news lately because the city is practically bankrupt and tried to pay its police officers minimum wage.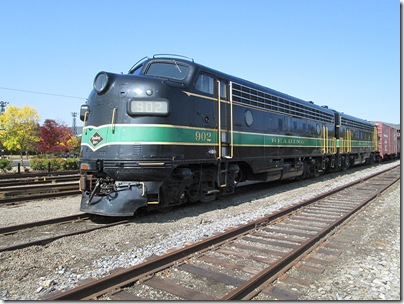 But on this trip I did not get to see much of Scranton except for Steamtown, the national historic site which is run by the National Park Service. At Steamtown I saw a steam locomotive on the turntable. I shot some video of that which I will try to upload to YouTube. Later on I got to go for a short ride on the steam locomotive which was pretty cool. At the Steamtown bookstore I bought a book on the history of Scranton and I managed to snag a copy of the official Scranton visitor's guide which will be useful in completing my custom travel guide for Scranton.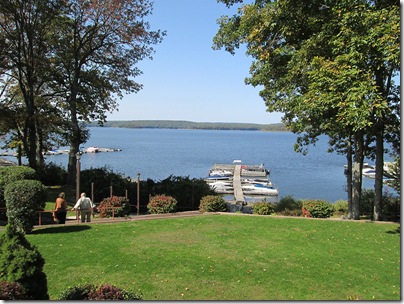 After Steamtown, the bus took us into the Poconos for dinner and a variety show at a lake resort. This part of the trip was like going back in time to some bygone era with the very elderly. We went to Ehrhardt's Waterfront Resort on Lake Wallenpaupack. It was the typical sort of resort you find on a lake although I don't really understand the attraction. There isn't that much to do on a lake except go boating. The resort had a dock. But their main business seemed to be banquet dining and variety shows for a very old clientele. The variety show was a one-man show featuring music from way back. I couldn't believe it but Big Band and Swing music is still popular with the elderly. When will we ever be rid of that decrepit music? I thought punk rock was the music of the elderly now. Original punk rock is pretty old. Kids today don't know Johnny Rotten or Siouxsie Sioux.
On the bus ride to Scranton, I took careful note of the road signs along the way so I'll know how to find my way there on Saturday. I plan to spend an entire day in Scranton to familiarize myself with the city. Scranton is not a very exciting city, but I may get a job interview there some day. I may also want to use Martz Trailways or the Wilkes-Barre/Scranton International Airport.