On Thursday I visited the Westmount neighborhood and the Olympic Stadium. First I went to Place Alexis Nihon where I bought some shoes at Zellers. I was going to buy shoes at Payless ShoeSource but they had not opened yet. Then I walked around Westmount taking photos of various landmarks; Cabot Square, Dawson College, Westmount Square, Westmount High School, Westmount Park, Westmount Conservatory, Victoria Hall, Clock Flower, City Hall, the Cenotaph, and a catholic church. Westmount Park was especially lovely and had a restroom which I used. Westmount Conservatory was like a small scale Longwood Gardens.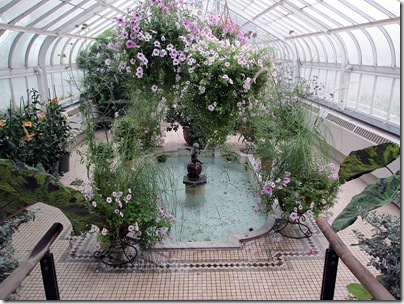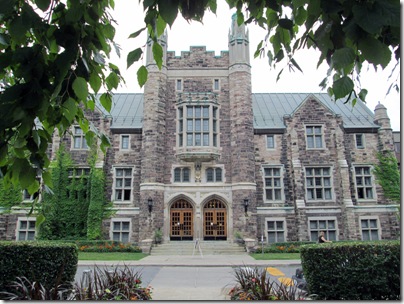 When I got back to Saint-Louis Square yet another television crew were pulling a prank. Some actors dressed like cops where pulling cars over and measuring the distance between the cruiser and the car. At first I thought the cops were real and being total dicks. I was drinking a root beer while watching them and had to unfurl my umbrella briefly due to a rain shower.
Then I returned to my room and put on my new shoes. I discovered the insoles were for "Dames". I went out again and ate at a La Belle Province I found on Boulevard Saint-Laurent, at the end of Prince-Arthur Street. When I  tried to cross Saint-Louis Square some film guy stopped me in French so I walked around the block. They were still filming their cop prank.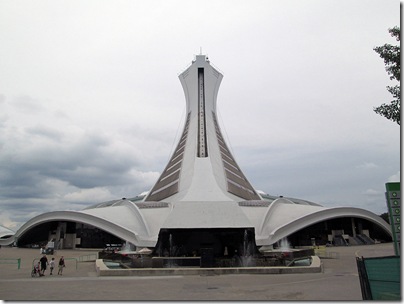 I then rode the Green Line of the metro to Pie IX to visit the Olympic Stadium. I was not planning on going to the Olympic Stadium but I had run out of things to do. I followed other tourists from the Pie XI metro station to the tourist hall which would have been hard to find on my own. I bought tickets for the Observation Deck and the Guided Tour of the Stadium. I almost didn't get back in time from the Observation Deck for the guided tour. The tour guide spoke heavily accented English but he was charming and funny. First he showed us some scale models of the stadium, then he led us into the stadium, and finally he led us outside the stadium to see a memorial. I remember there was a group from Belgium on our tour who didn't take the French tour for some reason.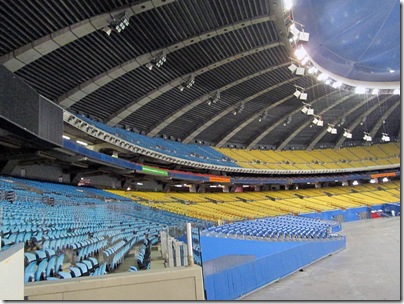 After that I went to the Biodome and walked through various ecosystems. It was very crowded in the Biodome. I had to go to the Biodome to buy my ticket because the tourist hall did not sell them for just the Biodome.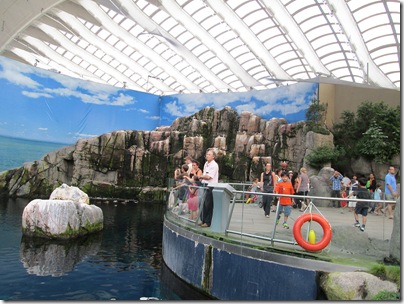 When I returned to Saint-Louis Square yet another film crew were set up to film some a reporter, or so I assume. I ate at a Polish restaurant on Prince-Arthur Street, Mazurka, where I had undercooked pork chops (although I asked for well-done). But the Polish coffee was pretty good, similar to an Irish coffee.