Last night I watched an amusing film on DVD, La Florida. I'm planning another major trip this summer to Montreal so I've been looking for movies made in Quebec. La Florida was a real find! I loved this movie! It concerns a family from Montreal who get sick of the Canadian winter and move to Florida to start their own business by renovating a shabby motel.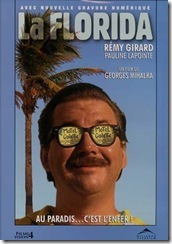 I've lived next to a motel all my life so motels definitely seem like a part of the American landscape to me. It was amusing to watch a film about the Québécois invading the American motel business and bringing French to Florida.
This summer, I've noticed that my neighborhood has gone hotel crazy in a big way. The Marcellus Shale hydraulic fracturing industry has created a housing shortage in Williamsport and tripled rents. One result of this is an explosion of real estate speculators rushing to build hotels and motels all over the place. For example, the motel I live next to is currently under construction to add a second floor. It is really going to change the look of my street.
But that is not all. I've noticed a considerable amount of other construction going on in the area. On the mountain behind Weis, it looks like somebody expanded a house into a luxury lodge. I can't quite tell what the building looks like but it is quite noticeable up there on the mountain. It must have a nice view. It does look too large to be a private residence.
And recently I've learned that the Kast Hotel, which used to be a restaurant in Newberry, not far from where I work, has gone back to being a real hotel with 19 rooms available. I saw their advertisement in a local weekly.
Personally I think Williamsport needs a skyscraper to accommodate its growth. Williamsport could be the Dubai of Pennsylvania!