Yesterday I made my third trip to Washington DC. In just two weeks I'll be making yet another bus trip to this city. I want to visit Washington DC as often as possible as long as I'm not doing the driving. Eventually I would like to explore the city for its own sake, but it will take many trips before I've seen all the museums on the National Mall.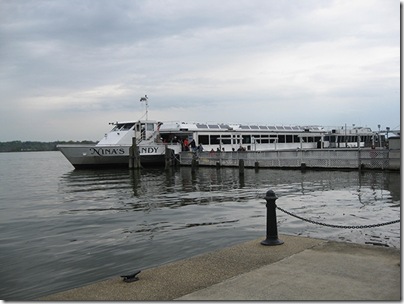 This bus trip included a cruise on the Potomac River. The cruise ship was the Nina's Dandy operated by the company Potomac Party Cruises. The dock was in Alexandria Virginia so I got to see some of this historic city on the west bank of the Potomac River, south of Washington DC. The historic center, known as Old Town, was quite impressive with fancy boutiques, restaurants, antique shops, art galleries, and picturesque townhouses which were resplendent with spring foliage. There was even a photo shot in progress when we arrived although it looked like a couple having wedding photos taken. I saw the Alexandria Torpedo Factory but we did not go inside. Alexandria's Old Town is definitely an attractive tourist destination but it seems a bit difficult to get to if you are based in Washington DC. I saw an Alexandria water taxi which may be a good way to get there.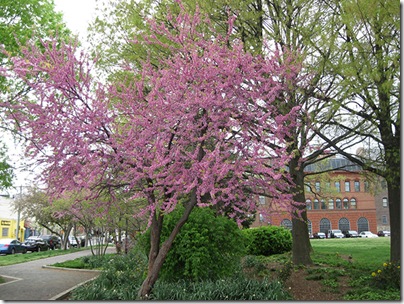 Washington DC does not have any skyscrapers. So you see lots of office parks with large office buildings all around the city. Alexandria Virginia had many office parks and apartment buildings or condominiums. I also saw many office parks on the drive down as we approached Washington DC, including a large IBM campus.
As soon as the bus arrived at the dock we were allowed to board the cruise ship where they immediately served us coffee, then a salad, and finally the main meal shortly after we left the dock. While we waited, I was able to watch many commercial airplanes making their landing at Ronald Reagan Washington National Airport. Planes were landing approximately every 15 minutes so I saw a lot of planes that day. I also saw many planes taking off. In 1982 one of those planes from that airport crashed into the 14th Street Bridge, killing almost everyone on board and several people in cars on the bridge. I don't remember ever hearing anything about this fatal crash but it was a long time ago.
The cruise ship was just barely able to pass under the 14th Street Bridge due to the water level and we could not go far past that because the tide was still coming in and we would not have been able to return under the bridge. So we did not get a good look at the Lincoln Memorial from the Potomac River or see the Kennedy Center. Instead the cruise ship headed up the Anacostia River where I saw several sights I had not researched; the National War College, the Nationals Park stadium, and the U.S.S. Barry destroyer at the Washington Navy Yard.
On the return trip I saw the U.S.S. Sequoia Presidential Yacht which was docked near the Nina's Dandy dock and the Cherry Blossom paddle wheel boat. There was one office building along the Potomac River that caught my eye because it had my last name on it, the Robbins-Gioia headquarters in Alexandria Virginia. This corporation seems to provide project management consultation for the government since they hire professionals with security clearance. They offer technology services and seek Microsoft Certified Professionals skilled in Microsoft SharePoint and Microsoft Project Server. Well at least their name is cool!
After the Nina's Dandy returned to its dock, we boarded our bus and went to the Washington Monument where the bus driver circled the National Mall for almost an hour trying to find a parking spot. This began to piss me off but eventually he parked in front of the Smithsonian Institution Building which was right next to where I wanted to go, the Hirshorn Museum, so that worked out well for me. Washington DC is packed with tourists and their tour buses. This is a bit surprising because you only ever hear about the politics and don't consider the city a major tourist destination but I guess Washington DC is popular with tourists. That makes me feel better about making frequent trips to the city. I saw some tourists on Segways which seems rather futuristic to me. Not too many things strike me as being futuristic after four decades but Segways are very common now. They were unimaginable in the 1980s.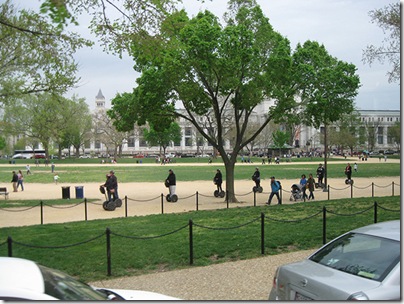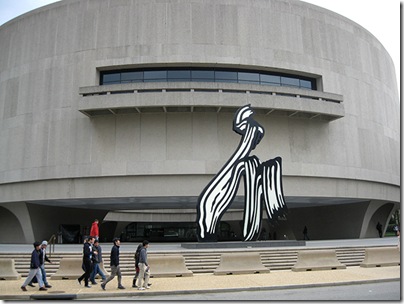 The Hirshorn Museum was my major goal for this trip. This museum specializes in modern art. The building itself is quite futuristic looking and worth a visit for its own sake. Its collection of artwork is not very extensive or impressive though. I only spent an hour there. I did see some paintings of Francis Bacon and William de Kooning, two of my favorite painters, and a few paintings by Edward Hopper. Also, the view of the National Mall from the lounge on the top floor was pretty cool. I bought the Official Guide To The Smithsonian at the bookshop. Technically, the Hirshorn Museum is part of the Smithsonian. Then I crossed the street to the Sculpture Garden which looks lovely in the Spring. There I saw Auguste Rodin's "Monument to Balzac"yet again. I've seen copies of this sculpture at the Museum of Modern Art in New York City and on the Boulevard du Montparnasse in Paris.
After leaving the sculpture garden I walked to the United States Capitol, the meeting place of the United States Congress. Along the way I found the National Mall all dug up because they are replacing its soil, according to a sign. It really ruins the view. On my last trip to Washington DC I found the reflecting pool in front of the Lincoln Memorial was drained and looked like a construction site so this just adds to the impression of  Washington DC as one huge construction site. Even the Capitol Building had some scaffolding so I didn't get any ideal photos of it. However, I did like the Ulysses S. Grant Memorial which was very grand and impressive. This memorial features an equestrian statue of General Grant flanked by two Civil War sculptures. The bronze sculptures have stained their marble bases green.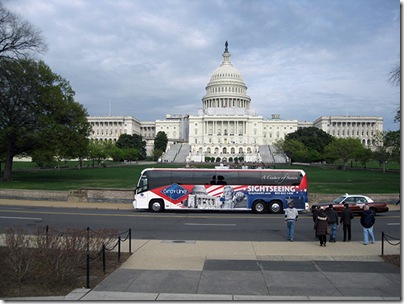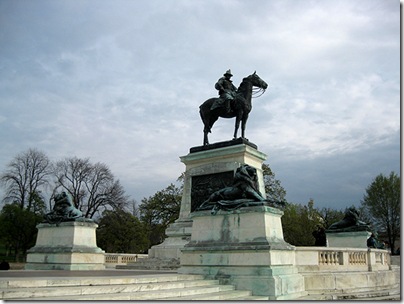 That concluded my third trip to Washington DC. On the way back, we stopped for diner at the Mountaingate Family Restaurant in Thurmont Maryland for a buffet diner. I only mention this because I saw another Susquehanna Trailways bus there so it seems to be a poplar stop for this bus company. On my next trip to Washington DC in just two weeks I think I will visit National Air and Space Museum. That is certainly a  major museum that should not be missed.