On August 8th, 2010 I went on a special bus tour to Ellis Island and the Statue of Liberty. This trip did not take us into New York City. I left Williamsport at 5:00 a.m. and we arrived at the Liberty State Park in New Jersey at 10:00 a.m. We stopped in at McDonald's for breakfast so I ordered a Big Breakfast because I figured there would not be anyplace to get a bite to eat on the islands. After breakfast the tour guide handed out the ferry tickets.
The ferry to Ellis Island departs at the Communipaw Terminal, a train station at the Liberty State Park. We had to go through airport style security which meant taking off my belt and all metal objects to pass through a metal detector. Somebody could make a fortune by making decent plastic belt buckles. I hate taking off my belt in front of everyone.
I was fascinated by the modern skyscrapers of Jersey City so I took many photos of them. The tallest skyscraper is the Goldman Sachs Tower where they probably keep the Eye of Sauron. I've never heard anything about Jersey City because it is in New Jersey which suffers scorn and neglect for not being New York City. However, I did see this area from Manhattan and did some research on the city because it is pretty impressive.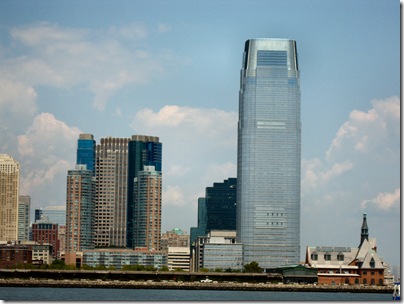 The New York City skyline was also very impressive but missing the World Trade Center's Twin Towers. I did see them while they were still standing on my very first trip to New York City back in the 1980s but the city was a terrible place back then and I did not have a good time.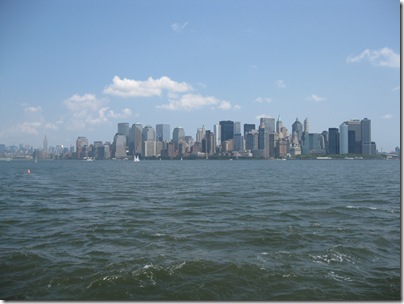 The ferry soon took our bus group to Ellis Island. I did not particularly want to visit the Ellis Island Immigration Museum but it was actually very interesting for me because I'm doing some armchair travel in Europe. My current passion is Germany and Italy and I saw plenty of artifacts from the immigration waves that originated there. I could read a few German words in the documents but I don't know much Italian yet.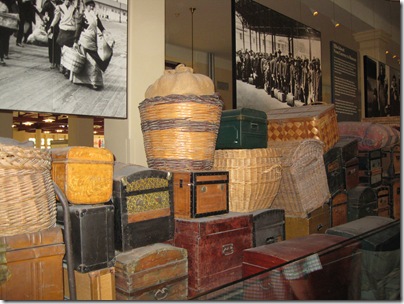 On the first floor I saw stacks of old immigrant baggage and the Peopling of America exhibit. I was initially underwhelmed by Ellis Island because this exhibit looked like a three dimensional Power Point presentation with a lot of charts rendered as museum pieces. I expect more from a museum than charts and graphs! There was also a collection of Barbie dolls dressed in the national costumes of all the countries that the immigrants came from. I took a photo of Barbie France. Then I went to the movie theater and saw a short film narrated by Gene Hackman.
On the second floor I found an exhibit dedication taking place in the Registry Room for the Go For Broke: Japanese American Soldiers Fighting Two Fronts exhibit. One of the speakers was George Takei, the famous actor best know for his role as Sulu in the classic Star Trek series. It is was quite thrilling to see him in person although I did not sit down for the dedication which had already started. Instead I walked through the Through America's Gate wing on the second floor. There were some interesting exhibits there including paper and coin money that immigrants exchanged. At the Peak Immigration Years wing I saw a steamship model, railroad timetables, and anti-immigration newspapers from that era.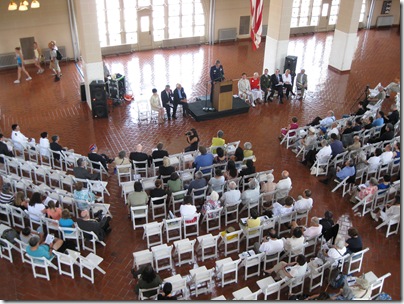 The third floor had the Go For Broke exhibit and examples of clothing and belongings of immigrants. There were a lot of huge black and white photos blown up to poster size. The street scenes were life sized and rather impressive. You almost felt like you were there.
Back on the first floor, I went into the gift shop and bought a seven inch replica of the Statue of Liberty which is sitting on my desk. Then I went to the cafeteria and ordered a lobster roll and large coke with homemade potato chips. After eating my lunch, I walked around the promenade and took photos of seagulls, ferries, the Manhattan skyline, the Immigration Museum and the Statue of Liberty which was still too far away for good photos.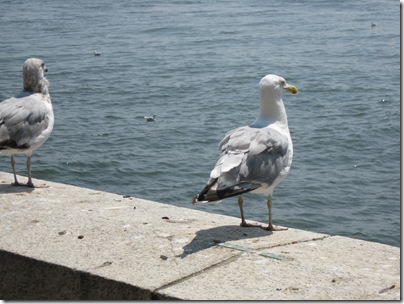 At around 1:00 p.m. I got on the ferry to go to the Statue of Liberty. It was really thrilling to see the Statue of Liberty up close. I took hundreds of photos of it from all angles by walking around the promenade. The tourists were concentrated in the front of the statue. I've never seen so many people taking photos. I overheard a women calling to her children in French.  Fortunately my ferry ticket included admission to the pedestal so I was able to see the Statue of Liberty museum inside and climb up to the pedestal for some great views of New York Harbor and the Manhattan skyline. You could even see the Brooklyn Bridge. It was very windy up there. Unfortunately I think that is as high as you can go.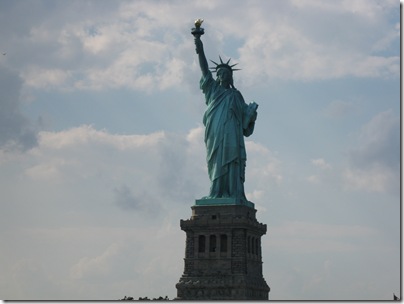 Before I left the Statue of Liberty National Monument I stopped in at the gift shop and bought a Statue of Liberty bookmark and a copy of the photo book New York Vertical. I did not spend much money on this trip because there wasn't much opportunity to do any shopping. I took the ferry back to New Jersey in plenty of time to catch my bus at 5:00 p.m. Unfortunately we were kept waiting for two people who took the wrong ferry and wound up at Battery Park in lower Manhattan. They had to go to the Port Authority Bus Terminal to take a regular Susquehanna Trailways bus home. That is fine example of how a little confusion can ruin your trip. But it does tell me that Susquehanna Trailways runs a regular bus service to NYC.
On the way home we stopped at one of New Jersey's many diners , the Hibernia Diner, where I ordered a New York egg cream and a chicken gyro, managing to squeeze a little more New York City into the experience.
My next trip to New York City will be on August 28, 2010. I'm really going to kick it up a notch for this trip and maybe do some business like a real New Yorker. But I also plan to go on the Lincoln Center tour. I would prefer to see a performance at the Lincoln Center but I won't be there for the evening so I will have to settle for a guided tour. That requires a reservation. I'm currently reading the novel American Psycho by Bret Easton Ellis, a fascinating glimpse into the world of the NYC financial community.  Stock brokers and financial executives certainly are psycho. Look how they knifed the world's economy to death! Anyway, it is great to read a novel set in New York City while actually having a good idea of the neighborhoods and establishments being mentioned. I may go the Cafe Luxembourg restaurant which is mentioned in the book if I can make a reservation. You can easily do that online using OpenTable.