Today I went to Jersey Shore PA for a staycation. A staycation is like a vacation, except you don't actually go anywhere. Although Jersey Shore is only 15 minutes from where I live, I have never been there. My brother lives in Jersey Shore and I've been at his house often enough but I never ventured downtown.
The first thing I did in Jersey Shore was have lunch at Santino's Italian Cuisine. I plan to visit Venice after my big trip to Berlin so eventually I will be studying Italian. This restaurant had a large wall mural of a Venetian gondola in Venice so I sat facing that. Italian restaurants are very common in the United States so it isn't necessary to go to Little Italy in NYC to find Italian food. I'm not quite sure what I ordered, something di Mare which was linguini with scallops, clam, mussels and shrimp. Maybe I got the wrong pasta. It was more like angel hair pasta (capellini). All I know about Italian pasta is what I find in TV dinners! Anyway, it was a heaping plate of steaming pasta and seafood. I picked out all the seafood and left most of the pasta on the plate because it was more than I could eat.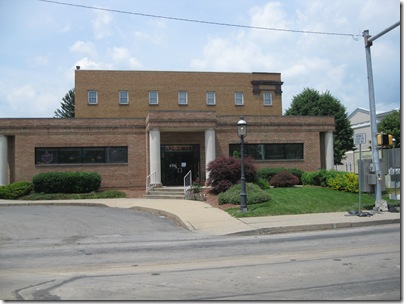 After lunch I went to the Jersey Shore Bookshop. Being a bibliophile, it is shocking that there is a bookstore within 50 miles of me that I have never been to. Jersey Shore Bookshop sells used books. They have a nice selection of paperbacks and surprisingly old hard cover books. A few of the books seemed to be water damaged in a similar manner which suggests they were damaged right there on the shelf. I bought four paperback books and got the fifth one free. I found two thin guide books on London and a "Facts About Germany" book. The "Facts About Germany" book was quite a find. It was actually published in Germany, but in English, and features a lot of information on the country although before unification.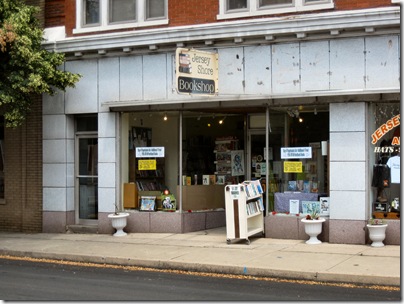 That was pretty much all I did in Jersey Shore PA. I was only there for two hours. It is a very small town. I did walk along Allegheny Street all the way to Thomas Street which was familiar to me from my trips to my brother's house. I took a lot of photos along the way. I have developed a tourist's eye for picturesque local details and I saw plenty of interesting buildings on my walk. I have always appreciated buildings with character because they seem very evocative of a different life in a different scene. As far as architecture goes, Jersey Shore is as interesting as a New York City neighborhood.
I will record my impressions of some buildings that caught my eye. First there was a weathered abandoned house that looks like it had a storefront off to the side. What caught my eye was the very weathered addition with the store window. It was the very picture of small town decrepitude.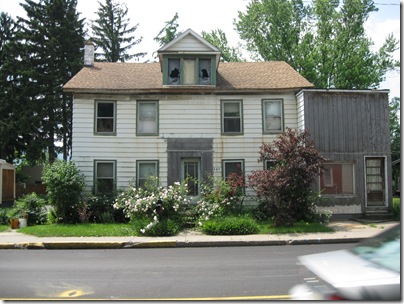 Next there was a brick apartment building next to a Chinese restaurant. This looks like a very old building which has been converted into apartments, a tenement building out in the middle of nowhere.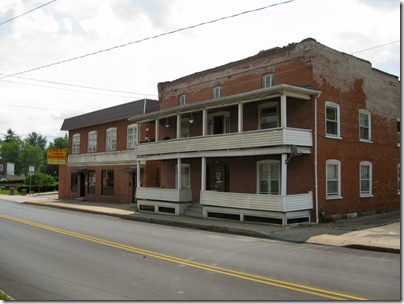 Leland Apts. was another brick apartment building that seemed rather quaint to me. Although they would not seem very remarkable in a city, these apartment buildings appeared isolated in the suburbs where they have more character. They were not part of a city block.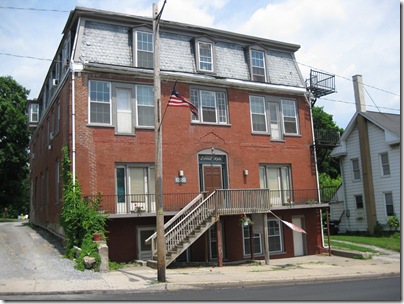 The Tiadaghton Valley Mall was a surprising find. I've never heard of this place. It looks like a school or a nursing home that has been converted into a shabby shopping mall. The stately design of the building is at odds with its present use giving it a wonderful sense of decline.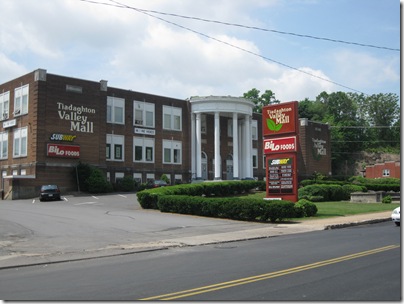 And finally, there was a large brick house up on a hill that caught my eye. It has a wide set of steps leading to the front entrance. It also appears to have a large sun room at the front of the house which I imagine would be a fine place to relax. If this house were fixed up a little I can see as a grand place to raise a large family in another era.
All together, this staycation only cost me $30.00. $25.00 for a meal at Santino's Italian Cuisine and $5.00 for used books at Jersey Shore Bookshop. The sight seeing was not that bad but that will only be true for an initial visit. There really isn't much to do in these rural PA towns for long-term residents. My explorations of New York City neighborhoods aren't much more exciting. Once you've learned what to look for as a tourist you can appreciate your own neck of the woods which can be seen for its own charms.