I had a great time on my trip to New York City yesterday, April 17th, 2010. The purpose of this trip was to visit the American Museum of Natural History. I was not particularly eager to visit this museum which is why I went to several other museums first on previous trips. But I was really impressed by the American Museum of Natural History. You should definitely make this awesome museum one of your top goals for a NYC trip. The museum displays are incredibly well done, superior to anything I've seen in any other museum. Everything is designed as a grand spectacle to attract your attention so don't expect to breeze through the exhibits.
This was another Amtrak trip from Harrisburg. Getting across the Susquehanna River from Route 15 to Harrisburg has always been a problem for me but I finally have it figured out. To cross the Harvey Taylor Bridge, drive past the bridge and turn right onto Elm Street. Then turn right onto North 2nd Street and right onto the Taylor Bridge Bypass. To get back to Route 15 North, drive down Walnut Street to North Front Street and turn right onto Market Street and cross the Market Street Bridge. I got to Harrisburg early so I had time to take a few photos.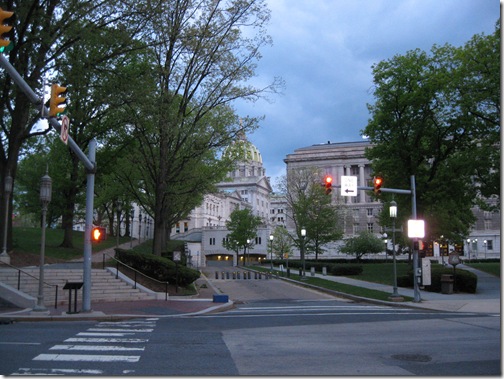 This is a view of the Pennsylvania State Capital building as seen from 4th Street and Walnut Street. I always park at the Walnut Street Garage and walk to the Harrisburg Transportation Center.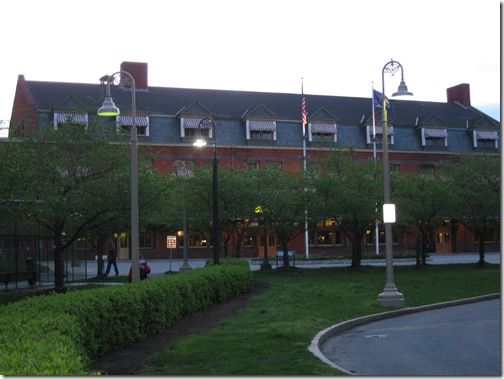 This is a photo of the Harrisburg Transportation Center, a grand old-fashioned train station, the Grand Central Terminal of Central Pennsylvania.
When I arrived at Penn Station in New York City I still found it difficult to determine which direction to take. I like to take the 6 train uptown from the 33rd Street and Lexington station. But I have figured out that the Empire State Building is the best landmark to orient myself because I should be walking past it on the way to Lexington Avenue. I took a really good photo of the Empire State Building: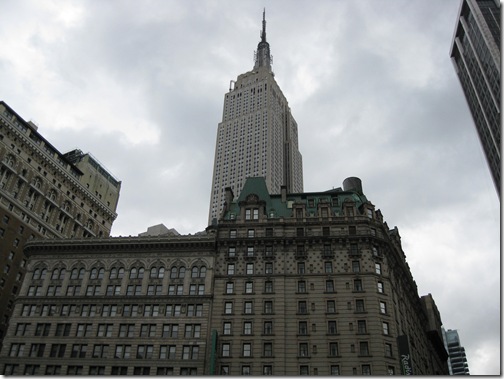 The 6 train is always very crowded. I saw the same Mexican buskers as I saw on my last trip. I was able to use the same Metro Card which does not expire until 05/31/2011. I got off at the 77th Street station on the Upper East Side because I wanted to walk through Central Park. I walked pass the Lenox Hill Hospital which I've read about in many books.
Central Park is lovely in the spring. I was surprised by how well maintained and designed everything seemed. Everything was picture perfect so I took a few photos. The first thing I sought out was the famous  Cleopatra's Needle behind the Metropolitan Museum of Art.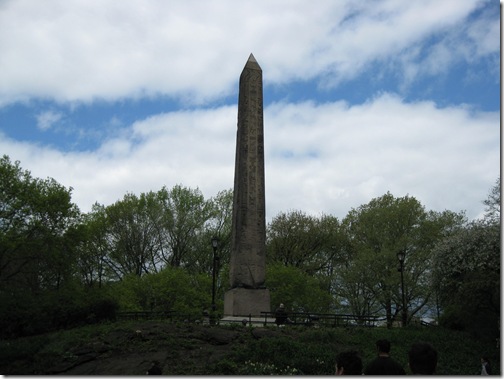 I then found the Belvedere Castle as I walked towards the Upper West Side.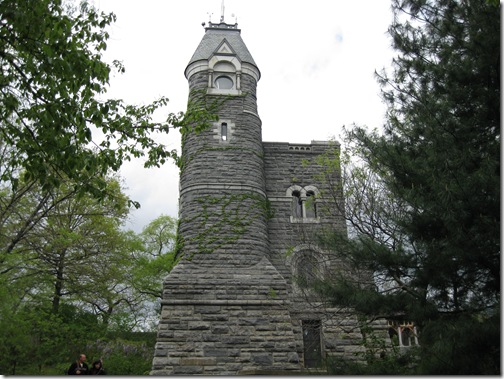 And finally I saw the Swedish Cottage Marionette Theater which is not pictured in any of my guide books. It was far more picturesque than I imagined.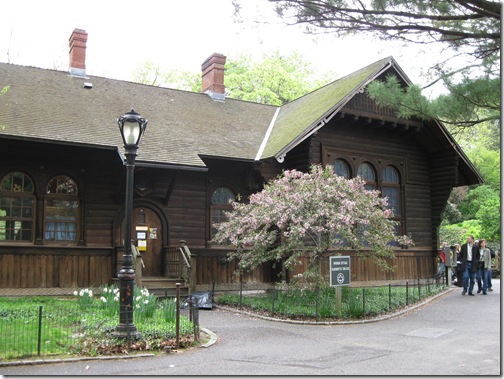 A short distance past the cottage is Central Park West where I easily located the American Museum of Natural History. Here is my best photo of the Central Park West entrance: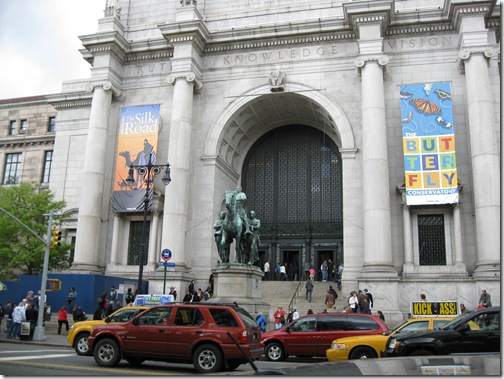 The line for tickets was very long but there are a few dinosaur skeleton fossils to keep you entertained. You are allowed to take photos in the museum so I took hundreds of photos. Everyone else was snapping photos so you won't feel awkward. At times the exhibits seemed more like an arranged photo shoot because people spent more time taking photos than reading the placards and looking at the display cases.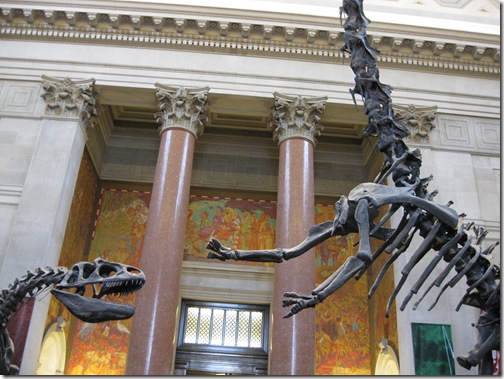 You can view more of my photos on my Flickr Pro account. I had lunch at the AMNH Food Court on the lower level. I really liked eating here because I was finally able to get a full meal. You just take a tray and load it up with beverages and prepackaged food. I had a Greek salad, a tray of sushi rolls, a parfait, and a bottle of Corona beer for $32.32. I really don't like beer but I thought it would loosen me up and I would not be driving again for nine hours.
I bought a timed ticket for the IMAX theater at 2:30 PM. This was probably a mistake and I regret not doing the Hayden Planetarium show instead. The IMAX theater showed a one-hour film about the Great Lakes sturgeon, a rather large and ugly fish.
At the Dino Store I bought a DVD of the movie 10,000 BC. I've never seen this movie and it seemed like it would be inspiring after a visit to the American Museum of Natural History. Of course, a better choice would be the film Night at the Museum, based on the American Museum of Natural History in New York City. But I already had a DVD of that movie and I'll watch it again soon.
Here are some more of my photos to give you a better idea of the range of exhibits and wonders at the museum: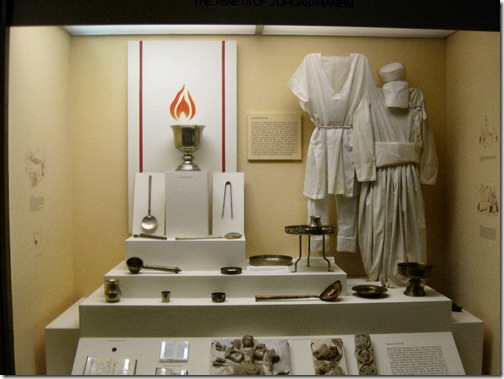 This exhibit of the white vestments worn by Zoroastrian priests was interesting. Zoroaster was a Persian prophet who was also considered a black magician.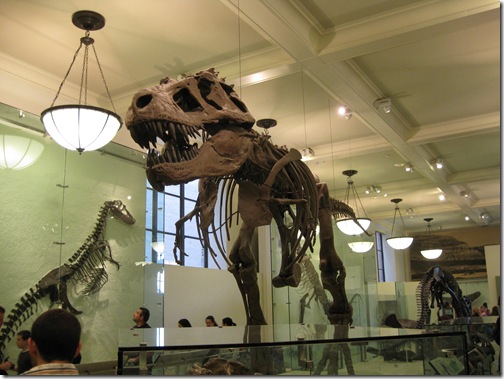 The American Museum of Natural History has the best collection of dinosaur fossils in the world. A large part of the forth floor is devoted to the collection which is spread out in several galleries.
Unfortunately, the Milstein Hall of Ocean Life was extremely dark so most of my photos did not turn out well but I saw the giant blue whale model hanging from the gallery ceiling.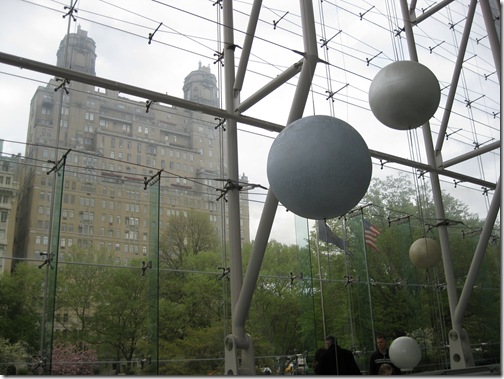 Here is a view of an Upper West Side apartment building as seen from the glass wall of the Rose Center for Earth and Space. The residents must imagine themselves to be the center of the universe with all those planets revolving around their building!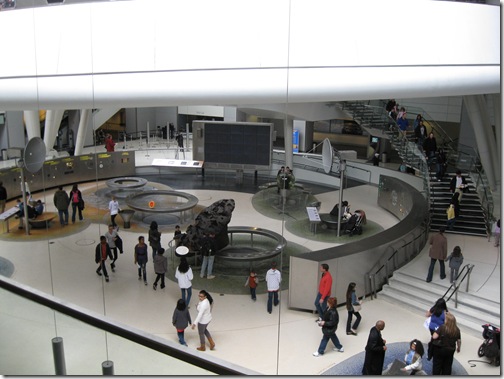 A view of the Hall of the Universe with the famous Willamette Meteorite visible in the center.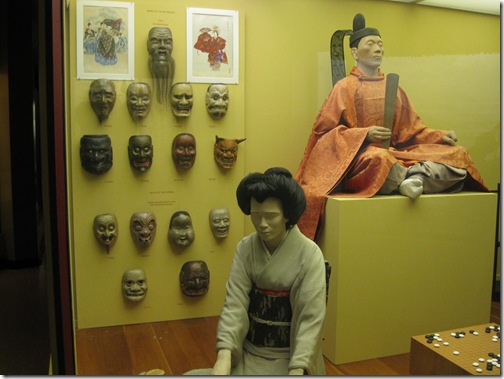 An exhibit on Japanese culture with a nice display of masks used in the theater. They also have some fine examples of Tibetan statues and colorful thangka  paintings and mandalas.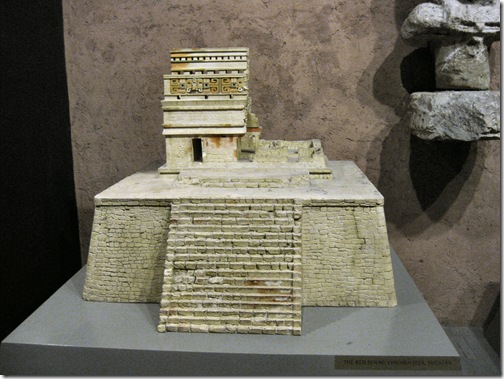 This is a model of the Red House at Chichen Itza. The museum has many Mayan artifacts which are very interesting given all the 2012 hysteria. I've never seen anything Mayan in any of the other museums I've visited.
I arrived at the American Museum of Natural History at 12:25 pm and did not leave until 5:15 pm so I spent about five hours there without wanting to leave. I didn't get to see everything so another visit may be necessary although I plan to explore the East Village neighborhood next. There is nothing to report about the trip home except that I bought some foreign language magazines at Hudson News in Penn Station. Apparently only the very first store you see after entering from the 7th Avenue entrance stocks foreign language magazines. I bought a copy of the German news magazine Stern, the French magazines Paris Match, and L'Express. Magazines are great for getting a feel for a foreign country. Unfortunately, it is extremely hard to find these magazines in the United States.
My next excursion to New York City will be next month on May 29th, 2010. I plan to explore the Greenwich Village neighborhood during this trip. There isn't much to do in the area during the day so I will just take photos, go shopping, have lunch at a restaurant and walk around.