My trip to New York City did not quite go as planned due to a winter storm but it was not a complete disaster. I should have canceled the trip but it was not snowing that bad when I left and Manhattan did not get any snow at all. Unfortunately, Harrisburg got a lot of snow. I could not drive faster than 40 MPH so I was late for my train. Not only that, I crossed the Harvey Taylor Bridge on the left-side span so I was driving the wrong way on a one-way road but fortunately there was only one car on the bridge. Maybe it was a good thing I missed my train because the next train had to push another train that got stuck in Lancaster and I think that was the train I would have been on. In the end, it took six hours for the train to reach New York City. I did not reach the city until 3:00 PM which left me just three hours in the city. I was very angry about that!
Since I had only three hours in the city, I only went to the Neue Galerie Museum and had to skip the Guggenheim Museum. I am going to describe my impressions of this museum trip in detail. It was my intention to write about how artwork affects my inner life. I wanted to describe this after corresponding with an "occult priestess" who has some strange ideas about the occult or hidden dimensions of the mind. I feel that I'm somewhat aware of how my subconscious is registering an aesthetic experience but I try not to entertain overly fanciful notions about it. In any event, it is necessary to justify the considerable effort it took to visit this museum.
The Neue Galerie used to be a Vanderbilt mansion and although it was renovated to become a museum, I tried to imagine living in such a place. The spiral staircase with its art nouveau wrought iron banisters did not invoke any image of luxury I've ever known so I got the impression of a fantasy grandeur, European temples of serenity. The high-ceiling rooms brought a more curious image to mind. Because I had seen so many scenes of industrial ruin on the trip (the train ran through New Jersey), I found my subconscious eerily combining that with the eloquent rooms into a mental image of a fashionable department store which had become gray with age but retained a nasty taste of the past.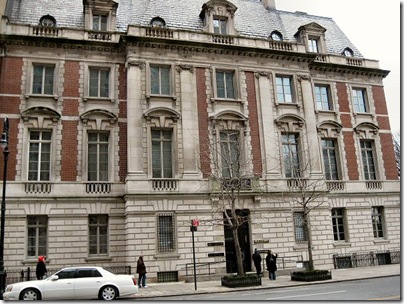 While occultists may consider such mental imagery to be psychic intuitions of a previous life, I tend to interpret this as a glimpse of the subconscious at work as an impression is registered, the imagination's aesthetic response. The main reason I go to considerable trouble to visit art museums is to excite my imagination so I can enjoy the unusual mental imagery it inspires in me. I seem to intuitively grasp the aesthetics of a piece of artwork at its most profound level and then have the ability to dream with that profundity. This is not limited to the artwork itself. The entirety of New York City speaks to my soul and expands my imagination with a distinct flavor that is quite unlike any other experience. That is another aspect of the subconscious response that may confuse people. It will often present you with a completely unfamiliar essence, as if you were seeing the world through someone else's eyes with a strange emotional cast.
So as I gazed at the artwork in the Neue Galerie Museum I was absorbed in a kind of dream world that was stealing the very soul of the paintings to construct a far more enchanting fantasy grandeur. The first painting I saw was the Neue Galerie's pride and joy, Gustav Klimt's "Portrait of Adele Bloch-Bauer I". According to Wikipedia, this painting cost $135 million for the museum to purchase, one of the most expensive paintings ever sold.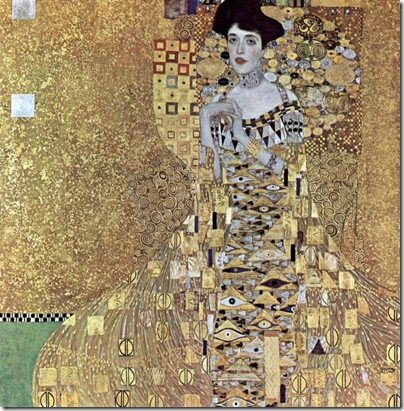 Seen in the context of the mansion's room, this painting looks more like the formal portrait of the mistress of the house with her wealth enmeshing her into a world of gold and design. The vision of fabulous wealth that lies buried in this painting may have unconsciously led to its high valuation. Notice how the signature of Gustav Klimt in a square is reflected in the Neue Galerie's logo design.
Currently there is a exhibition of drawings by Alfred Kubin at the Neue Galerie Museum. I had never heard of this Austrian Expressionist and illustrator until now. According to Wikipedia, his works are mainly ink and wash drawings of fantastical, often macabre subjects. Unfortunately, these drawings were on display in a room that was so dark you could barely see them. This is probably done to prevent the light from fading the paper. These drawings were also very small. I had to find images online to get a good look at them. This drawing is entitled Der Letzte König (The Last King). It is definitely a macabre image! He was also the author of several books, the best known being his novel Die Andere Seite (The Other Side) (1909), an apocalyptic fantasy set in an oppressive imaginary land which has an atmosphere of claustrophobic absurdity reminiscent of the writings of Franz Kafka. That sounds like an interesting novel. I definitely want to learn more about the work of an artist so involved in the other world!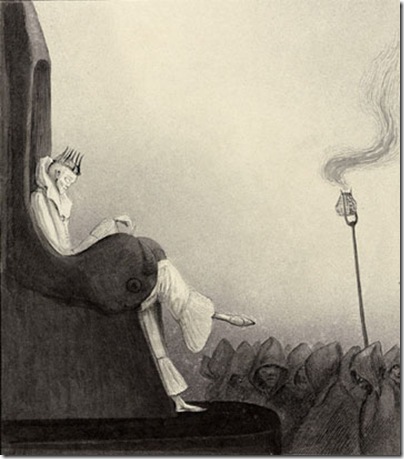 Another piece by Gustav Klimt made more of an impression upon me. Tragödie (Tragedy) looks like the dust jacket of a very old book of Greek tragedies so I loved it. The beautiful woman appears very regal and cold, aloof from tragedy, but the mask she holds expresses the full despair and horror of tragedy. This is a brilliant piece of symbolism! I found it quite moving.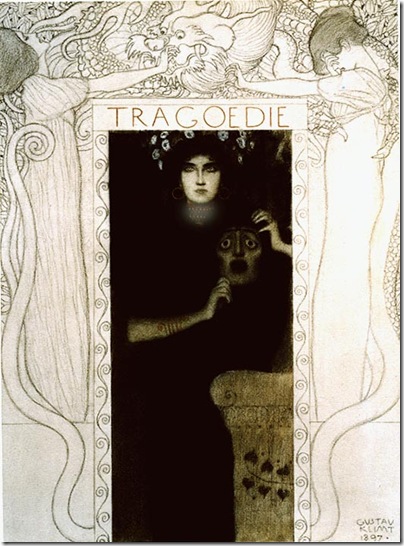 Another Austrian expressionist I learned about at the Neue Galerie Museum is Oskar Kokoschka. I saw his painting Martha Hirsch there. Oskar Kokoschka was considered a degenerate by the Nazis. This painting is a fine example of the grotesque portraiture style. Otto Dix also did many grotesque portraitures. Although dreams are often grotesque it is due to their eeriness and intensity so I don't find grotesque portraits to be the perfect expression of the inner life. I did see three paintings by Otto Dix and many of his drawings but I can only identify; Lustmord, The Pregnant Woman (Die Schwangere) 1931, Mother and Child (Mutter mit Kind) 1932, and Sitzender Rothaariger Akt mit Strümpfen vor rosa Tuch (Seated nude with stockings redhead in pink cloth 1930).
The Neue Galerie Museum has many posters from the Vienna Secession. You can buy fonts based on the typefaces used in these posters. http://www.fontscape.com/explore?COJ This is perhaps the only aspect of my trip that can actually lead to anything since I use fonts in my web design work. I'm tempted to create a Vienna Secession theme for WordPress, Drupal, or Elgg.
After going through two floors of galleries, I stood in line for Café Sabarsky, the museum's Viennese café. My long train ride meant that I didn't get to eat until long after lunch. I had a double espresso, the Chilled Smoked Trout Crêpes & Horseradish – Crème Fraéche, and Topfentorte (Quark cheese cake with seasonal fruit). I have the German word der Quark in my notes on restaurant vocabulary. It is a soft curd cheese. The trout crêpes tasted like sushi with a slight hint of pork. Leave it to the Germans to invent pork sushi! There was German classical music playing in the café. I had a good view out the window and could see New York City taxis out there on 5th Avenue. Museum cafés are a good place to have lunch. They are sort of like a fancy restaurant where you don't feel out of place because it is part of the museum.
After I ate, I headed to the Neue Galerie bookstore on the other side of the mansion. Don't imagine a huge mansion because this was only a mansion by New York standards. Like everything else, the bookstore was very elegant but cramped. They had an excellent selection of books pertaining to German and Austrian culture. They had art books, literature, plays, books on philosophy, etc. If you are looking for German books in New York City you might as well just go to the Neue Galerie bookstore. You can visit the bookstore without paying museum admission.
I bought two books. Gustav Klimt (Living Art Series) and The Sleepwalkers by Herman Broch.
The book on Gustav Klimt has a stunning photo of the Burgtheater in Vienna and reminded me that there is a film on the life of Gustav Klimt starring John Malkovich. I ordered the DVD on Amazon. But best of all was a photo of the Café Sabarsky and a photo of the Neue Galerie Museum towards the back of the book.
I don't know if I'll ever read The Sleepwalkers, a 648 page novel which deserves the modern Internet dismissal too long; did not read. But I like the cover which is a detail of Le Moulin de la Galette by Pablo Picasso. Say, I could have seen that painting at the Guggenheim Museum if Amtrak trains were not so slow!
So even though I risked my life going to New York City during a major snow storm, I think it was worth it to discover so much about Austrian and German art. I was disappointed that I could not visit the Guggenheim Museum on this trip. In order to justify the risk and to assuage my disappointment, I vow to find a way to seriously enrich my life with the inspiration of the Vienna Secession. This is actually a tall order. I've experienced a great deal of inspiration and it has never done much to improve my life. All it seems to lead to is spending more money on books, videos, and music. I really need to be less self-absorbed in my dream world. Well … I guess a WordPress theme based on the Vienna Secession would be a tangible result. And I was inspired to spend the entire day to write a long blog post. If inspiration is a gift from the gods then they must be angry at me for squandering it!