For my third day in Venice the plan was to visit some art museums. I had breakfast at the hotel again; yogurt, scrambled eggs, cheese and slices of meat. Coffee with milk. I took a vaporetto to the Accademia stop but it went to Lido first because it was going in the wrong direction. At the Gallerie dell'Accademia I had to buy a ticket since this museum is not included on the VeneziaUnica City Pass. I saw Titian's very last painting which was memorable to me since I had read the book, Titian: The Last Days by Mark Hudson, which describes this painting in detail. I also found Giorgione's painting The Tempest although I almost missed it because it was located in a large side gallery that I only found after going through the entire museum.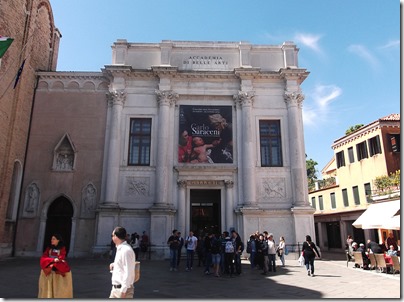 I then went to the Ca' Pesaro where I was able to gain admittance with the VeneziaUnica City Pass. I took the vaporetto to San Stae and then walked to the museum since you can't enter it directly from the Grand Canal. The Ca' Pesaro has a decent collection of modern art. I saw artwork by Andy Warhol including his brillo boxes and a few paintings by Giorgio de Chirico. I also saw artwork by artists I've never heard of, like Miroslav Kraljevic, a Croatian modernist. I liked his expressionist paintings which seemed very dark and sophisticated. Unfortunately the Ca' Pesaro International Gallery of Art's most famous painting, Gustav Klimt's Judith II (Salome), was on loan so I did not get to see it.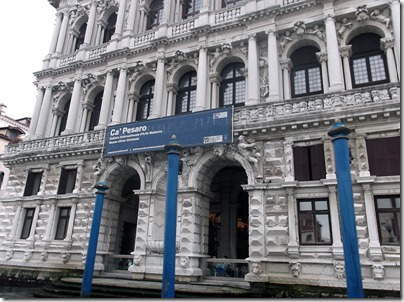 The Oriental Art Museum is on the upper floor of Ca' Pesaro. I wasn't expecting much from this museum but it turned out to be genuinely impressive. The collection of Japanese decorative arts was substantial and of high quality. I don't think I've ever seen oriental art on this scale. The samurai swords alone must have numbered in the hundreds and there was every other kind of Asian craftsmanship on display. Most people probably don't go to Venice to see Asian art, but if you are into that kind of thing then you would not want to miss this museum.
I liked the Ca' Pesaro International Gallery of Art so much that I bought a museum guide to help me to remember what I saw since you were not allowed to take photos. I had lunch in the cafeteria, a ham and cheese sandwich and a Pepsi. But the neat thing is that they have tables with a view of the Grand Canal so I could watch gondolas and vaporetti go by as I ate lunch.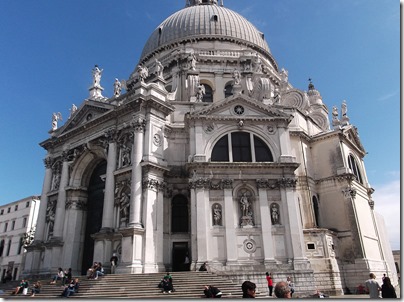 I took the vaporetto back to Piazza San Marco and tried to go see the church San Zaccaria but it was closed. I went back to my hotel room to drop off my book, take some aspirin, and change my socks. The blisters were still bothering me. I then went out again and took the vaporetto to Santa Maria della Salute. There is a vaporetto stop right in front of the church. Fortunately the church was open and I took photos in the interior. I also paid to see the sacristy where there is a painting by Tintoretto, Marriage at Cana. After leaving the Salute I tried to find the way to The Peggy Guggenheim Museum even though it was not open on Tuesdays. Unfortunately I could not find the entrance although later on I realized that I had walked right pass it. I have several travel guides on Venice and none of them tell you how to find the entrance to this museum, not even the Rick Steve's book. They all seem to imply that you can enter from the terrace on the Grand Canal but that is not the case.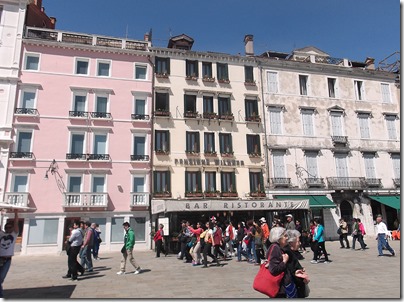 After giving up on finding The Peggy Guggenheim Museum I took the vaporetto from Accademia to St. Mark's Square. I had supper at Hotel Wildner's restaurant on the Riva degli Schiavoni. I was pleased to eat there because the writer Henry James stayed at the Pensione Wildner. I was going to read his novel The Wings of the Dove before my trip to Venice but I did not have time after adding Rome to my trip. I had a glass of prosecco, sparkling water, and an excellent pasta dish at Ristorate Wildner. Before I returned to my hotel room, I found an ATM on Merceria and withdrew another 150 Euros.