On Wednesday I visited another art museum. I walked to Canal Street and took the St.Charles Avenue streetcar to Julia Street. From there I walked to the Ogden Museum of Southern Art. Once again I arrived an hour too early so I had to walk around the block. The Lee Circle was nearby so I took some photos of the Robert E. Lee Monument. The World War 2 Museum was also in the area but I wasn't interested in that. I'm not sure if that museum has a future since the World War 2 generation is dying off and that era holds little nostalgia for many elderly people now. Eventually I found a PJ's Coffee shop and slowly drank an iced coffee before the museum opened at 10:00 a.m.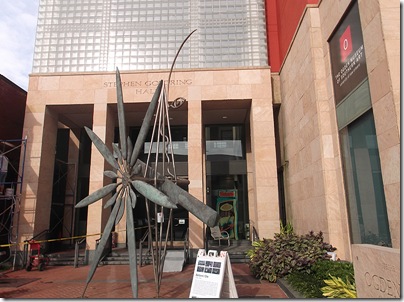 At the Ogden Museum of Southern Art I saw unfamiliar artwork including folk art, photos of The Underwater Mermaid Theater, photos of the Mythology of Florida, and amusing redneck art. Although the museum has five floors, taking the stairs seemed to cause me to skip floors. It probably only took me an hour to see all the artwork. I took the streetcar back to Canal Street after figuring out that you need to catch it at Carondelet Street if you are going in that direction. I walked to the Shops At Canal Street and bought an expensive dress shirt at Banana Republic for over $80.00. That is way more than I usually pay for clothing. I checked out the prices at Saks Fifth Avenue and their dress shirts were even more expensive at over $200. I would have gone to Wal-Mart's but I didn't have clear directions on how to get there in my travel notes. In the future, I will need to pack more shirts. I only brought two shirts and they got a little soiled from all my sweating.
I walked back to my hotel on Royal Street to drop off my purchase but my room had not been serviced so I went back out. I walked to Beckham's Bookshop on Decatur Street and searched through two floors of books before finally settling on a paperback copy of the Henry James novel "The Europeans". Then I found the Louisiana Music Factory store on the same street and bought a Zachery Richard CD "Le Fou", a Cajun CD in French. While walking back towards Jackson Square I came across Napoleon House where I ordered a Strawberry Irish Cream Soda and a quarter of a Muffuletta sandwich. That was the cheapest meal I had in New Orleans since it was less than $10.00. But Napoleon House is a very atmospheric bar. It was built in 1814, almost 200 years ago, and looks its age with centuries of tarnish on everything. After that light meal I walked back to the Andrew Jackson Hotel and found my room ready.
I then went to the Madame John's Legacy which was just around the corner. It is a free museum run by the state but there was only some Newcomb Pottery to see. For some reason I was expecting this house to be furnished in period pieces but I can see in my notes that there is nothing about the interior. After resting in my hotel room I walked to the French Market and the levee, more accurately Woldenberg Park, the riverfront "Moon Walk" across from Jackson Square. I returned to my hotel room and read my Kindle ebook until 5:30 p.m. when I had a reservation at Cafe Amelie, a place right across from my hotel. I ordered an Orange Blossom cocktail and the jerk spiced pork tenderloin with mango pepper jelly, mashed potato, and green beans. I had my meal in their courtyard which was full of lush vegetation. I love the palm fronds and tropical plants you see everywhere in New Orleans. However, the potted plants you see hanging off balconies can drip water on you in the mornings when the residents water their balcony plants.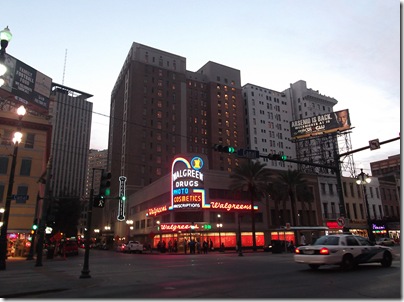 I was running out of things to do so I walked to Canal Street and took photos of the skyscrapers and neon lights.I was wondering how they could build skyscrapers in New Orleans since it was built on a swamp. The ground shouldn't be able to support the massive weight of tall buildings. I found the Ignatius Reilly Statue and took  a few photos of it.