Today I visited the Mifflinburg Christkindl Market and Clyde Peeling's Reptiland. The Christkindl Market gave me another excuse to visit Mifflinburg which has become my favorite town to visit due to the scenic farmland along Route 45. Since this was my second time at the Christkindl Market I knew exactly where to park and felt more relaxed. I took the shuttle bus to the market.
I bought a soft pretzel stick, a very delicious schnitzel sandwich with onions and horse radish, and a cinnamon stick. The buggy museum was open so I got a chance to tour a few of the exhibits but not the other buildings. I was a little surprised to find the building in this photo since the museum is usually depicted by the buggy factory. This must be the Education and Visitor's Center.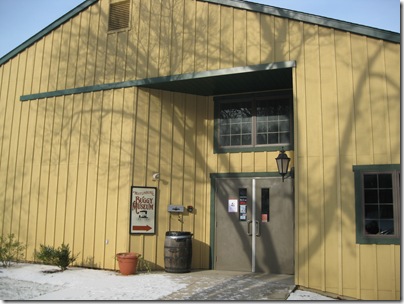 I also took a photo of the Heiss House which is part of the museum. I plan to do a proper visit of the Mifflinburg Buggy Museum next spring. I did buy a DVD from the museum gift shop.
There were several folk art vendors at the Mifflinburg Christkindl Market and due to my recent interest in Pennsylvania German folk art, I did make several purchases. I bought a framed scherenschnitte from Brenda's Crafts. Scherenschnitte is the art of papercutting design. The piece of artwork I bought is a love letter with the outline of a man and woman cut out. I thought it was rather clever. It was a bit expensive but more affordable than a genuine antique. I also bought a fine example of contemporary Fraktur by Donna Selfridge Spangler.
After leaving the Christkindl Market I stopped in at the Wenger's Grocery Outlet again although I only bought some oatmeal and cherries. On the way home I decided to visit Clyde Peeling's Reptiland. This is another local attraction which I have driven pass many times but never actually visited. I would not recommend making a special trip to Reptiland but it is worth stopping in if you driving along Route 15 and have an hour to spare. I didn't really plan to visit Reptiland today but I've been meaning to check it out so I did.
Admission is $12.00 and they stamp the back of your hand to indicate that you have paid. The first critter I saw was Rocky, their huge alligator. Reptiland has two alligators, Rocky and Adriane. Yes, they named their alligators after characters from the movie Rocky! We are a little too far from Philadelphia to be stealing their icons, in my opinion, but whatever.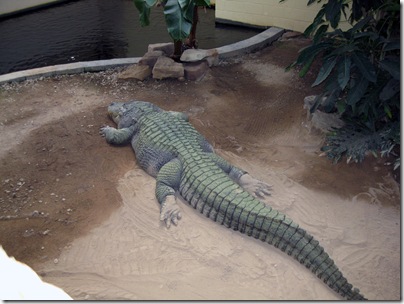 Reptiland also has many glass cases with snakes, turtles, frogs, and other reptiles. Frankly, it was not as impressive as I expected. I imagined a real alligator pit and a good collection of reptiles but this would just be part of a small zoo.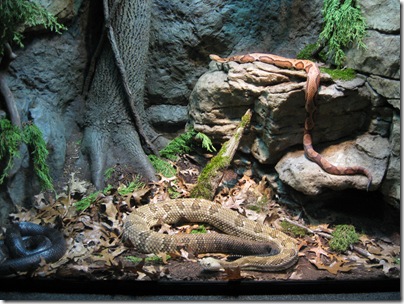 They did have a good collection of tortoises. The largest specimens, which may have been Galápagos tortoises, were eating straw or hay which made them seem like dairy cows to me.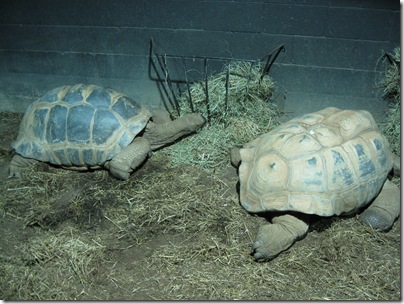 I saw one of their shows consisting of a video and the chance to touch a boa constrictor and a young crocodile. They also brought out an owl, a Great Horned Owl, I think. The tour guide mentioned that owls are very common in Pennsylvania which is true. I often hear an owl hooting at night. There may be one nesting in the pine tree next to my house. I think I have squirrels in my attic. It is cute to see the cat looking up at the ceiling when it hears something scurrying around up there. One of the varmints has chewed a little peep hole in my back bedroom.