Today I continued my exploration of Central PA by visiting Selinsgrove PA. Selinsgrove is another town that I usually just drive pass on my way to Harrisburg because Route 15 bypasses their downtown. For this trip I took Interstate 180 West instead of Route 15 South in order to avoid Bald Eagle Mountain which really strains my old car. Trying alternative routes is part of the exercise.
Susquehanna University is located in Selinsgrove. I recently bought a book published by the Susquehanna University Press, A Pennsylvania German Anthology by Earl C. Haag. This book provides many rare examples of literature written in the Pennsylvania German dialect. On my way back from Selinsgrove I stopped at the Street of Shops in Lewisburg and saw a group of Amish women speaking in the Pennsylvania German dialect. That was the first time I've ever heard it spoken in real life and it confirmed for me that the language is not dead, although only the Old Order Amish and Mennonites keep it alive. According to A Pennsylvania German Anthology at least one Pennsylvania German writer lived in Williamsport, Abraham Resser Horne (1834 to 1902). He was the pastor of St. Mark's Luthern Church and you can download his Pennsylvania German Manual from Google because it is now in the public domain.
At 10:00 a.m. I went to the Susquehanna Valley Mall which is the sister mall to Lycoming Mall. It has a similar set of stores so there is really no reason to drive all the way down there. I bought a raison pretzel and a lemonade at Auntie Anne's. Auntie Anne's is an American chain of pretzel bakeries based in Lancaster, Pennsylvania. Their logo is a pretzel with a halo over it which may be due to their association with the Pennsylvania Dutch in Lancaster. I guess the Lycoming Mall has an Auntie Anne's but for some reason I've always overlooked it. At Waldenbooks I bought a copy of Weekend Getaways in Pennsylvania by Bill Simpson. This was an ideal book for me because that is exactly what I was doing, a weekend getaway in Pennsylvania. This book has a chapter on Lewisburg which lists all the restaurants and stores. However it does not have a chapter on Williamsport. What is up with that? It also has a chapter on Pittsburgh but leaves out Philadelphia.
I also went to FYE and bought season 3 and 4 of It's Always Sunny In Philadelphia. This television show really has me stoked to visit Philadelphia. You can see many Philly landmarks in a few of the episodes and the opening title sequence is a montage of Philly sights. The cutting edge wit of the show also appeals to me. At the King of Prussia Mall I bought the It's Always Sunny In Philadelphia: A Very Sunny Christmas which has Danny DeVito buck naked in one scene. I really didn't need to see that. You can't unsee something like that! They should do an episode with some Amish characters from Lancaster. That would be hilarious.
After leaving the mall I drove into downtown Selinsgrove. First I went to the local bookstore, D.J. Ernst Books, where I bought a very expensive old book, Conrad Weiser, Pennsylvania Peacemaker by Arthur D Graeff, published by the Pennsylvania German Folklore Society in 1943. This is a biography of Conrad Weiser, a German Pennsylvanian pioneer, interpreter and effective diplomat between the Pennsylvania Colony and Native Americans. On page 266 there is some mention of Andrew Montour whose mother was Madame Montour, famous in local lore. Montoursville is named after her. So this book is quite a find!
I then had lunch at Emma's Food For Life, where I had Cajun Seafood Kabobs, Wild Alaskan salmon and wild caught shrimp dusted with Cajun seasoning, skewered and grilled to perfection. Served on a bed of brown rice with vegetables.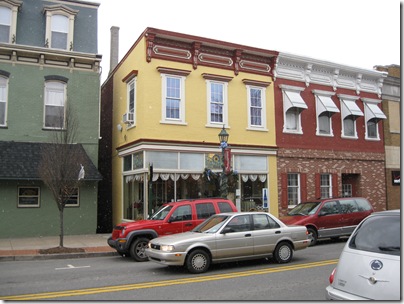 After lunch I felt I had spent more than enough money on this trip so I headed home. I did pass an interesting store that I wanted to check out, Moonbeams In A Jar, a metaphysical bookstore, but I was uncertain about it being open and there wasn't any parking so I skipped it. As I mentioned before, I decided to stop off at Lewisburg since it was on my way home. There was free parking so I was able to spend more time at the Street of Shops. I wasn't as overwhelmed by this place as on my first trip and I wound up buying almost exactly the same thing I bought before. I did buy an Irvin Hoover print of a photograph showing two Amish women in a buggy driving pass a Pioneer Seeds sign.
As usual, I am probably being way too meticulous in my exploration of my home state. It is sort of a game for me to trace the connections between various aspects of the local culture. The Internet makes it easy to research anything. But you never know where something will lead you and exploring the area could provide me with new opportunities in our terrible economy. I am definitely improving my knowledge of the local resources that are available to me.