Today I went to Lewisburg PA. Lewisburg is only a 30 minute drive from Williamsport so it is considered to be part of the area. However, today was the first time that I ever ventured into downtown Lewisburg. Usually I just drive through the town on Route 15 heading south to Harrisburg. That is not to say that I don't have some history with the town. Back when I was working for Kolb Net Works, we did some work on the Susquehanna Valley Visitor's Bureau web site and I remember paying them a visit to work on their Access database. And I remember eating at Country Cupboard at least once.
I arrived at Hufnagle Park in downtown Lewisburg at 8:00 a.m. Hufnagle Park has plenty of parking spaces and it is deserted at 8:00 a..m. because most places open at 10:00 a.m. However I did discover that there are parking meters there so I'm glad I brought plenty of quarters. I was driving a rental car with Virginia license plates because my car is being repaired after a minor accident. Everyone must have thought I was a tourist from Virginia! For the first hour I walked around and took many photos. There were several places that I wanted to visit for which I could find no photos online. So one of my goals for this trip was to get several photos for my personal tourist guide which I created for my iPod Touch. At 8:00 a.m. the streets were deserted so that was perfect for taking photos. I did not get too many people or cars in my photos. Also, it makes me nervous to have a lot of people around when I'm busy taking photos. I did not see anyone else in Lewisburg acting like a tourist by snapping photos of everything in sight.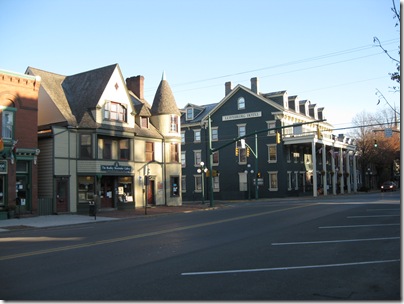 Nothing was open until 10:00 a.m. so after one hour of taking photos, I bought a copy of the local newspaper at the CVS Drugstore, The Daily Item. After that I went to the Barnes & Noble Bookstore where I was able to kill a lot of time by browsing for books. Lewisburg is a college town, home to Bucknell University, so this Barnes & Noble store was a lavish place as if it was part of the campus. I bought three regional publications that I usually can't find anyplace else; Pennsylvania Magazine, Susquehanna Business Life, and Central PA Magazine. Susquehanna Life is actually published in Lewisburg and I shot some photos of their office. I also bought another one of those Arcadia Publishing books on Lewisburg since the purpose of my trip was to explore the region. I accidentally gave the cashier my Borders card which amused her.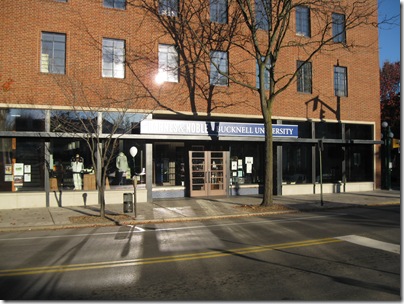 At 10:00 a.m. all the stores opened so I started doing some serious shopping. The first store I went into was Bradley Shoemaker Gallery. There I bought a very expensive print of Bradley Shoemaker's watercolor painting, Spring Snow (Mifflinburg). This was a bit extravagant but I'm really enchanted by Mifflinburg which is surrounded by Amish farms, dairy farms, and Victorian homes. There may be a bit of nostalgia in this because there used to be a dairy farm behind my house and I remember walking pass its corn fields to get bottles of milk. It was a small dairy farm out in the suburbs. I went to Mifflinburg later in the day because it is also along Route 45, west of Lewisburg.
After putting the large print in my car, I walked to Roller Mills Marketplace. This place is difficult to describe because it is quite unlike any store that you find today. Basically it is an old flour mill that houses 400 antique dealers. Apparently antique dealers rent out space in this building which creates a huge collection of partitioned areas filled with Americana. It was like being in a dream about grandma's house which had become an endless jumble of antiques. It would make a fine museum. Although the selection was enormous and bewildering I did have trouble finding anything really distinctive that I wanted to buy. I was tempted to buy an old railroad stock certificate like the one I saw at the Museum of American Finance in New York City. They were only $5.00 but I could not find one for the Elmira and Williamsport Rail Road Company which would have been special. Eventually I found a Chinese Soapstone Carved Foo Dog Seal which I bought.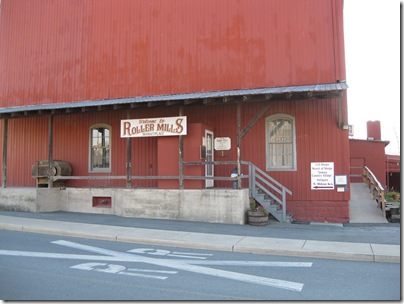 I then went to the Street of Shops which is somehow associated with Roller Mills. This was another indescribable wonderland of antiques and flea market finds. Imagine a mall made up entirely of flea market stalls, country craft stores, and antiques and you may be able to picture this place. Judging by the photos online I was expecting a shabby department store but it is actually somewhat impressive. It did strike me as being kind of shabby but I can definitely see the appeal for anyone tired of mass produced crap. You can find a lot of unique items at the Street of Shops. I went down into the basement area which is an immense flea market, like a huge indoor yard sale. There was really too much there for me to take in. It would take you hours upon hours to really look through everything they had. In the end, I only bought three things; a vintage pornography photo (not very risqué), a jar of Jake & Amos Hot Chow Chow, and a print by Dick Brown entitled "Buggies on Quilting Day" (actually a photo). Chow chow is a Pennsylvania Dutch Food which I've never had before. I think it is basically mixed vegetables which have been pickled, pickled mixed vegetables.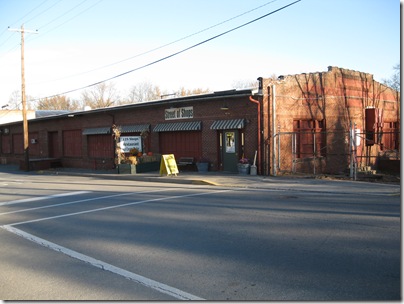 I left downtown Lewisburg after my visit to the Street of Shops. Ordinarily, I would have gone home after such a busy day but I still had several other places I wanted to visit. However, there was really no need to cram so much into one day because Lewisburg is close enough to visit whenever I like. I drove back up Route 15 and stopped at the Country Cupboard empire. Country Cupboard is a restaurant which has grown into a huge enterprise. I actually found an online review which uses the word "empire" to describe what this place has become. In addition to the buffet restaurant, the complex now includes a country mall, country hothouse, and a Best Western hotel associated with Country Cupboard. I only went into The Shops at Country Cupboard. I found a peculiar mini-mall filled with high end country crafts and gifts. Everything looked very slick but kind of cheesy, sort of a retail fantasy country life designed for tourists. The bakery did make a slightly better impression upon me so I bought some more Pennsylvania Dutch Food including; Wos-Wit Mustard Chow-Chow, Brandied Peaches, White Russian Gourmet Coffee (OK, so that wasn't Pennsylvania Dutch Food), and a pictorial guide of Pennsylvania. Country Cupboard had a collection of books on the Amish and even those Amish romance novels that have become popular with Christian women.
After leaving Country Cupboard I drove back south along Route 15 and then west on Route 45 towards Mifflinburg. First I stopped off at Ard's Farm Market, a small grocery store and restaurant. Ard's Farm Market was much smaller than I expected. I grabbed a grocery cart but there wasn't much to fill it with. Ard's Farm Market is sort of like the genuine rural version of the Country Cupboard, not quite an empire but more authentic.
I then proceeded to the Carriage Corner Restaurant where I finally had something to eat. I've been meaning to try this restaurant after seeing it on my previous trips to the Christkindl Market and Oktoberfest. One online review describes the food as bland and the clientele as elderly. I did find it to be exactly so, but it was still an interesting experience. I had the orange duck which is something I've never eaten. Duck seems to be a very fatty bird. Before leaving the restaurant parking lot I snuck a few photos of the Carriage Corner Restaurant because I could not find any decent photos of this place online.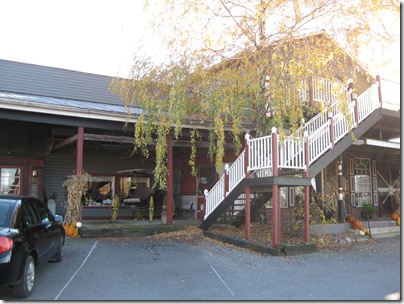 After my late lunch I drove into downtown Mifflinburg and parked near the library. I then walked to the only bookstore in town, La Vieille Maison des Livres, but I found the front door locked. This was the only disappointing part of my trip. This bookstore does not have a web site so I did not know their hours. I did take a photo of the storefront because you can't figure out exactly where the store is located using Google Street View.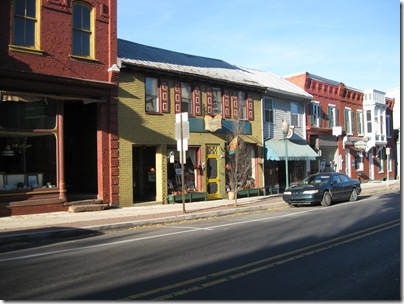 I probably should have spent more time in Mifflinburg but I felt conspicuous so I headed back on Route 45. On the way, I saw a tractor drive by which briefly held up traffic. I guess that is part of rural life. Before I went home I stopped at Wenger's Grocery Outlet and bought some groceries. Wenger's Grocery Outlet was definitely the most interesting place I found on my trip because the store is run by Mennonites. There were two buggies parked in the grocery store's parking lot. It is very surreal to see a grocery store staffed by Mennonites. It sort of makes sense when you consider how much of their income is based on selling produce at farmer's markets and roadside stands. This just takes that to a whole new level. All of  the cashiers were Mennonite teenage girls and the deli section was staffed by Mennonite women. They sell discounted groceries that are pass their due date and farm produce. There was gospel music playing instead of the usual grocery store muzak. I saw that they were selling those Amish romance novels just like everyone else.
I'm a bit reluctant to mention this, but I have a sneaking suspicion that my sister got involved with Mennonites back when she lived in Pennsylvania. Maybe she even converted or was baptized as a Mennonite. I may have been too dense to realize this when I was younger. I remember she was friends with the Walkers which is a common surname in Union County. I never could figure out what Christian faith she was involved in but being around Mennonites reminds me of her friends. They certainly weren't Old Order Amish but I remember visiting a house with a cherry orchard.
While driving back to Williamsport I saw some more Amish driving a strange cart behind some horses, heading towards Elimsport which I've recently learned is an Amish community right here in Lycoming County. I don't want to develop an unhealthy fascination with the Amish, but I am exploring Pennsylvania and they are more of a part of this area than I realized. Well, in two weeks I will be going to King Of Prussia Mall and hopefully that will restore my obsession with Philadelphia, the wealthiest city in the state.