Yesterday I made my final trip to New York City for this year. This was sort of a checklist trip to get some tourists sites off my to do list. The first thing I did was go to Carnegie Deli on 55th Street for lunch. Unfortunately Carnegie Deli had one those sidewalk sheds over its storefront so I did not bother taking a photo. I ordered a Bacon Lettuce and Tomato sandwich and had a cup of coffee. The sandwich had two inches of bacon and two inches of tomatoes so I had to take some of it off to eat the sandwich. The walls of the Carnegie Deli are covered with photographs of celebrities who have dined there. I overheard another customer talking about the Woody Allen film Broadway Danny Rose which was filmed there. I was not aware of this when I picked this restaurant for my trip so I will have to check it out.
The next item on my itinerary was Top of the Rock at the Rockefeller Center at 1:00 p.m. However it was only 11:00 a.m. when I left the Carnegie Deli so I had two hours to kill. I really did not have anything planned to fill this dead time. I did go to the Austrian Cultural Forum on the nearby 52nd Street. This is an unusual building that is probably overlooked by most tourists. I took a few photos of the building but I did not go inside because I was not sure they were open.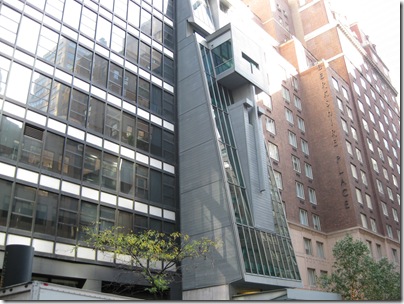 After that I walked down Madison Avenue which was closed for a street fair. I would have thought that midtown was too posh for these street fairs. Most of the vendors were selling the usual tourist crap but I was tempted by a vendor selling international CDs and another vendor selling Buddhist and Indian statuettes. But I did not buy anything because I did not want to be burdened by packages just yet. However it did provide a convenient way to kill some time.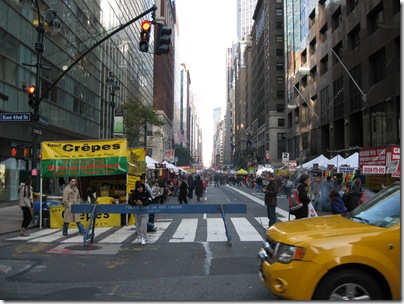 I did come across a store that is pictured in a German guidebook to New York City which I bought on http://www.amazon.de, Sephora at 597 5th Avenue. Sephora is a chain of cosmetics stores. This is a particularly elegant store not far from the Rockefeller Plaza. I see it is near the American Girl Place which is extremely popular with many people on my bus. According to Wikipedia, American Girl is a line of dolls, books, and accessories based on pre-teen girl characters that originally focused on various periods of American history from the viewpoint of girls and has now expanded to include dolls of and stories about contemporary girls. American Girl Place is a store that sells American Girl dolls, clothes, and accessories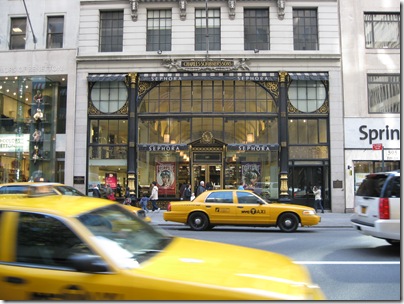 After a long wait at the Rockefeller Plaza, it was finally 1:00 p.m. and time for my trip to the Top of the Rock. I had to wait until then because I bought my timed ticket online. The elevator whisked a group of us over 70 plus floors in less than a minute. I was impressed because I did not feel any movement. There was a cheesy video playing on the ceiling of the elevator to keep us entertained during the ride but that hardly seemed necessary. It was a bright sunny day with clear visibility so it was a great day for visiting the Top of the Rock. That must have been why it was slightly crowded. I was not expecting the plexiglass windows all around which can cause reflections in photos but there are narrow slots between the plates of plexiglass where you can hold up your camera for a better shot. I took lots of photos of the Empire State Building and the view downtown.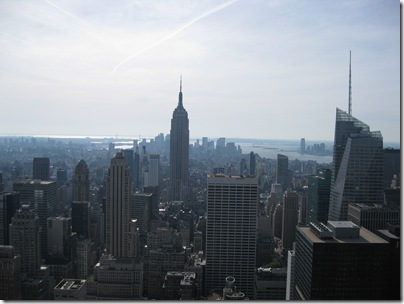 And I shot photos of Central Park and the view uptown.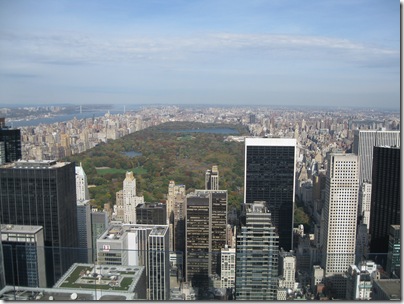 I will be using these photos as my Windows desktop background for a long time! I took 467 photos on this trip which is a new record for me. After taking the elevator back down I kind of got lost in the maze of shops below the Rockefeller Plaza but eventually I found my way back to street level and outside.
My next destination was the American Folk Art Museum on West 53rd Street. I picked all my tourists sites in midtown and walked everywhere instead of taking the subway. I wanted to visit the American Folk Art Museum because I am interested in outsider art. Outsider art is often created by untrained artists who feel an unusually strong inspiration, sometimes quite visionary. That interests me because I'm quite familiar with mystic inspiration and the visionary power of the unconscious mind. Unfortunately, this is not quite the perspective of the American Folk Art Museum which is more focused on quirky examples of American crafts. The museum is a bit narrow and very vertical so you have to climb several steep flights of steps. The fourth floor was closed but there were other floors above that. I saw lots of quilts which were somewhat interesting to me because I may visit Lancaster PA. The Amish are famous for their quilts and I think there is a quilt museum in Lancaster. Most of the American Folk Art Museum's quilts were not made by the Amish.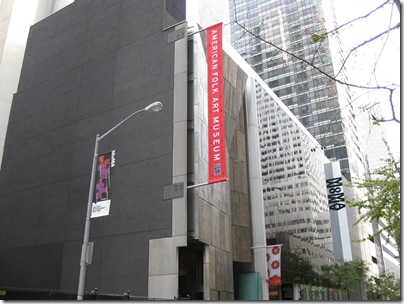 Before leaving the museum I bought a book at the museum bookstore, my first purchase of the day. I bought Outside Art, Spontaneous Alternatives by Colin Rhodes. I selected this book because it was a small paperback and it looks like a good introduction to Outsider Art.
My next stop was the Intrepid Sea-Air-Space Museum which required a long walk cross town. You should take a bus if you are going a long distance cross town but I did not want to try that aspect of public transportation that day. Getting on a bus can frequently be awkward because you need exact change or a ticket. Then you have about 30 seconds to figure out the machine that collects the fare before the people behind you or the bus driver gets testy. Even the local public transportation bus system gives me this kind of grief. After a few years without needing to ride the bus you'll find the fares have increased and the entire system has changed.
So after a long walk I made it to the Intrepid Sea-Air-Space Museum which is on the far West end of midtown on the Hudson River. My bus always passes the Intrepid on its way to the Lincoln Tunnel so I've been meaning to visit this museum. I used the walkway to cross 12th Avenue. This walkway takes you right to the Intrepid Sea-Air-Space Museum as I discovered during my research in preparation for this trip. I even took a photo of it. This is not the best photo of my visit but it is photos like this that are really valuable when you are trying to find your way around a city. Fortunately we have Google Street View too!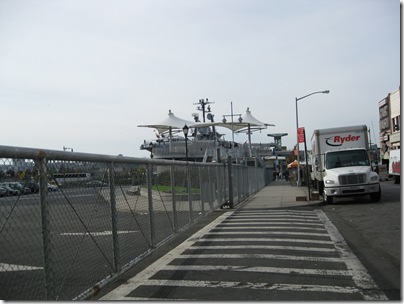 The Intrepid Sea-Air-Space Museum is kind of expensive so I went with the general admission ticket for $24.00. I guess it is expensive to maintain a museum which also happens to be an aircraft carrier. The Intrepid Sea-Air-Space Museum is definitely one of the most awesome tourist attractions in New York City, giving you a rare opportunity to walk around an aircraft carrier. But first I went to Growler Submarine exhibit. The Growler is a 1950s Cold War submarine which carried hydrogen bombs that were delivered by rocket planes. They even had a hydrogen bomb rocket plane pointed at Manhattan! LOL! I don't think this was a nuclear submarine since it was not powered by a nuclear reactor and it did not carry modern nuclear missiles. Instead it would have delivered the hydrogen bomb via rocket propelled jets. You have to step through a hatch to prove you are nimble enough to do the tour before they let you onboard the submarine. The submarine itself has been retrofitted with stairs and glass panels to protect the equipment.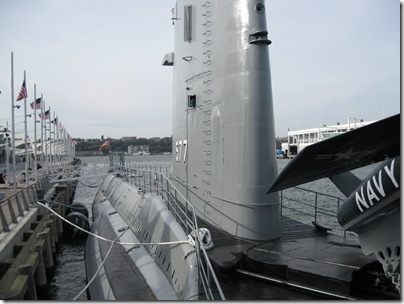 The equipment in the submarine did look very dated with a 1950s vibe. It reminded me of an old mechanics shop or a 1950s garage with oily gear.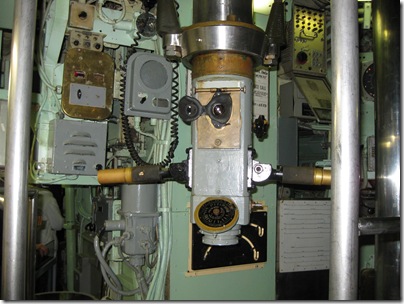 After exiting the Growler I had to take a time out to replace the batteries in my camera. Then I went over to the British Airways Concorde which was parked nearby. This airplane has been converted into a museum just like the submarine, with areas roped off and all the seats encased in glass. You could not enter the flight deck but you could take a photo of the cockpit.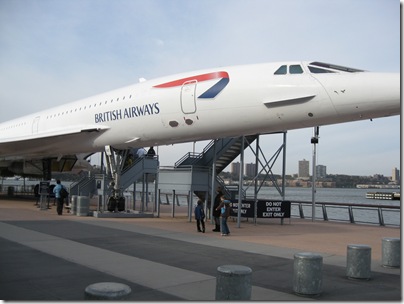 Then I walked up a gangplank into the Intrepid where I saw the crew mess and galley with cheesy sound effects of public eating babble. Some of the mess halls were decorated to make the crew feel more at home. I took the elevator up to the flight deck. The flight deck has many jets and helicopters including; A-12 Blackbird, F-14 Tomcat, UH-1A Huey, MIG-21, F3D-2 Skyknight, and the IAI F-21A Kfir (Israeli Fighter).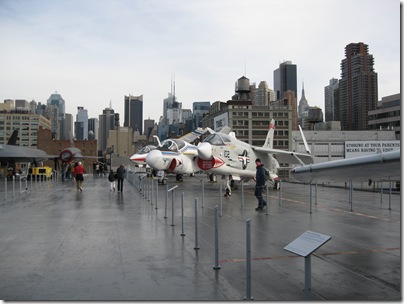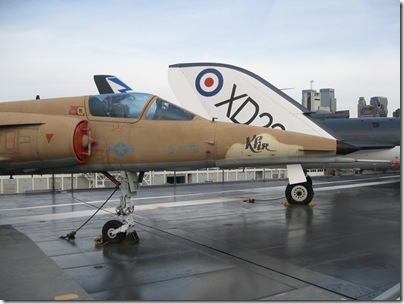 After taking hundreds of photos on the flight deck I went down to the hanger deck where I saw some more interesting exhibits including; the Intrepid's massive propeller, Mercury capsule replica, FJ-3 Fury airplane, and various space exhibits.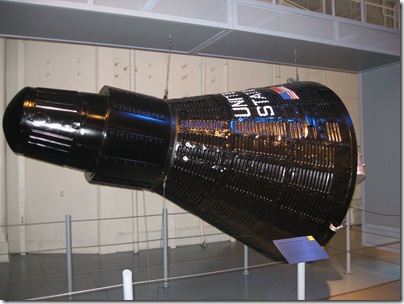 At the Intrepid Museum Store, I bought a Hot-Wings F-14 and the book Intrepid: The Epic Story of America's Most Legendary Warship. I'm not very fond of military history but I figured it might be interesting to read more about the ship.
I left around 4:15 p.m. and my bus would not leave until 8:00 p.m. so I had several hours to kill with nothing else planned. I started to think about finding a restaurant and then I remembered that Hallo Berlin was nearby in the Hells Kitchen neighborhood. I've been to New York City so often this year that now I know what restaurants are in a neighborhood! I asked for a table for one. I will have to learn how to say that in German for my trip to Berlin next year. Ich möchte einen Tisch für eine Person. I ordered a glass of red wine and a meal of Wine Herring with Apple and Gherkin slices in creamsauce and German Fries, Stringbeans, and cucumber salad (according to their online menu). I don't know if I've ever had herring before but cutting it was exactly like sawing through a piece of black rubber. According to Wikipedia, Pickled herring is a delicacy in Europe, and has become a part of Baltic, Scandinavian, German, Eastern Slavic and Jewish cuisine. The cucumber salad was very good and the German fries had curry sauce on them I think. Hallo Berlin is a cool place where you can find traditional German food and enjoy the European ambiance. They don't dress in traditional costumes, Trachten, that make other places seem so cheesy. The place is decorated with many banners and framed beer advertisements.
That still did not kill enough time so for the next three hours I wandered around Manhattan and took photos. Many of my photos did not turn out well because my camera does not handle low light conditions well. I did try to take a lot of photos around the Times Square Church area because this is always where the Susquehanna Trailways bus drops us off and picks us up. I did discover that there is a subway station hidden in the Paramount Plaza subconcourse, on the other side from the Mars 2112 restaurant. It looks like a 1 train station. That would make it the closest subway station to our drop off point.