On Saturday, September 25th, I made my eleventh trip to NYC this year. On this trip, my objective was to explore the Financial District. I've been paying a lot more attention to the economy after the financial crisis so Wall Street has been on my mind. The financial industry is very important to New York City. I suspect that much of the improvement in the city is due to the vast wealth created during the real estate bubble.
I brought along a guidebook on Philadelphia to read on the bus. I wanted to send the message that their passengers may be interested in visiting that city as well. I was expecting someone to ask if I was sure I was on the right bus, but nobody noticed or said a thing. There will be a bus trip to the King Of Prussia mall in November. I may go on that trip but it is not exactly within the city.
When I arrived in New York City I found the subway system was still all screwed up on the weekend schedule. I went to the 50th Street and 8th Avenue station but it was closed so I had to walk to the 42nd Street station. A MTA worker was trying to direct people to the right train. She asked me where I was going and I said downtown. She kept asking me this question until I finally specified Wall Street. She was really exasperated with me, but hey, don't keep asking the same question over and over, expecting a different answer. All she had to do was ask me to be more specific. Any way, she told me to get on the 3 train instead of waiting for the 2 train. While I was on the train, a rude tourist was bold enough to take my picture. He was with some other people and I think they were speaking Russian. It looks like New York City still has a problem with Russian spies!
When I arrived at Wall Street I quickly found the Trinity Church and Museum of American Finance. I must have been at the Wall Street / William Street subway exit, exactly as planned. Although I did not know exactly where I was going, I did immediately find Delmonico's Restaurant, Intesa Sanpaolo on 1 William Street, the New York Stock Exchange, and the Federal Hall National Memorial. I took lots of photos of these famous landmarks because you can't actually enter any of them. The Federal Hall National Memorial is open to the public but it is closed on Saturdays.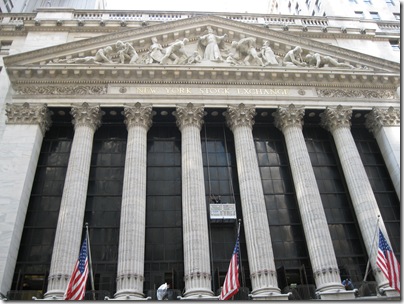 I then walked up Broadway and found the Zuccotti Park, aka Liberty Plaza Park, where I saw Isamu Noguchi's Red Cube and Joie de Vivre by Mark di Suvero, public sculptures. The Red Cube looks a lot like the Alamo cube on Astor Place in the East Village. I also found the Chamber of Commerce there and you could see where the Freedom Tower is being built. According to Wikipedia, that skyscraper is officially named One World Trade Center.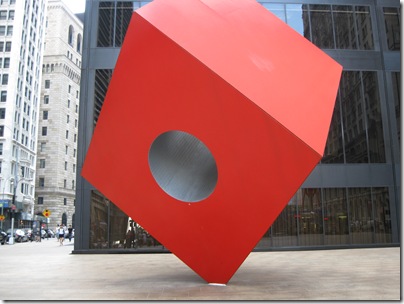 After that I remembered that I really wanted to see the Charging Bull statue at Bowling Green before lunch so I backtracked down Broadway to the Bowling Green park. The Charging Bull was mobbed by tourists and photographers so I could not get a good photo of it. I guess you would need to be there early on a Sunday morning to find it deserted. There is free WiFi at the park so I sat on a bench and sent a tweet using my iPod Touch. A little further down Broadway I found the National Museum of the American Indian and then Battery Park with the ruined remains of German sculptor Fritz Koenig's The Sphere. This sculpture used to be located in the plaza between the two World Trade Center towers. It was crushed when the towers collapsed. It now serves as a reminder of the tragedy. There is also an eternal flame near the sculpture.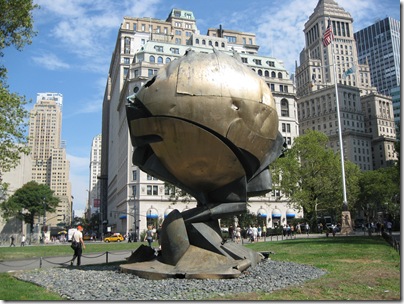 I was ready for lunch so I made my way back to Williams Street. When I planned this trip, I picked out Crepes du Nord as a good place for lunch. Delmonico's Restaurant is far more famous but it strikes me as being a really expensive and exclusive restaurant. Crepes du Nord is fancy but casual and not too expensive. It is a small restaurant with very limited seating. Fortunately I lucked out as there was only a single couple there even though it was around Noon. A few other customers came in as I was eating and nobody was dressed up for the occasion. I ordered a glass of white wine and a Crêpe Complète, Sunny-Side-Up Eggs, Ham, Gruyere for $9.00 and a Dulce De Leche, Caramel, Fresh Banana, Whipped Cream for $7.00. This was a slightly heavy meal. I would recommend that you only order a single crêpe.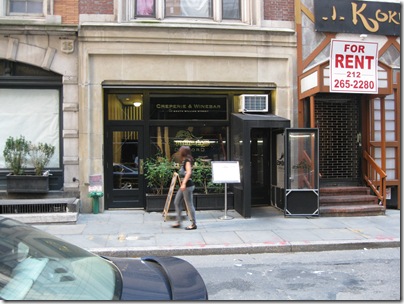 After lunch I went to the Museum of American Finance. This is a very small museum that should not take you more than a half hour to an hour to tour. They had a large exhibit on the financial crisis but it was nothing but a timeline which I did not bother reading in full. There was a video screen repeating a short clip from the old movie It's A Wonderful Life, the bank run scene. An exhibit about the evolution of United States currency was slightly more interesting. They even had a bar of gold which was probably fake. I saw one of Mayor Bloomberg's financial terminals. This really appealed to the geek in me. It had Bloomberg monitors and a special Bloomberg keyboard. However, what really surprised me was an old stock certificate with a local connection. I saw a Elmira and Williamsport Rail Road Company stock certificate! There is another town by the name of Williamsport in Maryland, but this was definitely my Williamsport in Central Pennsylvania. I took out my camera and took a photo of the stock certificate because I wanted proof that I had seen it.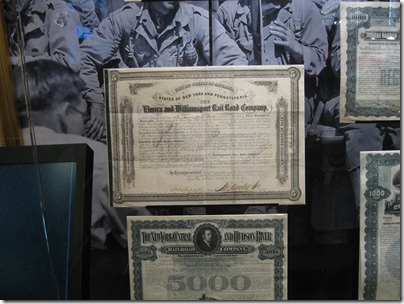 In the museum's gift shop, I used my credit card to buy a DVD on Wall Street and the book A Colossal Failure of Common Sense: The Inside Story of the Collapse of Lehman Brothers.  Both the book and the DVD feature the Charging Bull stature on the cover. They also had expensive statuettes of the Charging Bull but I returned to the real thing later on and bought a cheap replica from the many street merchants lined up there. While I was on my way there I came across the Fraunces Tavern, an 18th century building which is one of the few remaining colonial sites left in New York City. George Washington ate there.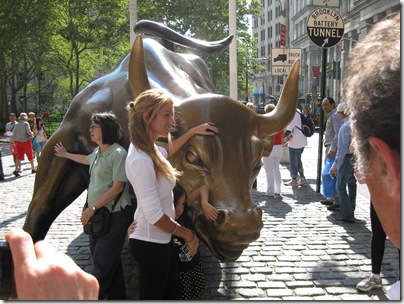 I then walked east for several blocks until I made my way to the FDR Drive which I followed to the South Street Seaport. A lot of tour buses park underneath the FDR Drive. The South Street Seaport has a bad reputation for being something of a tourist trap but I think it is interesting if you want to explore the history of New York City as a major shipping port. The only reason New York City ever grew into such a large and important city is because Hudson Harbor made it an ideal location for shipping and commerce. The South Street Seaport was not the focus of my trip so I did not try to board any of its ships or visit the museum itself. Instead I just went into Pier 17 and explored the mall. The mall was not terribly impressive. I suspect it is responsible for the everyone being a bit down on the South Street Seaport as a tourist destination. Even their Gateway Newsstand was completely devoid of books and magazines. I didn't buy anything there except for a bottle of coke. There was some great views of the Brooklyn Bridge and I took some photos of the ship Atlantica as it cruised by the pier.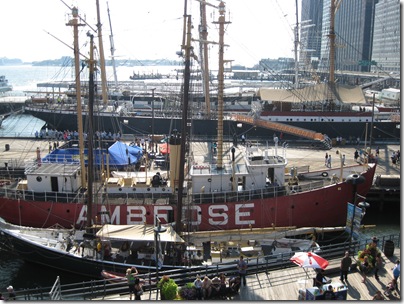 When I left the South Street Seaport I walked up Fulton Street until I reached City Hall. Once there I entered the J&R Music Store. I am quite familiar with J&R because they publish a popular electronics mail order catalog which has been around for ages. They have been a major computer retailer since the early days of PCs. Here I made the only business related purchase on the entire trip. I bought a book on Object Oriented PHP which is precisely what I need to study for my current project. I'm busy converting a library of ASP functions to PHP and there is some OOP involved. This was pretty much the first time I used my New York City jaunt to do anything relating to my profession. J&R has a very annoying security procedure where they check your bags before you can leave the store. Any Wall Street firm that needs some PHP work done should give me a call. LOL. Unfortunately, the financial world does not hold the IT world in high regard. Personally I consider the Information Technology world to be the true meritocracy, where intellect is sure to find its reward, while the financial industry is just made up of big time crooks. Put some programmers and stock brokers in a room and one of the programmers will be the smartest guy in the room.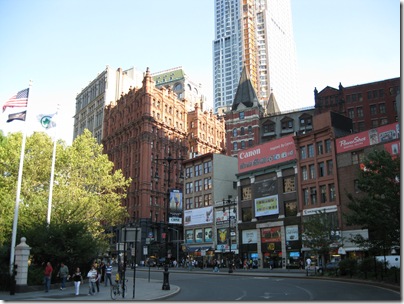 City Hall was closed for remodeling and appeared to be completely sealed off with very tight security. I did see the fountain in the City Hall Park though. Although it was only around 4:00 p.m. I decided to take the subway back uptown so as not to miss my bus. The 6 train was really crowded on the trip uptown. I got off at 33rd Street and could barely squeeze my way out. I had four hours remaining so I decided to visit the The Morgan Library & Museum on 36th Street and Madison Avenue. The Morgan Library itself was closed for remodeling. That was very disappointing because the major draw of this museum is to see the library. However, they did have some galleries open with four exhibits so it was not a complete loss. I saw exhibits on the drawings and sketches of Edgar Degas, a major exhibit on Mark Twain which included his letters, notebooks, and personally inscribed books, a collection of black and white drawings by pop artist Roy Lichtenstein, and vintage photographs of Anne Morgan's charity to rebuild France after the first World War. In the Morgan Library bookstore and gift shop, I was tempted to buy a biography of J. P. Morgan but it looked really thick and I'm tired of buying books that go unread. I just bought a small pack of cards on New York City buildings instead.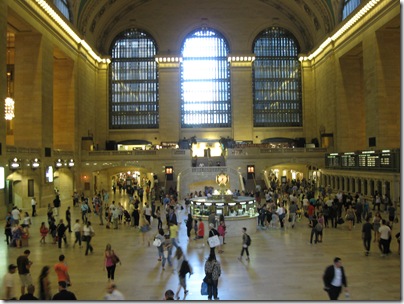 As I was walking along Madison Avenue I eventually found myself near the Grand Central Terminal so I decided to pop in to find a newsstand. Although I had taken photos of its exterior on a previous trip, I had never seen the main concourse so that was pretty cool. I found a Hudson News shop and after looking at every shelf of magazines I finally found the International magazines where I really hit pay dirt. This newsstand has the best selection of European publications in the city. I bought French, German, and even Italian magazines.
That was the last place I visited on this trip. After that I just sat in the Rockefeller Plaza for almost an hour before heading over to the Times Square Church where I waited for the tour bus to pick me up. While waiting there I did see a crazy lady walk by screaming profanities at everyone she saw. Everyone seemed to be quite amused by her antics but I liked her style, making humanity take notice of her bitter condemnation. On the bus ride home we saw the Disney film Old Dogs which featured many scenes in New York City including the Grand Central Terminal which I'd just seen that day. That is what I like about visiting New York City. You gain a new appreciation for its frequent appearances in pop culture.
I accomplished most of my goals on this trip and even squeezed in several extra tourist sights that I was not planning on seeing yet. My next trip will probably not be confined to a specific neighborhood as I try to make it too several other museums and tourist sights still on my to do list.