Yesterday I made my tenth visit to New York City this year. On this trip, my mission was to explore the Upper West Side, a part of the city I had not seen before. As usual, I took the Susquehanna Trailways bus from Williamsport because that is the most convenient transportation method for me. On the long drive to the city I finished reading the book, Avant-Guide New York City 3rd Edition by Dan Levine. This book dates from 2003 but it provides a hipster view of the city. That is probably the last guidebook on New York City that I shall read. I've already read eight books so it is getting repetitive. I will now proceed to read guidebooks on Philadelphia. I think I can make several more trips to New York City before I run out of things to do, so it will be awhile before I switch to Philadelphia.
I had just received the Pacsafe MetroSafe 100 Anti-Theft shoulder bag that I ordered. It sure beats carrying a cell phone, camera, iPod, reading glasses, and small change in my front pockets. All that weight was pulling my pants down. LOL. I paid attention to what people were using in New York City and noticed that quite a few people had shoulder bags or backpacks. This particular shoulder bag is really small but it has many built-in pockets so it is perfect for electronic gear and small objects. It was small enough that the strap did not hurt my neck.
Upon arriving in New York City I took the C train at the 50th Street station downtown to Penn Station. Unfortunately, I can't tell you what I was doing in that area because it is confidential. But I was very pleased to have private business in the city because that is a step up from tourist to local. I wish I had some professional business to attend to in the city but it is better to be in the Big Apple on a lark, as a tourist, than on business. I had to find a restroom before my appointment which brings up a common problem. Where do you find a public restroom in New York City? I went into a nearby Wendy's and bought a crispy chicken and small soft drink for the privilege of using their filthy restroom.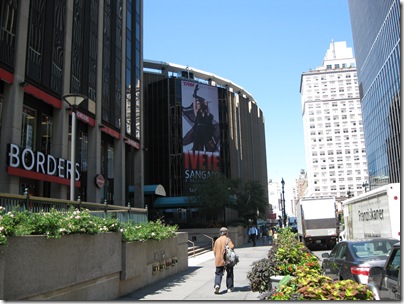 My appointment took over an hour. I then walked to the 34th Street Station and took the 1 train uptown to the Lincoln Center station. There were some movie posters on the walls of the subway platforms. I saw the movie poster for "Resident Evil: Afterlife" which haunted me for the rest of the day. I guess it was the image of a city in ruins and a badass model, Milla Jovovich, that evoked a vision of the far flung future; New York City as a pile of industrial wreckage but still having cool as ice models determined to survive the apocalypse.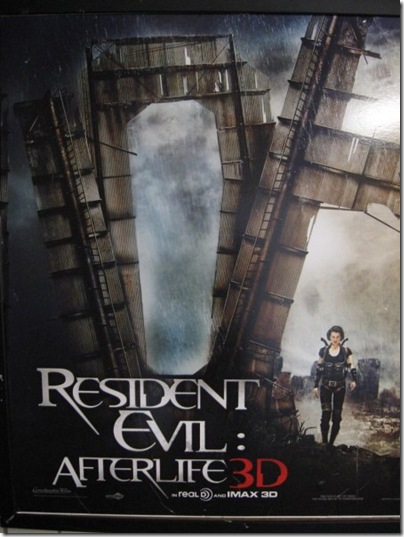 I had made a reservation for the 2:30 p.m. tour of the Lincoln Center but I arrived uptown early so I had some time to kill. There is a Barnes and Nobles bookstore directly across from the subway station so I went there. This bookstore has a huge selection of books on several floors with escalators to whisk you from floor to floor. I bought two books; Teach Yourself German Grammar and Wallpaper City Guide: Berlin to prepare myself for a trip to Berlin, the New York City of Europe. I checked out the newsstand on the very top floor but I could not find any international magazines or newspapers. I was hoping to find some French, German, or Italian reading material. New York City is really disappointing on this score. You cannot find publications in any language except English.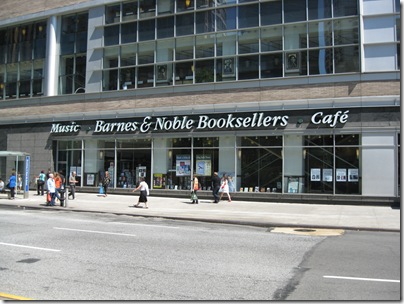 After killing enough time at the bookstore I walked down to the Lincoln Center Plaza and took some photos. There was a lot of construction on the South Plaza in preparation for a fashion show. I've always been fascinated by the performing arts so it was really thrilling to visit this mecca of the performing arts. Although the Lincoln Center plays a huge role in the cultural life of the United States, I can't say that I have ever heard much about the actual complex. Maybe I've seen a few performances on television that were filmed at the Lincoln Center but as a cultural institution it becomes background information so you never actually think about it. I'm not a big fan of ballet, opera, or symphony music. I am a theater buff but I suppose the New York State Theater is overshadowed by Broadway.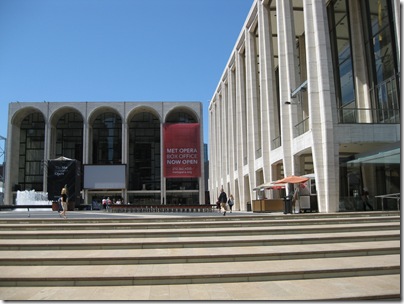 Since I was only making a day trip and would be leaving the city in the evening, I was not able to attend a Lincoln Center performance. The tour of the Lincoln Center was my only chance to see the theaters. The tour cost me $15.00 and left from the David Rubenstein Atrium across the street from the Lincoln Center Plaza. The tour guide took our small group to the Avery Fisher Hall where we sat in the theater. We were allowed to take photos but only one of my photos turned out well due to the low lighting.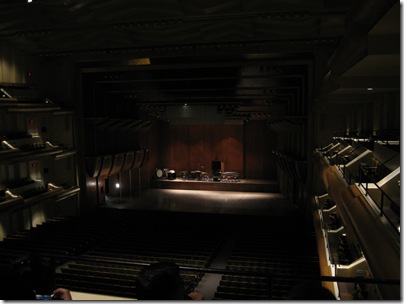 Then we went to the David H. Koch Theater where we entered its auditorium. There were many packing crates on stage which gave it a peculiar industrial funk, sort of an existential vibe in contrast to the magnificence of the plush red seats and central "globe" chandelier. I only have one photograph that isn't blurry due to the low lighting.
That was the end of the tour. It was a very short tour. The tour guide asked everyone where they were from. One couple was from Sweden I think although they appeared to be Asian. I said I was from Pennsylvania so I was addressed as "Pennsylvania". I was not too pleased to be addressed by my state. Some New Yorkers act like they are a world apart. The most useful piece of information that I picked up was that you do not have to dress formally to attend a Lincoln Center performance. You can come in torn jeans and sneakers if you like.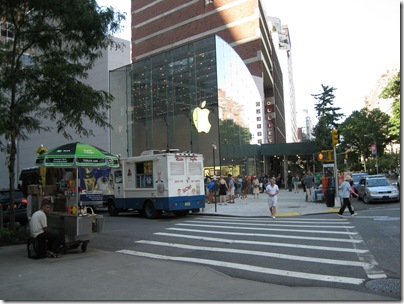 There did not appear to be anything else for me to do at the Lincoln Center after the tour so I walked a short distance up Broadway to the Apple Store. This is just one of the many flagship Apple Stores in New York City. I know a lot of Apple fan boys online so I figured I could make them jealous by visiting this store. Apple products are too expensive for my taste but I do own an iTouch and an old iBook. I saw some of the latest Apple products like huge widescreen monitors, laptops, tiny keyboards and mice, and the iPad. Downstairs I found the software and iPhone accessories that might have tempted me to make a purchase. I saw a case for the 2nd generation iTouch which includes a built-in battery to extend your battery life. This item really tempted me but I think my iTouch is 1st generation so it probably would not have worked.
My next appointment was a reservation for dinner at Café Luxembourg. That was not until 5:30 p.m. so I had time to see the Dakota Apartment building, where John Lennon was shot, and Strawberry Fields. There were a few tourists taking photos of the Dakota. Although it is just an apartment building, all the guide books list it as an attraction because John Lennon used to live there and he was shot outside the building. I've read a few biographies of John Lennon but I'm not a big Beatles fan.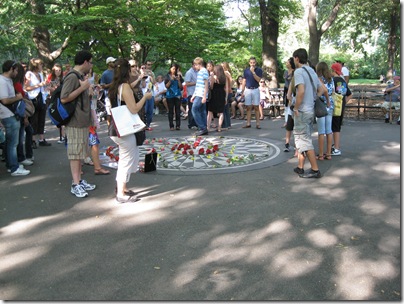 Strawberry Fields is the memorial to John Lennon in Central Park, just across the street from the Dakota. I found a crowd of photographers surrounding the Strawberry Fields Memorial Mosaic. It seemed a bit disrespectful to mob this spot but I joined them and got a few photographs of my own. The only thing I can say for myself is that I alone seemed interested in photographing the Daniel Webster Statue a little further on. Where is the love for Daniel Webster?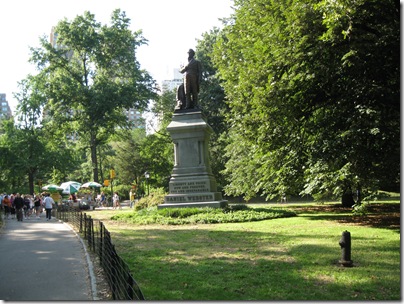 I walked deeper into Central Park and found the famous Bethesda Terrace and The Angel Of The Waters fountain. It was a bright sunny day so I took many photos of these landmarks.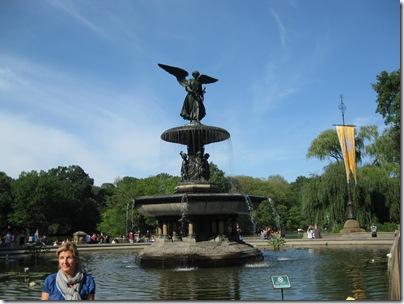 I made sure to find my way back to Broadway in time for my dinner at Café Luxembourg. I choose this restaurant because it is French and mentioned in Bret Easton Ellis's novel, American Psycho, which I had just read. I should have been wild about this novel because it combines 1980s nostalgia with New York City culture but the descriptions of the violence are sickening. The main character, Patrick Bateman, mentions Café Luxembourg several times, although this restaurant is not listed in the guidebooks as being a hot spot today. While I was eating, I kept wondering if the staff had read that book. I bet they are not amused to be associated with that novel by their clientele! By the way, have you ever noticed how detailed I am in my descriptions? Just like Patrick Bateman!
There were more wait staff in the restaurant than customers. I watched them make minute adjustments to the place settings so there is excessive attention to details. I had the scallop special which consisted of four large scallops in a fancy bed of onions and green beans covered in a mushroom sauce. I also had a German glass of white wine, Gewurztramine, which was better than any wine I've tasted. For desert I had the frozen yogurt covered in orange sauce with four little scoops of melon. It was not a very filling meal. I would say it was all presentation and no substance. It was also extremely expensive at $60.00 for just one person!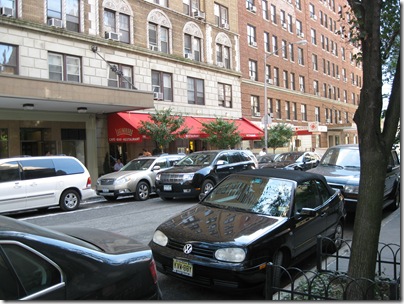 After the late diner I had just enough time to visit the Time Warner Center at Columbus Circle. I took the subway even though it was only one stop away. At the Time Warner Center I headed straight for the Borders bookstore because I figured this was the only store within my budget. It is kind of lame for me to visit a Borders bookstore in New York City because we have one in the Lycoming Mall. I go there often because I like to be surrounded by new books but their selection still manages to be poor. This particular Borders store in the Time Warner Center actually has a great view of Columbus Circle. I think it is also a popular spot for celebrity book signings. They had a good selection of New York City guide books but I am tired of reading those so I only bought a Wallpaper City Guide: New York. These guidebooks neglect most of the obvious landmarks because their focus is on design. Their sole criteria for listing a place seems to be design so it makes a good supplement to other guidebooks. I also bought the guidebook Hidden Philadelphia and Amish Country, a sure sign I am beginning to need fresh inspiration, and a large picture book on Berlin.
It was getting late so I had to head out for 51st Street to wait for my bus. Columbus Circle is actually just a few blocks north of 51st Street so I decided to walk. I made it in plenty of time and did some people watching while waiting for my bus. I noticed that a truck parked across the street had something amusing written across it, "The Bed Bug Experts". I took a photo of the truck because there has been a lot of news about New York City's bed bug infestation. I even overheard my fellow bus passengers talking about this subject. The bed bug exterminators were parked in front of the recently remodeled McDonald's. Feel free to infer that this means McDonald's NYC has bed bugs. I hate McDonald's and wish them ill.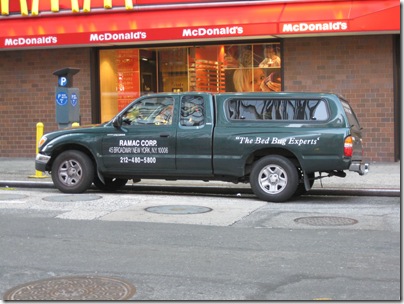 There are still many more landmarks and museums for me to see in New York City. For example, there is the Brooklyn Museum which will take an entire day to visit because it is huge and I have to allow extra time for a subway ride to Brooklyn. I also have not been in lower Manhattan to check out the financial district. I should see Wall Street before it gets destroyed in the revolution. It will probably be replaced by a statue to Karl Marx.