Yesterday, June 26th 2010, I made my seventh trip to New York City this year. My purpose on this trip was to visit some of the minor museums on Museum Mile, Upper East Side, Manhattan.
As usual, I took the 6 Lexington Avenue Local subway from 51st Street to reach 68th Street Hunter College. I was surprised to receive two Liberty dollar coins in change for my MetroCard purchase. Dollar coins are rare because you never seem to find them in circulation. Even though I studied the area the night before on Google Maps I managed to head off in the wrong direction again. I am seeing more homeless people on the mean streets of NYC and I even saw someone sleeping on the street on the Upper East Side right in front of some posh Fifth Avenue hotels.
The first museum I visited was The Frick Collection. This museum gives you a glimpse of the Gilded Age of New York City. It is a small museum but the interior is very elegant and the artwork is by some of the great European masters. Henry Clay Frick was a steel magnate and the museum is housed in his former mansion on Fifth Avenue. The Frick Collection was the highlight of my trip and made me glad I spent another day exploring New York City. Unfortunately, they do not allow photography.
Among the artwork I saw was several high society portraits by James Whistler, Rembrant's "Self-Portrait" and Joseph Mallord William Turner's "The Harbor of Dieppe" and "Cologne: The Arrival of a Packet-Boat: Evening". Turner is famous for his paintings of Venice. I was disappointed that these paintings were not of Venice but they looked very much like them. They were certainly more impressive in real life than in photos due to their size and vivid colors. I was struck by one piece of bronze sculpture of Hercules which was black with gold detailing. I generally prefer modern art to classical art but this sculpture seemed especially noble. I even had the thought that I should try to recreate that look in Photoshop. This is evidence that The Frick Collection had been inspirational to me.
The Frick Collection is one of the lesser known treasures of the Big Apple but it was still a bit crowded. I had some trouble seeing "St. Francis In The Desert" by Giovanni Bellini which everyone seemed to like so they stood in front of it for long periods of time. But the paintings that most captured my imagination were Jean-Honoré Fragonard's "The Progress Of Love". "Reverie" in particular caught my eye. It is a charming vision of an elegant past and immediately inspired my own reverie of a lush wonderland which would be sustained by the dreaming of entranced maidens. There was also a book-lined study which I thought was a particularly charming setting for some of the portraits, including Henry Clay Frick's portrait.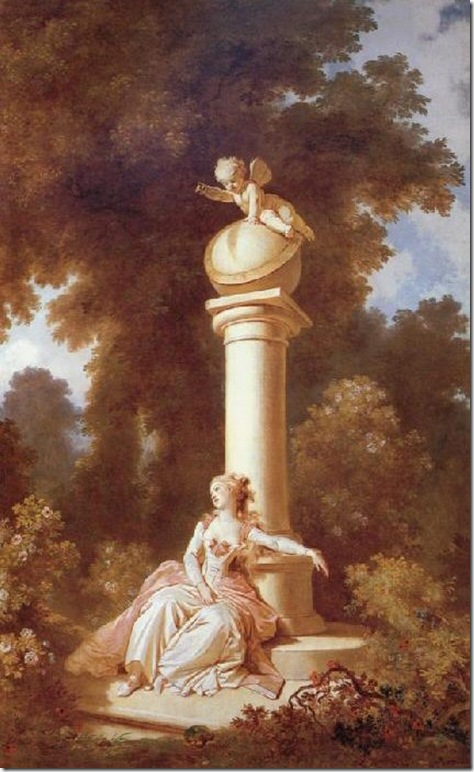 The Frick Collection has a bookstore where I bought "The Frick Collection: Handbooks of Paintings" and "Italian Renaissance Sculpture". I noticed that the sales clerk was able to speak French to one customer. I'm curious as to how people manage to get by without knowing the language of the country they are visiting so I took note of this exchange. I only spent one hour or maybe an hour and half there because I had a restaurant reservation for 1:00 PM. You can probably see everything this museum has in one hour because it is really quite small.
For lunch, I went to the Match 65 Brasserie & Sushi Bar, a little French restaurant that also serves sushi. There aren't very many restaurants on the Upper East Side so I had to prowl the area using Google Maps to find something suitable. Match 65 is on East 65th Street so I only had to walk south for five blocks. I made my reservation online using http://www.opentable.com which is linked to by http://www.yelp.com/ reviews. By the way, Yelp is a good resource for finding restaurants and stores to visit. Even their Williamsport page shows that tourists were able to find something in my small town that I did not know about. I may make another staycation using Yelp.
I ordered the Croque Madame which is sort of like a toasted cheese sandwich with ham and a scrambled egg on top. There was also a large helping of French fries on the side, les frites. That meal only cost me $25.00 which is pretty cheap for French food.
After lunch I walked uptown to the Whitney Museum of American Art, another minor museum on Museum Mile that you probably would not visit on your first trip to New York City. Unfortunately most of the floors were closed. Out of the five floors, only two floors were open so I did not see much art there. However, on the third floor was an exhibit of the paintings of Charles Burchfield, "Heat Waves In A Swamp". I've never heard of the artist Charles Burchfield but his work is quite impressive. I saw many paintings of fantastical forest scenes with vibrant patterns in the foliage. His paintings of small town scenes were an excellent blend of representational art with some stylish abstraction. I especially liked the painting  "Icebound Lake Boat". One room in the exhibit was wallpapered using his design. I spent a lot of time in the museum bookstore looking for a Whitney Museum guidebook or a book on pop surrealism but I did not find anything. Eventually I had to settle on the book "Charles Burchfield: Ecstatic Light". Except for discovering the work of Charles Burchfield, this museum was rather disappointing. I had intended to be at this museum until 6:00 PM when it closed but I wound up leaving at 3:00 PM and had to find something else to do for a few hours.
At this point I decided to make an unplanned visit to the Museum of Sex! This museum is not on Museum Mile so I was not expecting to visit it that day. I took the 6 Lexington Avenue Local subway back downtown to 28th Street and walked to East 27th Street and 5th Avenue. The entrance of the museum takes you right into the museum store where they mostly sell books and no porn. You have to walk through the store to reach the admissions desk. General Admission cost me $16.75. Then I had to walk down a steep flight of steps to leave my bag of previous museum purchases at the coat check which cost $1.00. There is a dingy bar down there that was deserted. When I got back upstairs I found it difficult to tell where the exhibits were. The museum is arranged like a shabby funhouse. The first room had some large video tables playing porn. Awkward! Then I climbed some more steep stairs to the second floor which had more interesting exhibits. I saw some life sized sex dolls and a display case of robot sex which was very amusing. This consisted of a display case of doll-sized robots doing mechanical sex.
Other items on display included various examples of condom packaging, French postcards, Tijuana Bibles, and dildo sculptures. The top floor was an exhibit on animal sex. I never knew that dolphins were such twisted, perverted creatures! I'll just say that they have that extra hole, the blow-hole, and there was a model of what they do with it. That was the most shocking thing I saw at the Museum of Sex.
I bought a book in the museum bookstore because they didn't sell porn. "Hos, Hookers, Call Girls, and Rent Boys" is a book that "humanizes the men and women we pay for sex". All in all, I thought the Museum of Sex was a bit shabby. I was also disappointed that there were no interactive exhibits!
After that I had nothing in particular to do so I walked to Madison Square Park. I took a lot of photos of the Flatiron Building. There is a Shake Shack in Madison Square Park so I stood in line for a shake because I was dying of thirst. The Shake Shack is extremely popular in New York City. I've seen it mentioned many times in the Reddit subreddit on NYC. I was given a little pager which shook when my order was ready, even though I only ordered a shake. I thought it was a little odd to be given a restaurant pager at a little park snack stand.
I still had an hour to kill so I walked along East 23rd Street and found the Chelsea Hotel. I took a lot of photos of this legendary hotel. I saw an Universal News store so I stopped in to buy a copy of Time Out: London and NY Arts. They did not have any foreign language magazines or newspapers. I walked to the very end of  23rd Street and found the Chelsea Art Museum but they close at 6:00 PM so it was too late to go in. I did see a very interesting example of architecture along the way, a building that looks like a transparent hamster wheel, the HL23 High Line Building of luxury condos.
I was still dying of thirst due to the heat so I stopped at two different Starbucks on my way to the bus pickup. In my last hour in New York City I went to the Colony Music store on Broadway where I bought an official MTA Subway metal sign. I think the sales clerk cheated me out of twenty bucks on the price. I won't be going there again. On the way home on the bus, we were shown the movie No Reservations starring Catherine Zeta-Jones and Aaron Eckhart. This movie is about the work life of an executive chef of an upscale New York restaurant so it was a good choice.
In conclusion, this was another memorable trip to New York City even though I only visited some small museums. The Frick Collection really made it all worthwhile. I'm still not done with New York City! I still have the American Folk Art Museum, the Chelsea Art Museum, and the New Museum of Contemporary Art to visit. I also want to walk across the Brooklyn Bridge and see part of Brooklyn some day. My next trip is in July. I will be staying overnight this time so I can finally see a show in the evening. I have not decided what show to see yet but it will probably be Off-Broadway.