I'm back from my latest trip to New York City. The purpose of this trip was to explore the neighborhood of Greenwich Village. Greenwich Village is legendary for its associations with beat writers, jazz musicians, folk singers, NYU, and the gay community.
I traveled to the city on a Susquehanna Trailways bus which dropped us off in front of the Times Square Church on West 51st Street. I used a different subway station to get downtown. I took the E train, 8th Avenue Local because it was a short walk to the 50th Street Station. I researched this subway station online but I have the wrong entrance pictured in my notes. Fortunately I figured out where to go for the downtown train. I used my Metrocard which was still good from my last trip. After I went through the turnstile I had to be careful not to get confused and take the C train. I had to go down a flight of steps to the lower platform for the E train.  I must have waited at least 20 minutes for the E train. I was worried that the line was closed or something but there were a few other people on the platform waiting for the train so I figured the train was running.
I arrived at the West 4th Street station and found the subway exit was exactly where I had it pictured in my notes. It was easy to find Washington Square Park from there. For me, Washington Square Park is most famous for being the location of the first YouTube gathering which was a big deal at the time. Unfortunately that was before I had made traveling to New York City a routine operation so I missed out on the gathering. I took lots of photos of the arch and its statues of George Washington. Although all of my guide books have a photo of the Washington Square Park arch, none of them show you what the George Washington statues look like. You can see the Empire State building through the arch.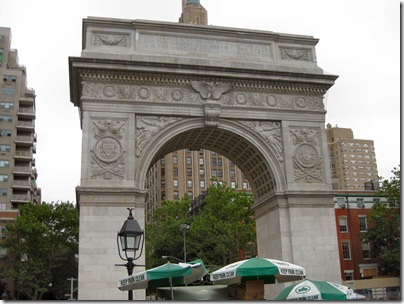 There was a street fair on Waverly Place, the street running north along Washington Square Park. The street was lined with many flea market type booths selling an assortment of merchandise. There were food vendors and even a few massage centers for weary shoppers. One merchant was selling some high quality antiques including massive clock faces but I did not buy anything then because I did not want to be loaded down for my exploration of Greenwich Village.
I followed Waverly Place to 6th Avenue and quickly found the Jefferson Market Garden which really isn't far from Washington Square Park. The Jefferson Market Library is a famous architectural landmark inspired by Venetian Gothic details including a distinctive four-sided clock tower. I took lots of photos of the Jefferson Market Library from different angles. Greenwich Village is a difficult neighborhood to explore because it has a confusing street layout. Fortunately I spent some time studying the streets on Friday evening so I knew to head up Greenwich Avenue to find the British restaurant Tea and Sympathy for lunch. Tea and Sympathy turned out to be a much smaller restaurant than I thought. It was only about the size of a small store with a few tables crammed into the front. You probably could not seat more than 25 people there. I arrived there at around 11:00 AM so I was given the breakfast menu. I ordered "bangers and mash" a traditional English dish made of mashed potatoes and sausages, served with a rich onion gravy. Although sausages are good for breakfast, I was surprised by the large serving of mashed potatoes which are strictly a lunch or dinner side dish in America. I also had a cup of coffee. Everything was steaming hot with a noticeable amount of steam coming off it. I regret ordering the bangers and mash because it was a very plain meal. I was fooled by the British slang into thinking it would be something special. Several people online warned me that British food isn't very good and this experience seems to validate that opinion.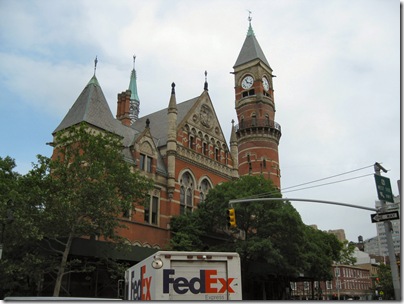 After wolfing down that meal I headed for Horatio Street and found another establishment that is part of "Little Britain", Myer's of Keswick. This little store mostly sells British foodstuffs to expats. There was not much to choose from but I bought an authentic Union Jack, the flag of the United Kingdom, for $20.00. They also had the flag of Ireland.
After making that token purchase I found my way back to Christopher Street and photographed some landmarks of the gay community. This was pure guidebook stuff because I'm not into the gay lifestyle. However, I know lots of gays online in the video blogging community so I figured they might appreciate some photos. I found Stonewall Inn, the Kettle of Fish,  and Christopher Park with its sculptures by George Segal. I even took a photo of the street sign for Gay Street, which has had this name long before the neighborhood acquired its reputation in the gay community.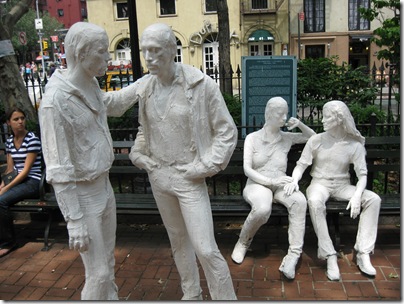 I always try to find a book store with some literary credibility on my travels. Since Greenwich Village is famous as a hangout for the beat writers it was essential to visit a bookstore. I went to the Three Lives & Company book store on West 10th Street. This was perhaps the most difficult place to find but I had the directions in my notes.  My notes are on my iTouch which I had with me. This bookstore looks like a classic British bookstore so I took a photo of it afterwards. I bought the novel Suicide Casanova by Arthur Nersesian, my favorite chronicler of life in the New York City neighborhoods. I also bought a Time Out guidebook for London since this trip was a taste of England.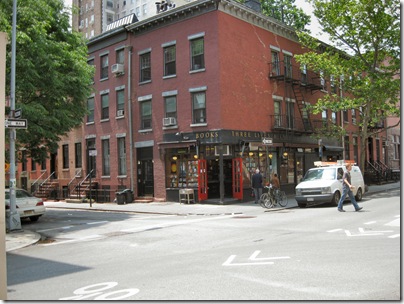 My next shopping objective was to buy a record or some CDs. Greenwich Village has many record stores because the neighborhood has many jazz clubs and folk music roots. I made my way to Bleecker Street and found Cafe Angelique. Rebel Rebel Records is right next to Cafe Angelique but I decided to stop in at the cafe first for a better meal. At this French restaurant I had a blueberry and banana smoothie and their Vegan Angelique sandwich; avocado, mixed greens, sprouts, tomato, and olive tapenade on seven grin bread. This was a tasty sandwich but with maybe a little too much avocado. I was unable to finish the mixed greens because I was feeling too full. Cafe Angelique has a nice atmosphere. I saw a few strange Greenwich Village People there. There was a woman in leopard skin pants and a few flamboyant gays. The walls had painting slash photos of Venice which wasn't very French.
After finishing my meal I went next store to Rebel Rebel Records. This record store is a true record store selling mostly old records. As an obsolete music format, most records are now only available for older recording artists. I bought a sealed LP of Patti Smith's "Dream of Life" record for $30.00. This was an appropriate choice because Patti Smith has played in some Greenwich Village rock clubs. I guess I'll leave this album sealed because I don't use my record player for anything.
After that purchase I was encumbered by shopping bags so I just wandered around the neighborhood taking photos of various jazz and rock clubs. It is probably better to go to Greenwich Village at night to attend a jazz performance, although I did hear some jazz in Washington Square Park where some buskers were playing. Eventually I found Bleecker Bob's on West 3rd Street and stopped in to buy some CDs. Bleecker Bob's Records is perhaps the most famous record store in the village. I bought a bootleg CD of Patti Smith and took a chance on a peculiar My Ruin CD which features a cover of the Plasmatic's "Sex Junkie". Now that is cool!
I headed back to Washington Square Park for a rest on one of its benches. I photographed a few street performers. There was one strange character covered in tattoos and metal piercings to the point of being absolutely frightening looking. He seemed to be standing around as a spectacle for the tourists. I sneaked a few photos of him from behind while appearing to be photographing the central fountain. I also observed some dogs romping in the park's dog run. Some of the dogs were getting a little rough and had to be separated by their owners. Since I already had a few packages I went back to the street fair intent on making some purchases because there was some nice stuff on display. One vendor was selling used CDs so I picked up a few more New York City punk rocks CDs; Bloodbrothers by The Dictators (remember that I visited the lead singer's bar in the East Village), Warm And Cool by Tom Verlaine, and Seven Day Weekend by the New York Dolls. I'm currently reading a book about the music career of the New York Dolls. I started to read that book in preparation for my East Village trip. To be perfectly honest, I don't care much for their music. I also bought a matted photo of the Washington Square Park arch in a snowstorm.
I consulted my iTouch and figured out how to find the Cherry Lane Theater and the White Horse Tavern. Of course, I could not attend a Cherry Lane Theater production because I was leaving NYC at 8:00 PM but I wanted to find the place and take some photos. I will be in New York City overnight on July 24th and this may be a theater I could visit then. At the White Horse Tavern I had a bottle of Corona beer and sat facing the painting of Dylan Thomas as I drank it. The White Horse Tavern is a famous spot for literary tourists because this is the bar where Dylan Thomas supposedly drank himself to death. I think literary scholars have decided that he actually died from pneumonia. Dylan Thomas was a Welsh poet so this kind of fit in with the United Kingdom subtheme of my Greenwich Village trip.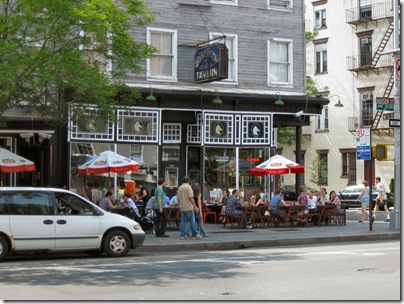 The White Horse Tavern is pretty close to the Hudson River. I decided to get as close to the Hudson River as possible because I still had hours to kill. It must have only been 3:30 PM. I was only going to photograph the river but I found the Hudson River Greenway which offers pedestrians the chance to walk down Manhattan. I had my first view of the Statue of Liberty while walking along the Hudson River Greenway. It was very far away and really small but I could see it. The Jersey City skyline kind of surprised me because it looks like Manhattan real state had jumped the Hudson River and was filling up New Jersey with skyscrapers. I walked so far along the Hudson River Greenway that I eventually made it to Ground Zero.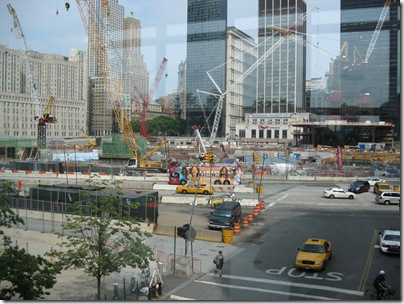 Now it was not part of my plan for the day to visit the Ground Zero site where the World Trade Center towers fell. I just happened to come across it after walking all the way down the Hudson River Greenway. In fact, I was not even sure this was Ground Zero at first. It took me a ridiculous amount of time to figure that out because it just looks like a small construction site. Everything looks very different from the ground. Even the World Financial Center's Elevated Walkway, which overlooks the construction site, offers no clues. There is no display or signage there to commemorate the tragedy or to inform visitors about the scene outside the window.
By this time, I was feeling a little sick to my stomach and too tired to walk all that way back up the Hudson River Greenway. So I consulted my iTouch for the nearest subway station. Fortunately I got a wireless Internet connection at the World Financial Center so I was able to find the subway station near the Milenium Hilton Hotel. It was slightly difficult to walk to the other side of Ground Zero, but I found Trinity Church and Century 21 over there. All the subway stations were roped off until I came to Chambers Street. I got onto the uptown E train but I almost got off again because the last stop Queens announcement had me confused. Ordinarily, an uptown train will terminate in the Bronx but I guess this subway makes a right to head towards Queens after the 50th Street station, where I got off.
It was then 5:00 PM and I had three hours to kill. Unfortunately, I had nothing much to do until 8:00 PM when my bus would leave. I was not feeling too well so I was not feeling very adventurous. I wandered around Times Square and found several landmarks and theaters to photograph. For example, I found the King Tut Discovery Times Square Exposition and photographed the huge stature of the Egyptian god Anubis. There were many sailors walking around Times Square because this was fleet week. I stopped in at the McDonalds next to the Times Square Church several times to cool off with a soft drink and to use their restroom. The McDonalds restroom was a sorry experience. You had to have your receipt to use the restrooms because it was for customer use only. There was a long line for a single restroom because their downstairs restrooms were under some construction or remodeling. I'm glad I went because my bus was stuck in gridlock for an hour and a half.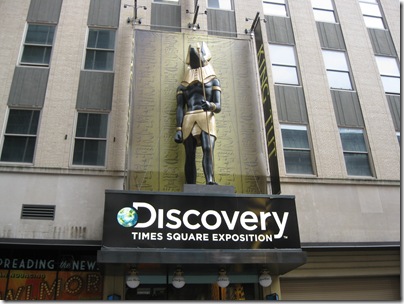 Apparently the Holland Tunnel was also having some construction done. That and the streets blocked off for Fleet Week made for some terrible traffic jams. My bus was crawling downtown for an hour and a half before we managed to leave the city. Everyone was cutting in front of the bus and trying to squeeze in. Even stretch limousines were cutting in front of the bus. I saw a double decker humvee stretch limousine which has got to be the most ridiculous example I have ever witnessed of automotive excess. But in the end it was fortunate that we were a little late because we got to see a fireworks display somewhere in New Jersey.
In conclusion, this was another great trip to New York City. I got to see a lot of the sights in Greenwich Village. It is not exactly a dream come true because I was just playing the tourist but it is better than doing nothing at home.