My New York City daycation yesterday went extremely well. I did everything I set out to do and got to see everything I wanted to see. The weather was perfect; slightly chilly but I did not need to wear a hat or gloves even at night. I will describe my trip in detail for the benefit of travelers.
For this trip to New York City, I took a Susquehanna Trailways bus. It is the cheapest way to travel and requires no driving on my part. Unfortunately they frequently cancel their one day NYC tours when they don't get enough reservations so I cannot rely on Susquehanna Trailways for transportation. The bus left at 6:00 AM and arrived on time at 10:30 AM. The bus dropped me off at the Times Square Church on 237 West 51st Street. Most of the passengers, including my older brother, were attending the New York International Motorcycle Show at the Javits Center so they stayed on the bus and it dropped them off at the Javits Center.
The first thing on my list of things to do was to try the New York subway system. I've heard a lot about the New York City subway system. I always liked that novel  "The Taking of Pelham 123" by John Godey and the 1974 film starring Robert Shaw and the 2009 film starring John Travolta. I walked along 51st Street to Lexington Avenue where there is a subway station. Google Street View was very useful for previewing this route. I realized that I would pass the Radio City Music Hall, St. Patrick's Cathedral, and Atlas sculpture at Rockerfeller Center so I snapped some photos along the way. I also knew to look for Staples and the stairs down to the Uptown platform.
First I needed to buy a MetroCard. The MetroCard machine was confusing so I asked the attendant for a card but he just directed me back to the card vending machine. Eventually I found the touch screen and bought a MetroCard. Then I swiped it at the turnstile to descend to the subway platform. This was my first experience of a NYC subway platform. There is no guard rail so you could easily push someone onto the tracks and the third rail. Across the tracks I could see the opposite platform for the downtown trains. There is no way to cross over if you are on the wrong platform. I wanted the 6 train, Lexington Avenue Local because I did not trust that the 4 or 5 Express would stop until I was in the Bronx. According to WikiPedia, this is the same line in the novel "The Taking of Pelham One Two Three". The train soon arrived and it was very crowded but I got on to replace those who got off. I had to stand and hold onto a pole. It was slightly difficult to stay on my feet. The train stopped at 59th Street, 68th Street (Hunter College), 77th Street, and 86th Street where I got off. I really need to do less walking in big cities so I was proud of myself for braving the subway system!
I went uptown to 86th Street because I intended to have lunch at the German restaurant, Heidelberg Restaurant, on 1648 Second Street. As usual I started off in the wrong direction and had to go past Third Avenue to reach Second Avenue. Heidelberg Restaurant was easy to find because it is right next to Schaller & Weber, a German grocer. The Yorkville neighborhood in the Upper East Side used to be a German immigrant neighborhood but these two establishments are all that remain of its former glory. Upon entering Heidelberg Restaurant I was greeted by a "Hallo" from an elderly barmaid. She was actually the bartender and looked old enough to be my grandmother but she spoke German and English. Unfortunately I arrived at 11:00 AM and lunch was not served until 11:30 AM so I had to wait for a half hour in the deserted restaurant. While I waited I was amused by a little mouse that scurried across the floor several times. The German word for mouse is; die Maus. Later on more patrons entered and I got to hear some German being spoken. The bartender had a conversation about the 60 dollar deposit required for a bar tab! I ordered the smoked bratwurst with potato salad and sauerkraut.
After eating lunch my next planned activity was a Broadway show so I needed to go back downtown. There were many street vendors selling winter clothing like hats, gloves, scarves, etc so I bought a stylish fur bomber hat for $10.00. I saw many people wearing these hats and I was not satisfied with the cheap winter hat I had. Fortunately it was so warm that I never needed to wear a hat or gloves. The subway trip downtown was easier because I knew what to expect.
Once back at 51st Street I walked west to Broadway and passed through Times Square where I snapped many photos. The Ethel Barrymore Theatre is on 47th Street but I misremembered that as 42nd Street so I was actually wandering around quite a bit until I found the theater. Fortunately, I remembered the Google Street View route I followed from the Ethel Barrymore Theatre to a book store I wanted to visit. So when I saw the Port Authority Bus Terminal in that area I was able to recognize the route I needed to follow by the stores and establishments along the way. It really pays to do a virtual walk through of your routes using Google Street View! I arrived at the Ethel Barrymore Theatre only a half hour before the show but everyone was kept waiting outside so I had a long wait after my panic when I could not find the theater.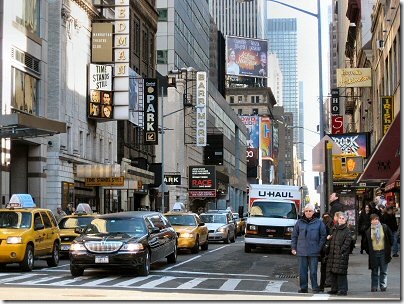 This Broadway show was the highlight of my trip and the main reason for my daycation. I pre-ordered a ticket to David Mamet's serious drama "Race"at the Ethel Barrymore Theatre. You can order tickets online and even select your seat using Telecharge. The Ethel Barrymore Theatre is a swank theater but it is much smaller than Williamsport's Community Arts Center which is actually the largest theater I've ever been in, now that I think of it. One odd thing about this Broadway show was the selling of bottled water and bags of M&Ms before the show. This is unheard of in local theater where you are not allowed to bring food or drink to your seat. My seat was much closer to the stage than I expected, only 6 rows from the stage and dead center. I had an excellent view! And that was important because the cast of "Race" includes James Spader (movie star), David Alan Grier (a former Saturday Night Live comedian), and Richard Thomas (John Boy in the TV series the Waltons). I was thrilled to see all three of these celebrities onstage when the curtain raised. I really lucked out because any one of them could have been replaced by an understudy. When the curtain raised I thought to myself, "Holy shit! It is James Spader, David Alan Grier, and Richard Thomas in the flesh not 50 feet away from me!". It was also a special event to see a new play by a major playwright like David Mamet on Broadway. As an aficionado of serious drama, this was the ultimate experience! It does not get any better than this!
The stage set was a law library. The dialog was slightly better than theater dialog but not quite movie dialog. The actors were clearly taking turns in delivering their lines but I suspect this is more a limitation of the theater art. In a movie, you can edit the cuts to make a conversation seem more natural. The play was about race relations between blacks and whites so it certainly pertained to New York City. The audience was quite diverse and their laughter indicated that they could relate to some of the wittier remarks. David Mamet is famous for picking controversial topics and this must rate as his most daring work to date.
After seeing "Race" my next objective was to do a little shopping. I wanted to check out the nearby Drama Book Shop. I think I may have ordered books from this store in the past, back when I writing plays but I'm not sure. Anyway, it is a good place to find published plays and books on the theater. I was able to walk directly to the book store because I'd already done a virtual walkthrough of my route using Google Street View. At the Drama Book Shop, I bought some hard-to-find play collections by German playwrights; "Complete Plays, Lenz, and Other Writings" by Georg Büchner and "A Heiner Müller Reader". I looked for a biography of Charles Ludlam, director of New York's Ridiculous Theatrical Company but they did not have that book. You can read more about the Theatre of the Ridiculous on Wikipedia. While I was paying for my books, I noticed that the woman ahead of me had a Screen Actors Guild card in her wallet. I used to be a member of the Dramatist Guild but I got tired of paying dues to pretend to be a playwright. Everyone eventually discovers that it is a complete waste of time to write a play. You can argue about that if you like, but it is indisputable. There is only one thing that could induce me to write a play and that is for the comedy of impressing people who can't imagine writing a play. Under the right circumstances this can be very amusing. However, I still appreciate serious drama for its own sake.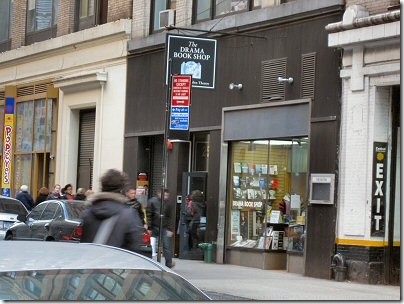 I had several hours to kill before the bus left at 8:00 PM. The only thing I had planned for this time was to shoot photos of major landmarks and incidentally see them in real life. First I walked along 40th Street to 5th Avenue and found the New York Public Library. I recognized Bryant Park from my earlier trip in NYC last year but I did not realize how close I was to the New York Public Library then. Unfortunately the library was partially covered in fabric (what do you call that?) so I was unable to get a good photo. But I did see and photograph the two famous stone lions guarding the entrance. I then preceded to Grand Central Terminal and got some photos of its famous clock. I also saw the MetLife building behind it and off to the right I had a good view of the Chrysler Building.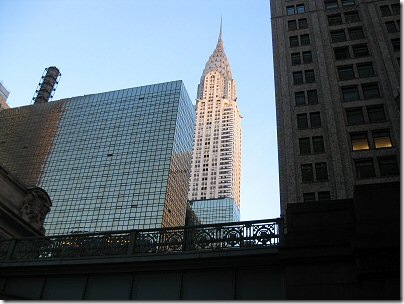 I wanted to take a photo of the Helmsley Building but that was so completely covered in fabric that it was not worth it. So I walked up Park Avenue and took a photo of the Waldorf-Astoria Hotel instead.
I still had two hours left in New York City so I just wandered around Times Square and took even more photos. I think I'm about done with shooting photos in Times Square. I wouldn't bother taking photos at all if the media were not so picky about copyright. As it stands, you cannot even use a stock photo of a public building without being nailed for copyright violation. Overall I snapped 250 photos that turned out good.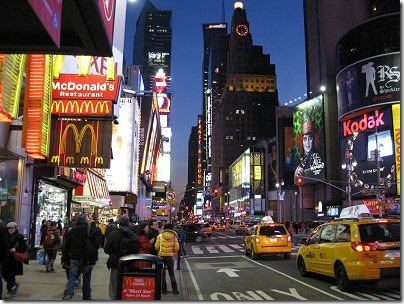 I managed to cram a lot of my objectives into this trip but there are still a few more things I could do in New York City. I still need to visit the Neue Galerie Museum, the Guggenheim Museum, and the American Museum of Natural History. I also want to see lower Manhattan and specific neighborhoods like Greenwich Village and the East Village.