Yesterday' trip to New York City went pretty well except for the weather. I'm going to describe this journey in detail because I plan to make this trip again.
I got up at 4:00 AM and left at 4:45 AM. I drove down Route 15 to Harrisburg. This is a two hour drive on a highway that follows the Susquehanna River. There are two major cities that I drive through which tell me how far I've gone; Lewisburg and then Selingsgrove. After that the highway is a boring stretch with few landmarks to indicate how far you have gone. There is one point where there are many buildings facing the highway and the Susquehanna River. According to Google Maps this is Liverpool PA but I never knew the town's name because there are no signs to announce its presence. I keep on following Route 15 south until I reach the Harvey Taylor Bridge which crosses the Susquehanna River to take you into downtown Harrisburg, to the left of the Pennsylvania State Capital Building. Once across the bridge I took a right and found the Walnut Street Parking Garage. The GPS device that my brother gave me for my birthday was very useful in quickly navigating the streets to this destination. This parking garage is open 24 hours. From Walnut Street, I walked towards the general direction of the Pennsylvania State Capital Building, walking past Strawberry Square, and then headed east on North 4th Street until the Harrisburg Transportation Center was visible diagonally. That is one of the details I need to remember. I remember walking past the restaurant Philadelphia Steaks & Hoagies and Harrisburg University of  Science & Technology on North 4th Street.
The Harrisburg Transportation Center is a huge barn-like structure, a quaint train station. I got my tickets at a Quik-Trak kiosk and then headed for the Transit News store to find something to read on the train. This is the only establishment located in the Harrisburg Transportation Center. There are no restaurants. They had an impressive selection of literature but I settled on a cheap mass-market paperback copy of "The Genius" by Jesse Kellerman. I came across this title while looking for novels set in New York City on Amazon. I think it was a good choice because the novel is about the New York City art scene. Reading the book on the train really whet my appetite for the city. But there was a long cut in the bottom of the front cover which annoyed me. I didn't notice that when I bought it. I climbed some stairs to the second floor of the train station and found the waiting area. The waiting area was a long hall with long benches. I saw an Amish couple among the people waiting for the train. The whole scene felt like a step back in time to the days of rail travel.
We had to wait for security to open the door and then climb down a flight of steps to the Amtrak train, the 660 Keystone. There are no seat numbers so you can sit where ever you like. The air was kind of sterile and dry but without any smell. This was the first time I had ever ridden on an Amtrak passenger train. The seats are more comfortable than a bus seat or an airline seat. The conductor did not check tickets until the train was underway. This train made stops at various Pennsylvania towns with open air platforms. Lancaster had a slightly better platform which looked rather quaint. There were some advertisements on short billboards along the platforms. There was not much to see out the windows. It seems like every town likes to locate industrial parks and warehouses near the train tracks so I saw a lot of decrepit eyesores covered in graffiti. The train first went to Philadelphia where I could see the Philadelphia Museum of Art and the skyscrapers in Center City out the window. So I could take an Amtrak train to Philadelphia but it would only spare me a two hour drive. I did see some SEPTA trains in the underground station.
After going through some large stations in Newark, where NJ Transit commuter trains could be seen, and through a pitch black train tunnel under the Hudson River, we arrived at Penn Station. Penn Station is a huge transportation center with a lot of restaurants and Hudson News stands just like an airport. They even had baggage claim areas, arrival and departure boards, and security lines. I saw a few New York subways in the huge cave of underground train lines.
As soon as I got outside I could see that it was beginning to rain so the first thing I did was buy an umbrella at a nearby Duane Reade pharmacy. Unfortunately it rained the entire time! Eventually there were street vendors everywhere selling umbrellas from strollers and many small stores placed stands of umbrellas near the entrance. It was very comical to see so many people trying to make a buck by taking advantage of the bad weather to sell umbrellas.
Unfortunately I got lost and wound up in Times Square. I should have gone east but I must of gone north. I was looking for the Flatiron Building. As soon as I saw the jumbotron of Times Square I knew I was way off track. I had to quickly make my way from 42nd Street back down to 23rd Street. But as long as I was in Times Square I took a few photos. It is very hard to shoot photos while holding an umbrella so some of them didn't come out right. The streets were very crowded even though the weather was bad so I was constantly trying to raise my umbrella over everyone's head and other umbrellas. Some people had huge umbrellas that were hard to avoid. But that is New York City. You are always battling the crowd there!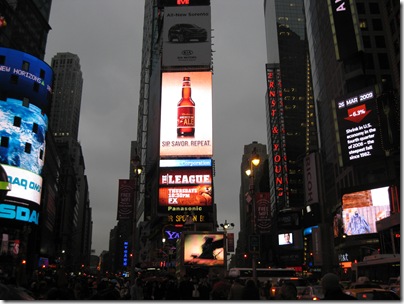 I finally made it to 23rd Street but Hill Country was actually on 26th Street. I found Hotel Chelsea so I took a few photos of that landmark. Hotel Chelsea is where Sid Vicious killed Nancy Spungen so it is a famous landmark in punk rock history. I think one of the Ramones used to live there. Hotel Chelsea has always been a part of the counter culture scene. I've owned a book about this place, "At The Chelsea: A Personal Memoir Of New York's Most Famous Hotel" by Florence Turner but I have never read it because it doesn't really concern any celebrities. I finally found Hill Country at about 12:15 PM so I was fifteen minutes late. However the receptionist told me that the restaurant was booked for a private party and my group had gone to Rub BBQ (aka Righteous Urban Barbeque). Fortunately I remembered seeing that place while I was on 23rd Street so I quickly made my way back there. By this time my shoes and socks were soaking wet and I was late so I was in a foul mood.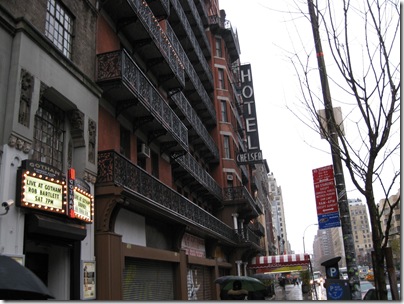 But my mood improved when I entered Rub BBQ and saw some vloggers I recognized.  Then I knew I had made it on time! There were six of us; AL The Doctor Who and his wife, Iseehaters, Scott Murray, Gilligan, and me. I ordered the sausage sampler with cornbread and onion fries. I had not eaten anything for the entire day so I managed to eat everything except for the onion fries. After eating we spent some time shooting video and taking photos. I only took one photo.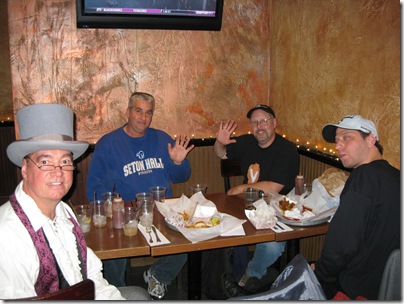 We left Rub BBQ at around 2:00 PM and it was still raining with a little snow mixed in. It was then that I noticed that the restaurant was practically right next door to the Hotel Chelsea. After we split up I headed back to the Flatiron Building to take some photos of this landmark. It appears lighter in real life than it looks in photos. It always looks dark and sort of decrepit in photos but in real life it is the color of sandstone. After that I headed back up to Times Square to take some more photos. My shoes and socks were still wet so I was constantly thinking about buying shoes and socks. There is a Foot Locker on Times Square but I did not want to go in there.
Eventually I went into a souvenir store and bought a die-cast model car of a New York City Yellow Cab and a framed black and white photo of Times Square back when it was still a seedy neighborhood. This stuff is pretty tacky but I thought I'd get this souvenir business out of the way so I won't need to look for souvenirs on subsequent trips. After that I just kept wandering around midtown Manhattan looking for landmarks to photograph. I found Radio City Music Hall, Macy's, and everything in Times Square including Duffy Square, TKTS, and the NASDAQ MarketSite at the bottom of the Condé Nast Building. Finally I saw a discount shoe store where I was able to buy a new pair of shoes and socks. The salesperson was nice enough to allow me to change into them before I left the store. I was very pleased to get that problem taken care of because spending three hours on the train and two hours in the car with wet feet would have been miserable. I felt like my resourcefulness had beaten New York City's attempt to spoil my trip, as it has done in the past. Still I was feeling cold and miserable so I headed for Penn Station an hour early. At a Hudson News stand in Penn Station I found some foreign language magazines. It is rare to find magazines that are not in English so I bought a copy of Paris Match and Lire in French and Stern in German. I waited in Penn Station for over an hour for my train but Amtrak has a nice waiting area. It was better than being out in the cold which is where I would be if I'd taken a bus. When you take a bus to New York City, you have to wait on the street where your bus is supposed to pick you up. But there is no guarantee that they can park there again so you have to watch out for other passengers who may know where the bus will be. That kind of crap is what makes a trip to NYC such a nerve wracking hassle!
One of the highlights of this trip was catching a glimpse of the Empire State Building towering above the street, with its spire casting a blue light into the mist. For some reason, this triggered a strong memory of what may be merely an impression; an impression of an aloof, existential existence combined with a cold serenity. It was an elusive but potent image, like something dimly recalled from a profound dream. Maybe it was a glimpse into the soul of New York City!
In conclusion, my travel arrangements for this trip made everything go smoothly but the weather did not cooperate and made me cold and miserable. Seeing some of the New York City landmarks made it all worthwhile. It was also great to meet a few vloggers after watching so many of their videos online.