For Sunday the only thing I had planned was the Star Trek exhibit at the Franklin Institute. I bought a ticket for that online via TicketMaster last week. I checked the local weather on my laptop and saw that they were expecting rain in the afternoon. I had forgotten my umbrella. Usually I keep one in the car but I keep forgetting to put it back. Fortunately the Holiday Inn gift shop sold umbrellas so I didn't have to find a store to buy one. (It never did rain that day). I walked all the way from the Historic District back to the Parkway / Museum District. Along the way I shot some additional photos of the skyscrapers around City Hall and Claes Oldenburg's Clothespin sculpture.
At the Franklin Institute I saw the huge statue of Benjamin Franklin sculpted by James Earle Fraser. Benjamin Franklin is the king of Philadelphia. At the YoTube Gathering in Independence Park, I bought a biography of Benjamin Franklin by Edmund S. Morgan which I've read already so I knew he achieved fame as a scientist. I probably would not have gone to this museum if not for the Star Trek exhibition which seemed like a cool thing to do while I was in town. Unfortunately, you are not allowed to take any photos in the Star Trek exhibition, although you could be photographed sitting in Captain Kirk's chair or on the set of the bridge. The exhibit consisted mostly of costumes, props, complete sets, models, and videos. They even had a few costumes and props from the 2009 movie. While in the engine room set, I had the bright idea of doing a web site navigation in the design of the control panels. I remember a Star Trek CDROM that had an user interface like the control panels (the Star Trek: The Next Generation Interactive Technical Manual). Unfortunately I could not ride the Star Trek Simulator because it requires two people for a ride. I did walk through the Giant Heart which is a Philadelphia icon (according to Wikipedia). I saw some gang sign graffiti in the Giant Heart so blood corpuscles better stay out of the left ventricle.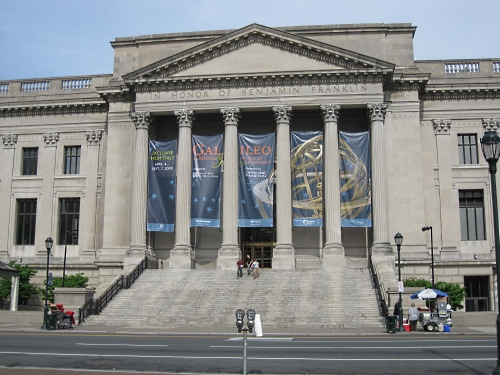 I did not spend much time at the Franklin Institute so after that I walked the rest of the way to the Philadelphia Museum Of Art. I've been there before in 2003. The first thing I did was circle around the Washington Monument at Eakins Oval to take lots of photos. Another photographer there asked me about the four pools of water which represent the Mississippi, the Potomac, the Delaware, and the Hudson rivers. When I didn't answer right away she asked me if I spoke English. The Philadelphia Museum Of Art gets a lot of foreign tourists. I saw a French couple speaking French while I was there.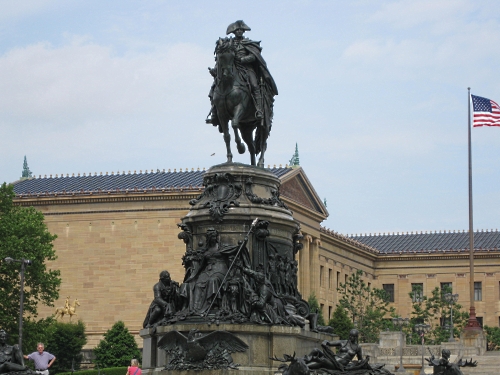 I also took a lot of photos of the Ben Franklin Parkway from the "Rocky Steps" and the Greek Revival facade of the Philadelphia Museum Of Art. This location is really impressive and grand. It is hard to believe that the Rocky movies eclipse its intrinsic grandeur. The Philadelphia Museum Of Art is as impressive as the Palace of Versailles and they both had one wing covered in scaffolding during my visit.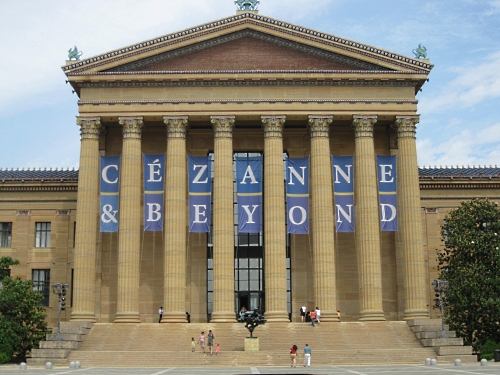 Since it was Sunday, you could pay whatever you liked for the entrance fee but I just paid the usual fee of $14.00. I made sure to pick up a map which I usually forget. I've given some thought about how I should blog about the art I saw. Rather than lecture my readers on the art and artists, I think I should stick to giving my impressions. I started my visit by accident in the Arms and Armor gallery. The museum has many suits of armor dating from the 16th Century on display. They look like medieval robots, the only context I have for medieval knight armor, although steam-punk has made the style popular again. The ancient firearms made more of an impression on me because they were elaborately engraved and pretty fancy for guns.
After consulting the museum map I went to the European Art gallery. You could take photos as long as you didn't use a flash so I took a few photos of paintings I wanted to remember. You really don't need to photograph any of the artwork because you can always find a better image of a painting online but it does help you to identify something later. One of the paintings I liked was "A Carnival Evening" by Henri Rousseau. This dreamlike painting shows characters from Commedia dell'Arte, the mime Pierrot, in a dark and mysterious landscape. Pierrot is an interesting clown / mime appearing in literature and art. I've read two fascinating scholarly studies of Pierrot by Robert Storey; "Pierrots On The Stage Of Desire" and "Pierrot: A Critical History Of A Mask". There is a black and white photo of "A Carnival Evening" in the "Pierrot: A Critical History Of A Mask" book.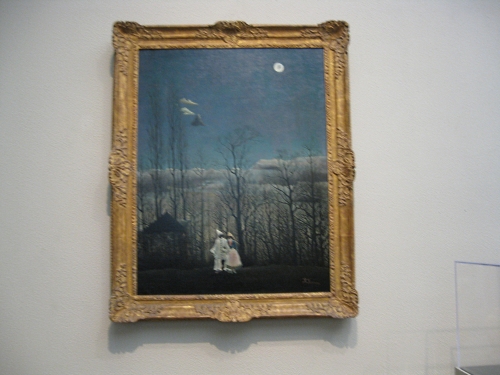 On my previous visit to the Philadelphia Museum Of Art I had admired a set of four paintings depicting an angel child as the four seasons but I never found out who the artist was. I took a photo of it on this trip and was able to determine that it is Leon Frédéric's "Four Seasons", a Belgian Symbolist. These paintings reminded me of "The Knight with the Flowers" by Georges Antoine Rochegrosse which I saw at the Musée d'Orsay. They both portray human figures in a very colorful and fanciful sea of vegetation. I believe Georges Antoine Rochegrosse was also a Symbolist. I appreciate these paintings because they elevate fantasy to a grandeur that I consider appropriate.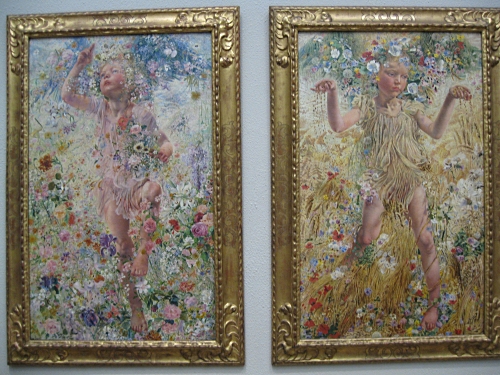 Another famous painting that caught my eye was "Dance At The Moulin Rouge" by Henri de Toulouse-Lautrec which depicts decadent cabaret society. But its imagery has become so commercialized that I'm overly familiar with it so this painting merely represented art itself for me. Henri de Toulouse-Lautrec's paintings just look like art book covers to me now.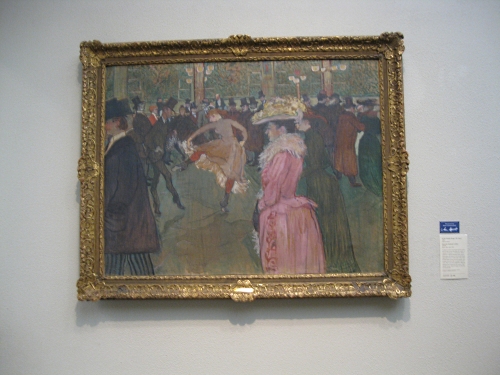 I also liked the painting "Liverpool from Wapping" by John Atkinson Grimshaw which I had to identify online from my photo. The bright lights of the store fronts across from the ship masts express the allure of European travel. I prefer cities at night when the electric lights create dramatic tableaux. Empty streets and city architecture can look like a mysterious stage set then.
The next gallery I went to was devoted to Asian Art. My photo of the Tibetan art appears quite blurry from motion blur I think but it looks better when scaled down. I liked this gallery because I appreciate the mysticism of Buddhist philosophy. But while the Buddhist form of mysticism is based on the serenity of the empty mind, I prefer the mysticism of a profound imagination, drawing deeper from the unconscious, so William Blake is more my style. This wing of the museum features the famous Japanese tea house with its bamboo garden which transports you to Japan. But they don't serve tea there.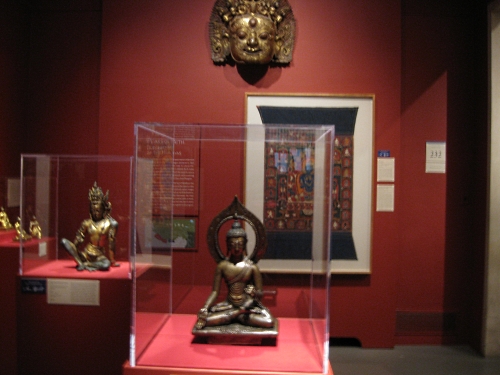 The last gallery I wanted to tour was the Modern Art gallery. One of the most striking works of art I saw there was a digital painting. It was like artwork from the future. I don't remember seeing it on my previous visit to the Philadelphia Museum Of Art. It was two flat screen monitors proportioned to the size of a canvas, showing a high definition film of a man and a woman performing a series of anguished expressions. Many people were standing around this vivid video painting. I dare say people spend more time staring at this work of art than anything else in the museum. I can picture an art museum of the future where all the canvases will be transforming before your eyes like that.
Another artwork that I don't remember from my last visit was Tom Chimes' "Portrait of Antonin Artaud". Artaud is a significant figure to anyone familiar with modern theater due to his book "The Theatre and its Double" which details the concept of The Theatre of Cruelty. This painting certainly captures his fierce, piercing, tortured expression.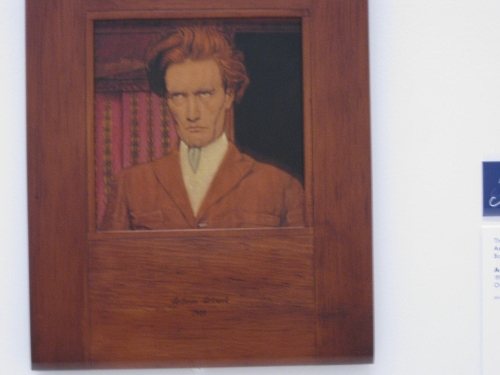 Apparently the Philadelphia Museum Of Art had a photo of Dali draped over the "Rocky Steps" in 2005 but I missed that. I did see his painting "Soft Construction with Boiled Beans (Premonition of Civil War)". I don't think I've ever read a Salvador Dali biography so I should probably buy one. Dali's work is always reproduced in any book on dreams and dream symbolism. Since he is one of the masters of the unconscious I should be more familiar with his life story. I wonder if there is a Jungian interpretation of his work?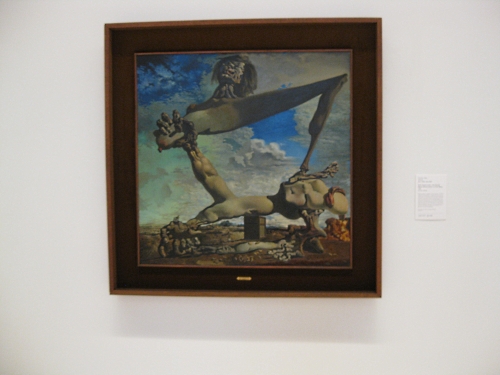 One artist I want to rant about is Cy Twombly and his painting "Vengeance of Achilles". The museum has several large canvases like that which are just scribblings with a few names from Homer thrown in. They look like giant copies of a bored student's English class notebook. I'm not sure that this qualifies as art. You can't just scribble something and then consider it art because you scrawl the names of a few Greeks on it! The only thing that is impressive about Cy Twombly's work is its size which makes idle doodles seem monumental. By the way, you can see all of my Philadelphia trip photos on my Flickr photo set at http://www.flickr.com/photos/youtuber/sets/72157618687603776/. The Wikipedia entry for Cy Twombly has an amusing story about a woman who kissed one of his paintings and got arrested for leaving lipstick on it.
While moving between galleries I snapped a photo of the large sculpture of Diana and the Alexander Calder mobile from the 2nd floor of the Grand Stair hall.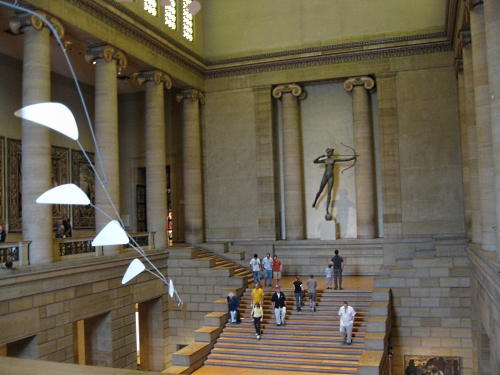 I bought two books at the museum gift shop which has a great collection of art books. I bought "Fresh Fruits", the second book of Japanese fashion portraits taken in Tokyo's Harajuku district. I'm not surprised that they would be selling this book because it is an eye-popping chronicle of colorful costumes and outrageously creative personalities. I also bought "A Critical History of Modern Architecture", a survey of 20th-century architecture, because architecture is something I know little about and I was seeing plenty of architecture in Philadelphia on my trip.
I then had Sunday Brunch at the museum restaurant which was an expensive buffet. I had a glass of complementary champagne which is the first time I've ever drank it. I also ate a large waffle and a salad. That cost over $40! I wasn't too happy about that.
The Philadelphia Museum of Art was running a Paris fashion exhibit but in order to see that I had to walk over to another building, their new Ruth and Raymond G. Perelman Building. Along the way I came across the monument of Joan of Arc by Emmanuel Fremiet. This is the same French sculptor who did the Joan of Arc sculpture in Paris which I saw last month! This is its "sister" statue in Philadelphia. Joan of Arc interests me because she was a visionary although in our day and age she would be considered merely psychotic (a radically different interpretation, n'est pas?). Apparently the locals call her "Joanie on a Pony" [rolls eyes].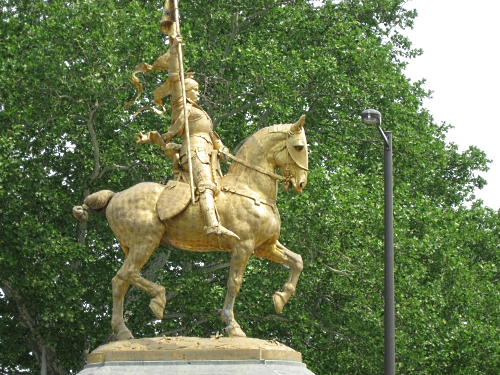 The Perelman Building is an impressive example of Art Deco architecture. I saw most of the current exhibitions; Shopping in Paris: French Fashion 1850-1925, Daid? Moriyama: Tokyo Photographs, Visual Delight: Ornament and Pattern in Modern and Contemporary Design, A Taste for Modern: The Jeanne Rymer Collection of Twentieth-Century Chairs, and Henri Matisse and Modern Art on the French Riviera. They just scanned my ticket from the Philadelphia Museum of Art's main building. I did not have to pay again.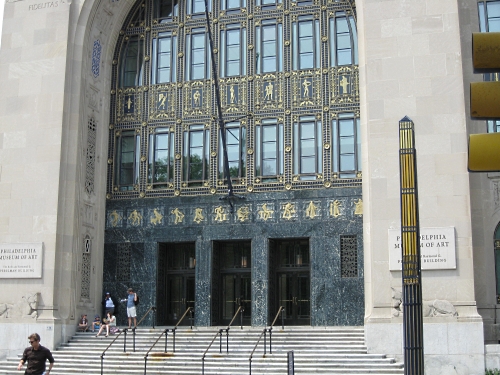 On the second floor I went through the small exhibit of Kansai Yamamoto, a Japanese fashion designer (Hello! Fashion: Kansai Yamamoto). He did the wardrobe for David Bowie's Ziggy Stardust. There was a flat screen TV there showing footage from his extravagant fashion shows which seemed as grand as Olympic opening ceremonies. It is hard to believe that a fashion designer could stage such extravaganzas. This was all new to me because I know nothing about Japanese fashion.
When I left the Perelman Building at 4:00 PM I walked all the way from the Ben Franklin Parkway back to the Historic District which was very tiring. I had to stop to sit on some park benches a few times. When I got back to my hotel I had to unwind and nap for almost an hour. After my feet stopped aching I walked over to Walnut Street and had dinner at the Caribou Café. This time I had a glass of wine (Bordeaux), the pasta duck, and Irish Ice Cream. The Les Pâtes was Pappardelle (a kind of noodle, large, very broad fettuccine) served with duck confit, figs and Port wine sauce. It was very good but I could not finish all the noodles. This time I left a $5 tip in the check before they charged my credit card which seemed to make the waitress happy.
After dinner I walked to South Street to cruise this colorful neighborhood of shops and restaurants. I took a photo of the Digital Ferret street sign even though the store was gutted and empty. I guess they moved a few blocks away but I did not see their new store. Dancing Ferret Entertainment Group is part of the goth underground. I think I may have one of their CDs or bought something from them via mail order.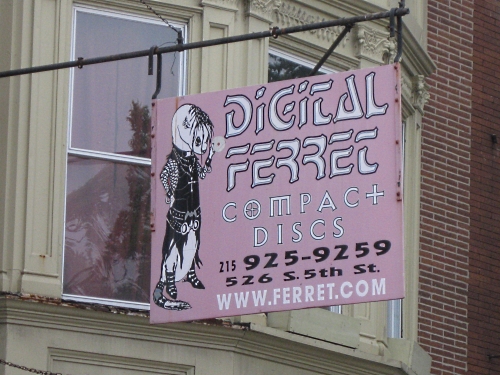 I did go into an used record store on South Street, Repo Records. I spent a lot of time looking for the kind of music I like but eventually had to settle for Nico "Chelsea Girls" and Nick Cave and the Bad Seeds "The Boatman's Call".
That was the end of my Philadelphia weekend. I was thinking of staying a little longer on Memorial Day but everything would have been closed so I left early in the morning. I think I did plenty in just two days. Fortunately I did not get lost on the long drive home.
In conclusion, Philadelphia has a lot to offer and it makes for a perfect trip after Paris. I don't know when I'll visit the city again although the Philly Fringe Festival may tempt me. My next adventure in travel will be Berlin but it will take me at least a year to research the trip, learn a little German, and pay down my credit card.