I managed to make it to my hotel, the Holiday Inn (Historic District) without getting lost. I only had to circle the block once. I've stayed at this hotel before for YoTube (the YouTube Gathering in Philadelphia).
After parking the car, I headed off on foot for the Academy of Natural Sciences on the Parkway/Museums District. The advantage to walking everywhere in a city is that you can stop to take many photos. I walked up Arch Street and passed the Chinese Friendship Gate so I took several photos of it. Encountering an Asian street in an American city is just one of those things that make large cities seem like a world unto themselves. I just found Philly's Chinatown web site: http://www.phillychinatown.com/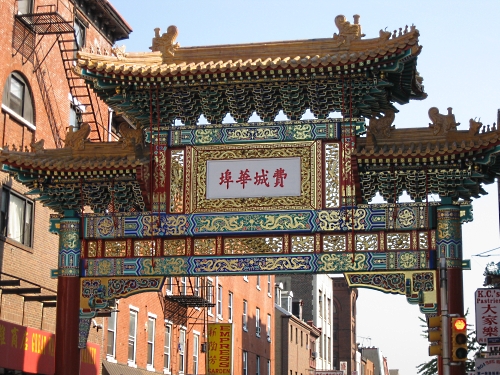 I saw the Reading Terminal Market across from the Philadelphia Convention Center but I didn't go in because it looked like a mall made up of nothing but food courts. When I reached Broad Street I turned left and headed towards City Hall. Philadelphia's City Hall is one of the world's finest examples of French Second Empire architecture according to one of my guide books. It does look rather grand so I took many photos of it. Nearby is the Masonic Temple which I did not visit.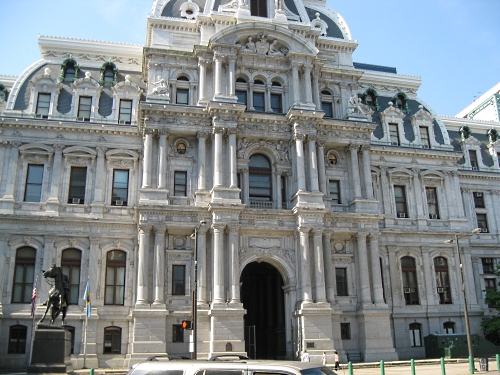 From City Hall I headed diagonally to John F. Kennedy Plaza where Robert Indiana's LOVE statue is located in front of a fountain. A photo of the LOVE statue is used as the cover art for Frommer's current guide to Philadelphia & The Amish Country. This statue is certainly an iconographic image invoking Philadelphia, the city of brotherly love, so I'm glad that I came across it on my walk. The John F. Kennedy Plaza gives the city a New York City vibe, or at least I felt so, because it is a cozy but grand public area.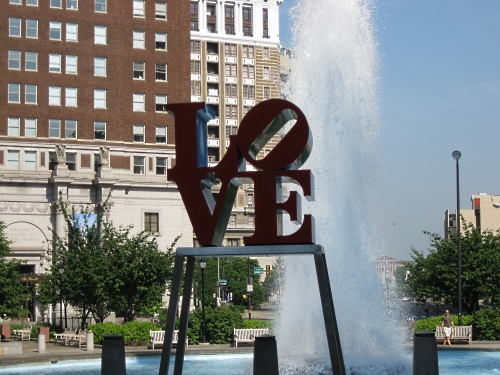 From John F. Kennedy Plaza I kept heading diagonally until I reached Logan Square. This was pretty much my destination because the Academy of Natural Sciences is nearby. I also found the Franklin Institute nearby which I had a ticket for on Sunday so I duly noted its location and photographed it. Logan's Square features a fountain with figures by Alexander Calder. I circled around the fountain and took many photos from all sides.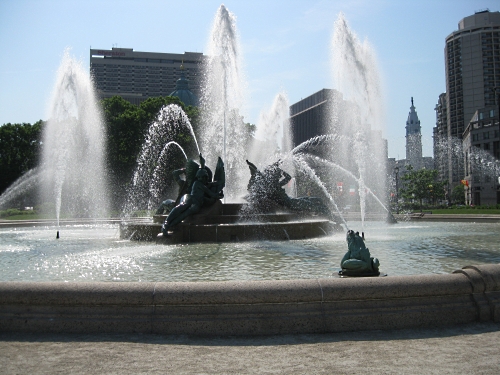 I had to wait until 10:00 AM when the Academy of Natural Sciences opened so I sat on a bench in Logan Square and watched the fountain and the doors to the Academy of Natural Sciences. At 10:00 AM I didn't see anyone waiting outside the doors I was watching so it occurred to me that there might be another entrance around the corner. It is always a problem figuring out the correct entrance to a building. Sometimes you can find this info on their web site. I did find their main entrance with several employees standing around outside so eventually I had to ask one if the place was open.
The Philadelphia Academy of Natural Sciences is a somewhat small museum with many dioramas; a three-dimensional display of a scenery, often having a painted background in front of which models are arranged, e.g. in a museum where stuffed animals are presented against a painted landscape. They also have some dinosaur skeletons and a butterfly room. Of course, the dinosaurs make it a real kid magnet and the exhibits were clearly geared for little kids.
The first few dioramas were of Pennsylvania wildlife so I thought it was all going to be a lame exhibit of squirrels, deer, skunks, possum, and rabbits. I had the amusing and wicked thought that I saw all these animals on the trip to Philadelphia as roadkill. Who needs stuffed animals when you got fresh roadkill with plenty of guts to give you an anatomy lesson?
But it was actually a thrilling exhibit with polar bears, buffalo, tigers, lions, gorillas, and even an Egyptian mummy which frightened the kids. While staring at a caribou it occurred to me how freakish antlers really are. We get so used seeing antlers on deer that we never feel how peculiar it really looks to have these bones branching out of the head. I mean, this is kind of the weird thing you'd expect to find on an alien creature.
The gorilla diorama was a bit saddening because the big apes looked like they'd been prepared by a funeral home mortician. The skin was leathery, the hair a bit ratty, and the fingers were peeling. The gorilla looked like a worn sofa. Still you could observe the physiology of the gorilla which is rather different than a human's.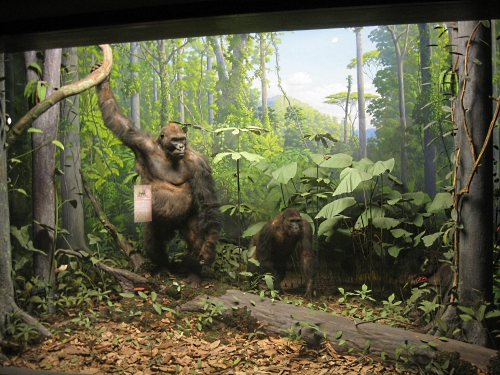 While looking at these dioramas I had one of those moments of inspiration that were surprisingly missing from my trip to Paris. I suddenly imagined a drawing room filled with potted plants and caged birds and lush decor which was so brightly lit that the room seemed as resplendent as a sunny day. This image may not sound very inspired but it also dispelled my sense of time so the drawing room seemed supernaturally contemporary. Even that description does not satisfy me for there was a vividness to this mental image that photos and paintings from the past can never have.
After seeing all the stuffed animal dioramas I went to the Dinosaur Hall. You'll have to admit that any trip that includes dinosaurs is going to be memorable. The Dinosaur Hall contained complete skeletons of a Tyranosaurus and a Chasmosaurus although I think these were casts and not original fossils. There was also a model of a dinosaur's internal organs which was pretty interesting. These creatures had very large hearts and a lot of intestines.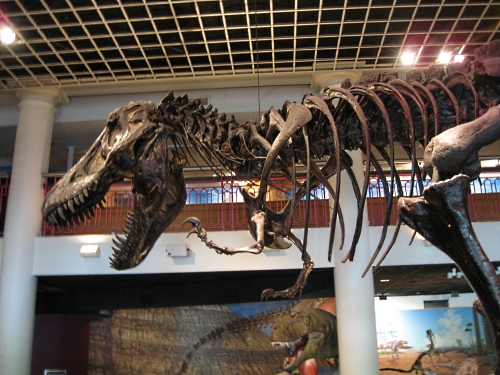 I had a museum button for the Butterflies exhibit so I got to see their collection of live butterflies. The butterflies fly free in a tropical greenhouse that you enter through a doorway of clear plastic strips. There were butterflies on the floor so you had to be careful not to step on any and squish them. As I was leaving there was also a sign warning you to check for butterflies taking a ride on you. I saw some giant moths and the chamber of live pupae.
I also checked out the Live Animal Center on the ground floor but there wasn't much to see there except for the veterinary hospital. Before I left I went into the museum shop to buy some souvenirs. I bought a plastic Dunkleosteus, an armored fish, because I thought it was a more unusual item then the typical plastic dinosaur. I also bought the book Visual Encyclopedia of Dinosaurs because I don't have many books on dinosaurs. I saw some of those Golden Guides with wildlife illustrations that I remember from my childhood but I already have a few of those. The only other field guides I own are the National Audubon Society's Field Guide to North American Fossils and Field Guide to Reptiles and Amphibians. Unfortunately I don't get out in the field often enough to need any guide books. I prefer city guide books. Somebody should publish a field guide to city nightlife with pictures of all the creatures you may encounter there at night.
On the walk back to my hotel I took some more photos of the Frank L. Rizzo Statue in front of Philadelphia's Municipal Services Building Plaza, across from City Hall.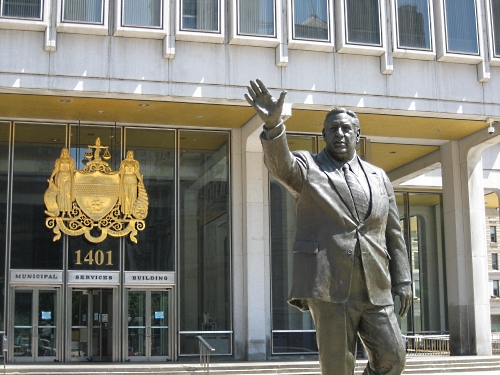 I also photographed the Jacques Lipchitz's statue "Government of the People". I got a nice shot of the Arch Street United Methodist Church's gothic spire in the background of my "Government of the People" photo.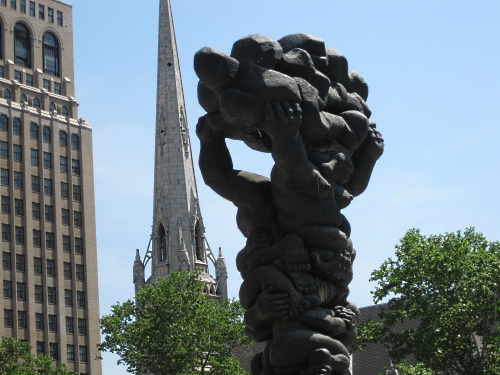 When I got back to my hotel it was still too early to check in so I just put my Academy of Natural Sciences purchases into my car on the parking deck and then headed off for lunch. The restaurant I'd chosen for lunch was on Walnut Street so I headed south which took me pass the Second Bank of the US and Independence Hall so I took lots of photos in that area. I came across Washington Square Park where I found the Tomb of the Unknown Revolutionary War Soldier. I've just realized that this was a good way to celebrate Memorial Day since that is a memorial to our war dead.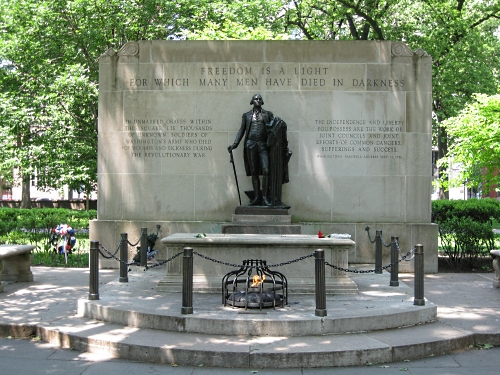 As I walked further down Walnut Street I saw something that made me smile, a banner with my last name on it. I thought Philadelphia was really going to a lot of trouble to make me feel welcome! However, it turned out that this was the Robbins Building occupied by Robbins Diamonds. Unfortunately they are unrelated to me.
Further up the street I found the Walnut Street Theater which is staging a production of the musical "The Producers". I had a ticket for the show that night so I was glad to find the place. I made a mental note of its location and took some photos. I was surprised by how narrow the building looked and was wondering how they fit a stage in there. Then I noticed that the stage is actually the white building beside it. I did not particularly want to see this musical but the Walnut Street Theater is the oldest theater in the United States and many famous movie stars did theater here. So instead of the musical, I really came just to see the theater and be part of the audience for one night. Every theater lover should do a pilgrimage to the Walnut Street Theater. That being said, it is surprising that our own Community Theater League does not acknowledge its existence. They never sponsor bus trips to the Walnut Street Theater and I don't remember the local theater critics ever reviewing any shows there. I could be wrong about that or maybe this theater is considered outside of our ballpark.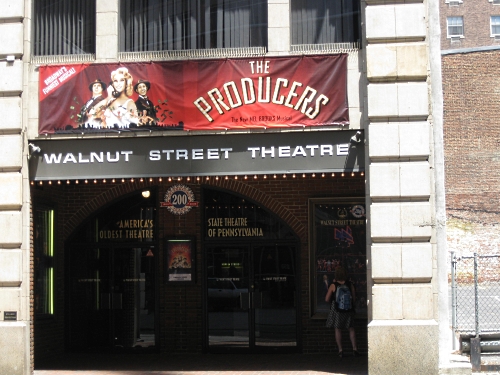 After that I found the French restaurant that my trip research had uncovered, Caribou Café, 1126 Walnut Street. This restaurant is larger than it looks on Google Street View. It is narrow but deep with an upstairs seating area. They could seat a lot of people so you probably won't need a reservation unless they are really busy. The outdoor seating area is only six or eight tables so you may not find a seat there. I really liked the decor of this restaurant. There were black and white photos of Paris and Parisian cafés on the walls of the booths. There were vintage posters advertising drinks over the bar. The bar mirrors were surrounded by bottles of wine and the bar had two art deco statuettes. It was your typical Philadelphia lounge bar / upscale restaurant with its own web site. There are many similar establishments which I read about in the book "On The Make: The Hustle Of Urban Nightlife" by David Grazian, an ethnographic study of the Philly bar and restaurant scene. I ordered a glass of Bordeaux wine, the salad special which contained either lobster or crab meet, tomatoes, and a variety of other ingredients, and crème brulée for desert. That meal came to $31.30. The only problem I had was with the tip. I wanted to pay by credit card and you can't add the tip until they bring back the receipt after they've charged your card. I think my waiter was angry because I didn't leave a tip until after signing the slip, at which point I slipped five dollars in the checkbook.
According to my sales receipt, I had lunch there at 12:18 PM so it was still too early to check into my room. So to kill some more time I went shopping at the Gallery at Market East. This mall is mentioned in my guide books as a good place to shop. It is sort of hidden and easy to overlook because you need to look for the 1980's style "The Gallery" sign. From Arch street it is two streets south, east of City Hall. I was eager to do some shopping. Although I'm not thinking of shopping while on vacation, buying something special while on a trip is a good way to collect some souvenirs. I went to the Border's Express where I bought a Lonely Planet German Phrasebook and a Eyewitness Travel Top 20 Berlin book. The sales clerk asked me if I was planning to go to Germany and when. I replied yes, in about a year because it will be a long time before I'm ready for another European trip. Then I went to Fye which had a bigger selection of DVDs than our mall's store. They had a section for Foreign Films so I stocked up on some European films; Maîtresse, Va Savoir, The Lives Of Others, and She's One Of Us. The Lives Of Others is a German film so I had to buy that.
I went back to my hotel to put my purchases in the car but it was still too early to check in so I had to find something else to do. I decided to find the genuine Philly cheese steak. I started walking south thinking I'd walk all the way to Pat's King Of Steaks and Geno's Steaks but fortunately I reached South Street and immediately saw Jim's Steaks. By this time my feet were killing me so I decided Jim's Steaks would be good enough. There was a line of people waiting to get into this restaurant but it was a short line and I still had plenty of time to kill. While I was waiting in line a homeless man entertained the crowd much to the embarrassment of the locals. Once I finally got inside I saw a wall of autographed celebrity photos including Bruce Willis. The restaurant's operation was more like an assembly line than anyplace I've ever seen. First you place your order at the grill. I ordered a cheese steak "whiz wit" with Cheese Whiz and mushrooms. Then you are asked if you want it for here (tray) or to go (bag) and if you want a drink. I ordered a Yoo-Hoo. Then you proceed to the cashier to pay for everything. I ate my cheese steak upstairs where there were more autographed celebrity photos from Jim's Steaks illustrious history.
Now here is a piece of unpleasant, but necessary advice. These cheese steaks may go through you like an express train. I didn't even make it back to my hotel before my stomach began to cramp and I became desperate to reach a bathroom. It is a good thing that I did not walk all the way to Pat's or Geno's and it was close to the time when I could finally check in. The girl at the check in counter mentioned that she used to live in Williamsport, on Park Avenue. I took this as a small sign that Philly is a part of my world that I should be more familiar with. I was sure glad to get into my hotel room because I was hot and sticky from walking in the hot sun all day. My bowels were rejecting the cheese steak and my feet were aching. After getting more comfortable I got out my iBook and hooked up the digital camera to it to transfer my photos.
The final excitement on Saturday was going to see the musical "The Producers" at the Walnut Street Theater. I bought my ticket online via TicketMaster so they only had to scan my print out which had a bar code. I arrived early and they have a bar so I was able to order and drink a coke before the show began. I got an aisle seat up front so I had an excellent view of the show. The Walnut Street Theater resembles Williamsport's Community Arts Center but it is much smaller and not so grand. The Community Arts Center is like an opera house while the Walnut Street Theater is more like a community theater. I don't think I've ever seen the entire movie of the film version of "The Producers" and I've never seen the musical. I've seen a few scenes on TV and know a few of the songs. A production of "The Producers" is currently being performed in Berlin. The Walnut Street Theater production was as lavish as a touring Broadway show such as I've seen at the Community Arts Center. The funniest part of the show was the pigeons in the pigeon coup who would raise their wings in the Nazi salute. The other wing wore a swastika armband. Scenes with the gay director were over the top camp and very funny although I suppose the gay community would find it offensively ridiculous and bawdy. During the intermission I bought a book on the Walnut Street Theater at the gift shop. The book is one of those Images of America paperbacks that chronicle local history through old photographs. It makes a great souvenir and I liked all the photos of old theater actors and plays. Contemporary actors who've played at the Walnut Street Theater include; Kirk Douglas, Marlon Brando, Henry Fonda, George C. Scott, Jane Fonda, Jack Lemon, Robert Redford, and Gene Hackman.
My first day in Philadelphia was a fascinating blend of dinosaurs, butterflies, French restaurants, stomach cramping, and Nazi musicals. I managed to accomplish most of the goals for my trip on the first day.