Yesterday I received my travel documents from Trafalgar Tours so I know exactly which hotel I will be staying at. My hotel is the Pullman Paris Tour Eiffel at 18 ave de Suffren, 75715 Paris. Although the Google Street View below shows the Paris Hilton I'm pretty sure this hotel has changed hands because the hotel web site shows the identical view with the name of hotel masked out: http://www.pullmanhotels.com/gb/hotel-7229-pullman-paris-tour-eiffel/index.shtml. As you can see, this hotel is very close to the Eiffel Tower!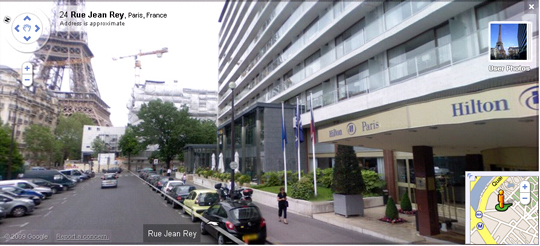 Also, my tour will not include a trip to the south of France as I mistakenly believed. The Fragonard Perfumery and museum is actually located in Paris at: Le musée du parfum, 9 rue Scribe, 75009 Paris.
One of the tourist sites I hope to visit in Paris is the Shakespeare & Company bookstore across from Notre Dame de Paris, a famous institution in the Parisian literary bohemia. According to Wikipedia, this shop served as a base for many of the writers of the Beat Generation, such as Allen Ginsberg, Gregory Corso, and William Burroughs. Today I got a book written about this quirky little bookstore, "Time Was Soft There: A Paris Sojourn at Shakespeare & Co." by Jeremy Mercer.
I hope to find a book on Arthur Rimbaud to add to my collection: