I'm going a bit overboard in my preparation for my vacation to Paris, France. I've already read three books on French customs, behavior, and attitudes. But those books are intended for people who plan to live or work in France. You really don't need to know anything about diner party etiquette if you are just going there on a one week vacation. I doubt that any bourgeoisie are going to invite me to diner. I've never been invited to diner in the United States and I would not dream of inviting anyone to diner at my house.
But I have learned a lot more about France. You may think you know a lot about a foreign country from watching their movies and reading their literature and studying their art but once you decide to visit a country and start to do some research you discover there are many aspects of the culture you didn't know. I don't read much international news so I didn't even know who the current French president is, Nicolas Sarkozy. France also has a prime minister, François Fillon, although he seems relatively unimportant.
I used Google Street View to take a virtual tour of the area around the hotel where I'll be staying, Hotel De la Tour Eiffel, 17, rue de l'Exposition – 75007 Paris. I was able to determine that it is next to the Romanian Embassy and there is a Moroccan restaurant across the street, Restaurant Le Petit Bosquet. France had many colonies in Africa which is why you'll find Moroccan restaurants in Paris.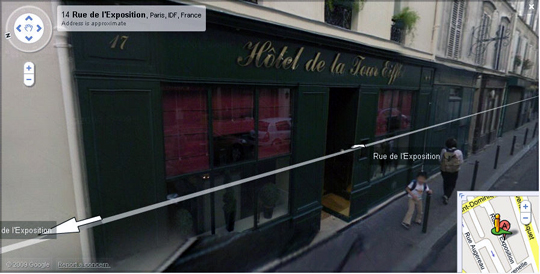 I would like to explain why this vacation is really exciting for me. I'm not a Francophile but some aspects of French culture have had a big influence on me. After I left college I fancied myself an intellectual and read a lot of literature. I've read a few books by Jean-Paul Sartre, more of his plays than his philosophy, the novels of Henry Miller and some of the diaries of Anais Nin. I've read a few novels and short stories by Ernest Hemingway although I don't worship him like most people do.
But in regards to literature, I'm really into some of the French poets; Arthur Rimbaud, Charles Baudelaire, Gérard de Nerval, and Stéphane Mallarmé. I have an extensive collection of books on each of those poets. My Rimbaud book collection contains more than 100 volumes and is probably the largest such collection outside of an university. I've adopted Rimbaud's theory of voyance as my secret personal mythology. I prefer the romantic notion of the poet as a profoundly inspired mystical genius to the modern notion of the poet as a craftsman who pursues a career of literary criticism and teaching classes in creative writing. When I go to Paris next month, following in the footsteps of my literary hero, I will see the city through the eyes of a visionary and I will allow the strange environment to permeate my unconscious until my mind seems completely foreign to my habitual identity and I become another.
I hope to visit the Village Voice Bookshop while in Paris and buy a book on Arthur Rimbaud to add to my collection. I suppose the Shakespeare & Company bookstore has more literary significance but I'm not that fond of Hemingway and it is further from my hotel.
I've also studied the French art movement, Surrealism, and read many books on the subject. I recently visited the Museum of Modern Art and saw many famous works of  Surrealist art there. I'm sure there were many French tourists in the museum that day as I heard some people speaking French but I'm so unaccustomed to seeing tourists that I probably thought they were just New Yorkers speaking French. I was also under the mistaken impression that busy New Yorkers were on their cell phones as they viewed the art work when in fact they were listening to audio tour devices that describe the paintings and sculptures in your native language.
I also like French films. One of my favorite French films is Vagabond starring Sandrine Bonnaire. This film is about a beautiful girl tramp (clochard) who is found dead in a vineyard. She is the personification of the independent spirit which just wants to be free from society so you could say she represents some aspects of the French soul.
I hope to buy some rare French films on DVD in Paris even though they will be in Region 2, PAL format and won't play on American DVD players. However, they should play just fine on my iBook because I've bought other PAL DVDs that I can view on my Mac. I also like the films of Jean-Luc Godard and Eric Rohmer although I should buy more Eric Rohmer films because I think I've only seen a few including Pauline at the Beach. A lot of my French movies are on laserdisc.
But as I've said, I was surprised by how much I did not know about France given all the French books, movies, and art history I know. None of that teaches you much about the modern nation and everyday life. I wasn't even familiar with the arrondissements of Paris!