I got the new computer I ordered. It arrived on Thursday. It is a Acer Veriton M460-ED7201C – Core 2 Duo E7200 2.53 GHz desktop PC. I have determined that the computer I've been using dates from 2005 so it is four years old. It was taking 12 minutes to compile the project for my custom help collection and then another 11 minutes for the help update so that was practically 30 minutes of lost productivity every time I wanted to update my notes. That was simply unacceptable. On my new system it takes 7 minutes to compile and 8 minutes for the help update. That is not much of an improvement but at least the processor is not maxed out so I can do other things. Below is a screen capture of my CPU Usage while compiling my project, pegged at 100% as usual. My custom help collection now has 1621 topics!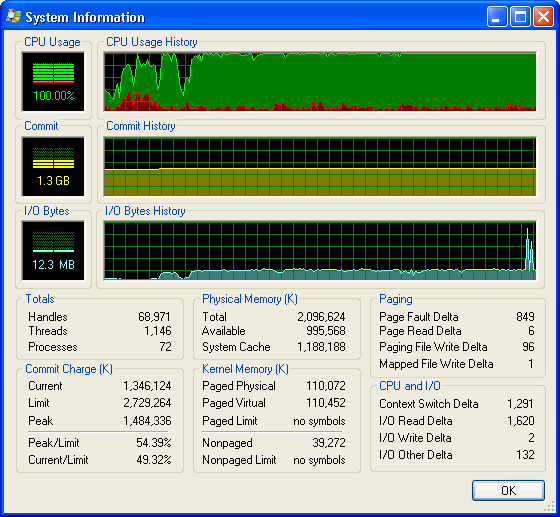 And here is a screen capture of the CPU usage on my new dual processor computer:
There were a few things I did not like about this new PC. Acer loaded it up with trial software and its own browser toolbar. And the hard drive was partitioned into two 70 GB drives, one for data, so I had to configure everything to store data on the D drive. I suppose this will be useful for backing up my data. It is running Windows Vista Business so I'll get more experience using that operating system. Vista runs IIS 7. I really needed more experience working with that web server. Unfortunately it is very time consuming for me to switch to another desktop PC because I'm a developer and programmers tend to deal with a lot of software which requires additional configuration. There are many technical details I will need to attend to. For example, I need to hack the registry so Outlook will not block any Access databases or VB.NET source files that are emailed to me. Then I have dozens of local development web sites which need their database connection strings updated. I'll probably be installing software and configuring settings for quite some time to come as I discover something missing from my old system.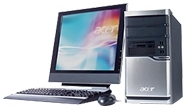 However, I do not plan to decommission my old desktop PC just yet. Right now I'm using Remote Desktop Connection to run the Acer Vista computer so I can use my widescreen monitor and the same keyboard and mouse for both systems. I probably won't switch completely over to the Acer until I find myself using the Windows XP computer less and less.
I'm interested in seeing how a dual processor system handles a really CPU intensive task like converting video. I may make more videos if it takes me less time to create titles in After Effects. It does not have a good graphics card so I won't be playing any games on this system. I prefer to be doing something more productive than gaming anyway. Some of my VSTs really need more processor power but I'm not sure my M-Audio Axiom25 works with Vista. I don't have any speakers hooked up to the Acer yet. Its sound comes over to my old PC through Remote Desktop Connection. That is good enough for system sounds but video and MP3 songs sound choppy.