I decided to visit San Francisco for my major vacation this year. San Francisco interests me for several reasons. Back when I was more of an intellectual, I read the Beat writers and North Beach poets. So San Francisco has considerable literary appeal for me. I've also read a lot about the San Francisco Zen Center so the city has some spiritual significance. But what really inspired me was the technology scene in San Francisco. Many important technology companies are based in San Francisco.
I started to read travel guides on San Francisco back in October 2014 so I've had eight months to prepare for my trip. I created over 340 web pages for my custom travel guide, watched 37 films set in San Francisco, and read numerous books by San Francisco literary figures. I read a biography of Kenneth Rexroth and a book of his poetry which has been sitting on my bookshelf for years, unread. But since I prefer drama to poetry, I also researched San Francisco theater extensively.
I spent an entire week in San Francisco which may be a little too long since I did run out of things to do and had to improvise. I did try a few new things to improve my travel skills:
I used a different airport, Harrisburg International Airport.
I bought a SIM card from ReadySim so I could use my smartphone.
I tried Uber instead of relying on public transportation or taxis.
It takes me two hours to drive down to Harrisburg International Airport. I had to use my GPS device because the highways east of Harrisburg are tricky to navigate. Harrisburg International Airport proved to be a scaled down version of a major airport. It has all the major airport amenities without the long lines for checking in or going through security. I flew with United Airlines and there was a connection at Chicago's O'Hare International Airport. Some day I plan to visit Chicago. It took one and half hours to fly to Chicago and then four hours to fly to San Francisco. I didn't have any time to explore the airports because I had to rush to make it to the gates. I barely made my connecting flight in Chicago. They had almost completed boarding when I got to the gate. It was raining in Harrisburg and Chicago which caused some brief flight delays. At O'Hare International Airport I had to get from Concourse B to Concourse C which meant going through the tunnel which is pictured in my notes. During the longer flight to San Francisco, I watched two movies using the inflight entertainment system; Chappie and Tomb Robber, a 2014 Chinese action adventure suspense thriller film directed by Yu Dao.
The plane did not fly over San Francisco but I did see a mountain range out the window, probably the Diablo Range. The mountains looked very different from Pennsylvania's mountains. Pennsylvania mountains are covered in trees and look like a lump under a green carpet. California mountains are tan in color with sparse vegetation.
I took a taxi to my hotel, the Hotel Mark Twain. The taxi ride cost me around $50.00 with the tip. I chose the Hotel Mark Twain because it had a literary ambiance, it was less expensive than other options, and it was located close to a subway station, the Powell Street Station in Hallidie Plaza. It was one of the nicer hotels I've stayed in but the neighborhood was a bit sketchy. I had to avoid walking west into the Tenderloin.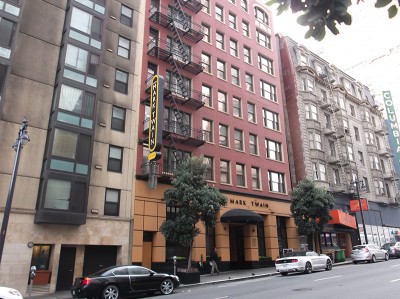 But on my first day in San Francisco I did walk through part of the Tenderloin. I walked east to get to the Civic Center Plaza. The Tenderloin is shockingly ghetto with entire streets filled with the homeless, a real skid row. I went to the Civic Center to visit the Asian Art Museum but first I stopped at Jin Mi Korean Cuisine for lunch. I had a small side dish of Kimchi which I liked, and Bibimbap, a bowl of rice with vegetables, pork, noodles, and a fried egg. This was my first experience of Korean food. Unfortunately, something must have disagreed with me because I had some gastroenteritis while at the museum and had to use the restrooms frequently.
The Asian Art Museum had two floors of exhibits. There are a lot of Asians in San Francisco because it is on the Pacific Coast. This is probably as close as I will ever get to Asia. As part of my trip research, I read Asia in the San Francisco Bay Area: A Cultural Travel Guide by Jeff Cranmer. Visiting an art museum is a good way to begin a trip since it gives you some time for quiet reflection before beginning all the hassles of dealing with an unfamiliar city. I didn't find anything I wanted to buy in the gift shop except for maybe a book on learning Chinese, but I don't want to get into that chore.
After the museum I wandered around the Civic Center a bit. The San Francisco City Hall is familiar to me from the movie Invasion of the Body Snatchers starring Donald Sutherland. That is where the pod people work!
I walked back east on Golden Gate Avenue until I reached Show Dogs, a restaurant serving sausages and artisanal hot dogs. This restaurant is interesting for two reasons. First, it is in the flatiron building which appears in the film Interview With The Vampire. The actual interview with the vampire took place upstairs. Second, this place is mentioned in the book Startupland, about the Zendesk company which has its headquarters in the Tenderloin. I ordered a vanilla milkshake and a Smoked Kielbasa, probably not a good combination given my bout of diarrhea. Show Dogs is just across the street from the Golden Gate Theatre which featured the musical Annie. I sat across from a theater worker wearing an Annie jacket.
I then walked further down Market Street until I came across a Walgreen's where I bought several travel sized toiletries; a small can of shaving cream, two razors, a small bottle of skin lotion, a small bar of soap, and Axe Antiperspirant. I also found a street map for Silicon Valley which I thought would be useful someday. I should mention here that you always have to pay a small fee to get a bag in San Francisco so you should always mention that you need a bag. I returned to the hotel with my purchase.
I continued to explore Market Street until I found the Metreon shopping center which has an AMC Loews Cineplex. I didn't plan to waste any time on my vacation watching movies, but I was tired so I purchased a movie ticket on impulse using my credit card. A ticket to see Tomorrowland cost me $12.99 which is ridiculously expensive. I could buy a DVD for that! The movie did not start until 7:35 p.m. so I had some time to kill before then. I found a Chronicle Books book store at the Metreon shopping center but they only sold books they published so I didn't find anything to buy. I explored the nearby Yerba Buena Gardens and found the Moscone Center where many technology conferences are held. It started to get chilly so I walked back to my hotel to get my coat. The weather in San Francisco is as strange as the travel guides promised. It can be bright and sunny and you'll get hot but there will also be a breeze from the Pacific Ocean that will leave you a little chilly. I bought a light sweater for this trip which was perfect since I could tie it around my waist when I got too hot.
Tomorrowland was silly film that barely made any sense. Hollywood is always going over the top nowadays and produces films with too much video game action and a poor excuse for a story. The film did have a good message about being optimistic about the future. I bought a bottle of orange juice which I drank before the film started.
That was my first day in San Francisco. This was my first trip to the West Coast. There are probably only three other major cities that I will visit in the United States; Chicago, Boston, and Los Angeles. There may be other cities that are worthwhile to visit, but none that I want to spend thousands of dollars to visit.