Yesterday I hiked the entire Golden Eagle Trail. It took me ten hours to hike this 9 mile trail. The Golden Eagle Trail is located in the Tiadaghton State Forest in Lycoming County. It is near the Little Pine State Park on the far west border of Lycoming County. To reach the trail you must drive pass the town of Jersey Shore and take Exit 120 onto Route 44 North. Just past Waterville, you will take a right off of PA 44 onto route PA 414. I almost turned right onto the wrong road, Little Pine Creek Road in Waterville since the signs showed that is the way to Little Pine State Park, but you actually need to drive out of Waterville before you can get on Route 414 North. Unfortunately, most of the tourist attractions in Pennsylvania require a long drive deep into the woods. I took some photos of the Clark Access Area parking lot to help me to find the place again.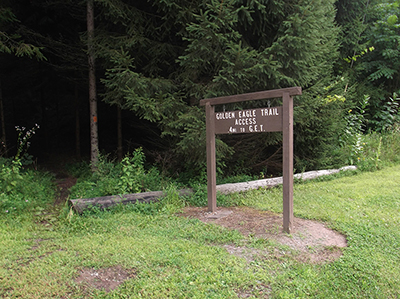 I saw part of the Pine Creek Rail Trail, an old railroad line which has been converted into a bike trail. The Pine Creek Rail Trail is 65 miles long and stretches from Jersey Shore up to Wellsboro. Considering how long it takes me to drive to Wellsboro, I would not want to ride a bike that far. But it would be practical to ride part of the trail for the scenery. I also saw a few country inns and restaurants which seemed rustic, but upscale, clearly designed to cater to outdoor recreationists. The area was comparable to the Poconos. There is really nothing special about the Poconos. Most of Pennsylvania is nearly identical to the Poconos. But the Poconos has become famous for outdoor recreation because it is within reasonable driving distance to New York City and Philadelphia. My point is that I can find great outdoor recreation closer to home, without driving two hours to the Poconos.
I came well-prepared for this long hike. I used to hike the Falls Trail at Ricketts Glen State Park without even a bottle of water. I brought three 17 ounce bottles of Sparkling ICE on this hike and drank all of it. I also wore my new hiking shoes and used my new hiking poles. Hiking poles are great for climbing uphill or downhill and there was plenty of that on this trail! I only saw a few other hikers on the trail and almost everyone had hiking poles. I bought a trail guide for the Golden Eagle Trail from PAHikes. The Guide to the Golden Eagle Trail includes detailed directions with points of interest which was helpful in determining my progress.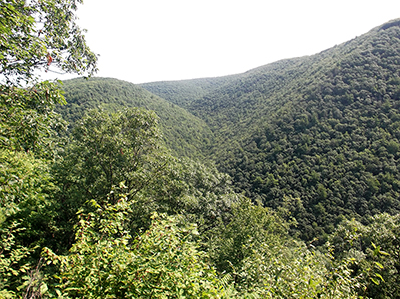 The Golden Eagle Trail proved to be quite an ordeal. There are some fantastic vistas on the trail but you have to earn it by climbing uphill. I started on the trail at 8:45 a.m. and didn't finish until 6:30 p.m. Towards the end I was worried that I would be in the woods after dark. Fortunately I did have a hiker's headlamp in my backpack. I didn't see any wildlife except for one deer and a chipmunk. I hiked this trail counter-clockwise so first I encountered the Wolf Run vista. I ventured out into a rock ledge but it made me very nervous. The view was spectacular! The next vista I found was the famous Ravenshorn Vista. All of the photos of the Golden Eagle Trail feature the Ravenshorn Vista, usually with a hiker standing on the Raven's Horn, a large rock formation that you can climb onto. It looks like a precipice of a mountain but if you fell off you would only land 20 feet below the large rock formation. This was were I encountered the first hiker I saw. The trail was completely deserted most of the time. The view was even more spectacular than the Wolf Run vista.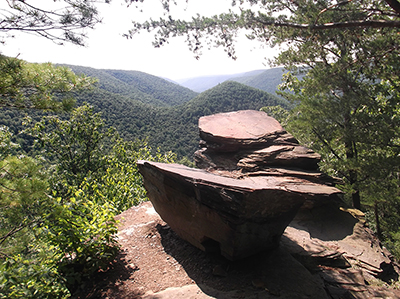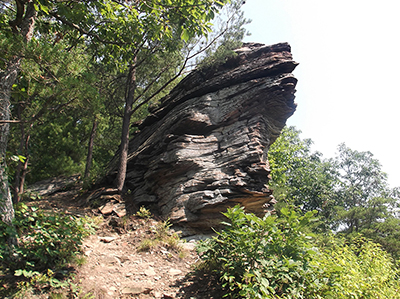 Most of the Golden Eagle Trail is a seemingly endless hike along the Wolf Run creek and the Bonnell Run creek. You have to cross these creeks dozens of times but fortunately the creek beds were bone dry or there was only a trickle of water. My hiking shoes are not waterproof but I did order a pair of waterproof hiking boots. Every uphill climb really winded me. I could only climb uphill for 15 feet before I needed to stop and take a rest.  At the end of a Game Commission Access Trail, which is like a grass road through the woods, I found the Beulahland Vista which offers another great view of the mountains and valleys.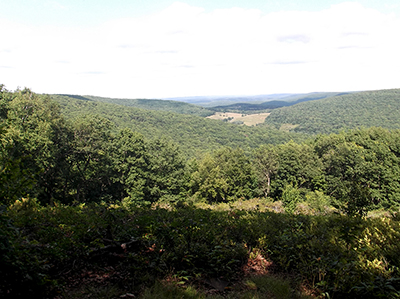 After hiking the entire length of the Golden Eagle Trail, I feel like a real hiker, a mountain man, a frontiersman. This was a very strenuous hike. It was almost too much for a day hike since I barely got out of the woods before dark. But it was interesting to see some of the outdoor recreational areas that Lycoming County is famous for. There are many more hiking trails in Pennsylvania. I plan to do some more hiking because it is a cheap way to make a trip. I have bought several books on hiking in Pennsylvania.