Today I went hiking in Rider Park. Rider Park must be the best kept secret of Lycoming County. Nobody seems to know anything about it. The park is managed by the First Community Foundation Partnership of Pennsylvania. Rider Park is not a state park which may be why the park is not well known. However it is open to the public and it is free.
Finding Rider Park proved to be slightly difficult because you have to follow a detour while a bridge is being repaired. Like many attractions in Pennsylvania, you have to follow winding roads into the woods and climb hills to reach your destination. The drive is often scenic but nerve wracking. The great thing about Rider Park is that it is only 15 minutes away so it does not require a long drive. Rider Park is located near Warrensville, north of Montoursville, an area I have never explored.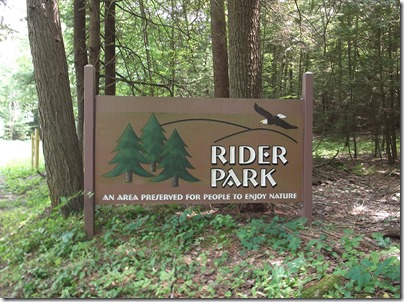 I have been doing a lot of hiking this summer. I'm proud that I'm taking advantage of the summer instead of staying home sitting in front of my computer all day. So far I have been to Ricketts Glen State Park (twice), Watkins Glen State Park, Big Pocono State Park, Bushkill Falls, and Hickory Run State Park (Boulder Field). I have decided to get a little more serious about hiking and buy some of the hiking gear you should have. At the very least, you need to bring some water with you on a hike or you will be dying of thirst before you are through. On this hike I had a small first aid kit, my Leatherman multi-tool, binoculars, moist towelettes, and a bottle of water. I also wore the hiking hat I bought on the Delaware Water Gap trip. My backpack is a really cheap one I bought at a dollar store but it is holding up well.
The trails at Rider Park are very wide. You could easily ride an all-terrain vehicle (ATV) on the trails but motorized recreational vehicles are prohibited. I did see plenty of tire tracks on the trails which were too large to be caused by mountain bikes. Since the trails were so wide it was very easy to follow them. The trail blazes are colored dots at eye level on trees. There were also many trail signs to show you the way.
I found trail maps at the parking lot. I started on the Francis X. Kennedy Trail (Green) and found the Doe Pen Vista. I heard a lot of gunshots at Doe Pen Vista because there are sportsmen grounds nearby. The constant sound of a rifle being fired made me very nervous. I did take some great photos of the vista and I used my binoculars to get a closer view of the valley below.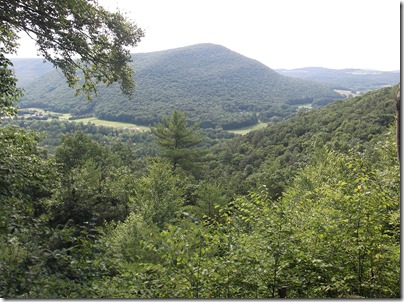 I then got on the Blue trail (Cheryl's Trail) which is one of the longer trails. I saw lots of ferns along the trail and woods with a carpeting of ferns which is my favorite nature scene. Cheryl's Trail goes through some areas that are not densely wooded but appear more like a true park, still wild and not landscaped but maybe cleared of undergrowth. And there were some interesting things to see like a small graveyard, a mountain meadow with wild flowers, and the foundations of old homesteads. I found a metal toolbox in the homestead of Charles Ludwig. It must be a geocache. It contained a student's ID card and some moldy papers. There was even a park bench where you could sit and contemplate the meadow.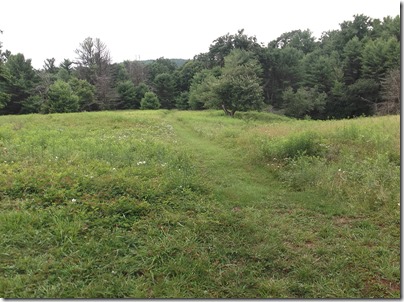 Before returning to the parking lot I checked out the pavilion. Near the pavilion is the foundations of a barn which has been filled in with a wildflower garden. Some rusty farm implements were arranged around the old barn foundations. I also saw the homestead of Norman S. Wheeland which features the remains of stone walls and a stone cellar.
At the parking lot I found the Katy Jane Trail trailhead (Yellow). This trail is all uphill so it is very exhausting but it does lead to two vistas. I think it is the Loyalsock Creek Valley that you see from the vistas. From one of the vistas you can see more farms and rural dwellings along a road. I took a shortcut to get back to the parking lot, the Saddle Trail, where I saw a deer. That was the first wildlife I've seen while hiking. You could see a black bear while hiking in Lycoming County but I'm not too eager to see one of those in the wild. But it is neat to see a wild deer in the woods.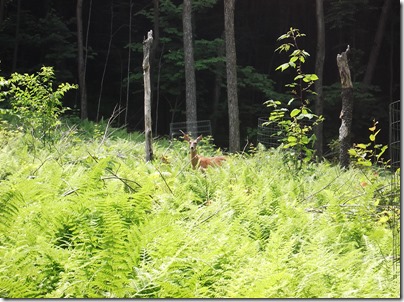 I did get lost while trying to find my way home but since I was still in Lycoming County it wasn't too hard to find the way to Williamsport. It was interesting to see some rural roads in Lycoming County which I have never seen before. At one point I passed a large brick apartment building which looked surprising modern and upscale. I eventually reached "confusion corner" near Brandon Park which was a surprise. Using Google Maps, I can see that Rose Valley Lake is west of Rider Park and I must have come down Bloomingrove Road which leads to Brandon Park. My mistake was going west on Route 973 when I should have gone east to return to Warrensville Road. It looks like I could have followed Route 973 West to Lycoming Creek Road which is a better route for me to take.