On Saturday during the July 4th weekend I made my second trip to the Poconos and Stroudsburg. I managed to spend the entire day in the area and did most of the things on my itinerary.
My first goal was to visit the Big Pocono State Park. The park is maintained by the Camelback Mountain Resort which is a large ski resort and waterpark. You have to drive past the Camelback Mountain Resort to reach the park on a curvy rural road that is partially uphill. I had precise directions on how to reach the state park but I wasn't certain I was going the right way until I saw the park entrance. The Camelback Mountain Resort seemed to be quite busy for the July 4th weekend but fortunately I didn't see a long line of cars until I went back down the mountain.
The main attraction of the Big Pocono State Park is the spectacular view of the countryside from that elevation. You can see the woods and mountains of Pennsylvania for a long distance in every direction. You can even see the Delaware Water Gap far in the distance. I hiked the Indian Trail which was more rocky than I expected. I thought I had gotten onto another trail but according to the park map I probably stayed on the Indian Trail which loops around. The Indian Trail is orange blazed and I only saw orange trail markings. The trail led deep into the woods. I saw rock outcroppings and lots of ferns which always look pretty in the woods. At one point the trail offers a great view of the Camelback Mountain Resort from above so I took many photos of that. I also saw the Stevenson Express chairlift operated by the ski resort.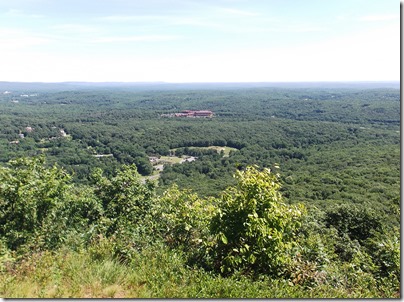 My next goal was Bushkill Falls. To reach Bushkill Falls I had to retrace my route and get back on Interstate 80 which proved to be easy. I noticed that traffic was really backed up on Interstate 80 in the other direction. I think there was a Pocono Raceway race going on that day. I took exit 309 and got on US-209 North. This road was extremely congested and I probably spent an hour crawling along it. I thought there may have been an accident but the only thing I saw which might have backed up traffic was some firemen stopping traffic to collect donations in their firemen helmets. If those firemen were indeed responsible for backing up traffic for miles then that makes them the entitled assholes of the year!
Bushkill Falls was very crowded for the July 4th weekend. I had to park near the entrance on a grass lot in the last available space that you could squeeze into. When I left there were even cars parked along the highway. A ticket for Bushkill Falls costs $12.50 for an adult. It is billed as the Niagara Falls of Pennsylvania. Part of the trail is wooden walkways with handrails similar to Watkins Glen State Park's rock trails. These privately owned waterfall areas have better trails than state parks which never had any commercial development. All of the trails were pretty crowded. I hiked the Bridal Veil Falls Trail which was too steep for me. I almost passed out after climbing uphill. But from Peter's Corner it was easier to go downhill and I found a great view at the Delaware Valley Lookout. I also did the yellow trail through the Lower Gorge Falls, Laurel Glen, and the Upper Canyon. The Main Falls was spectacular and well worth the effort. I saw many Asian and Indian tourists so there must be international tourists visiting the Poconos.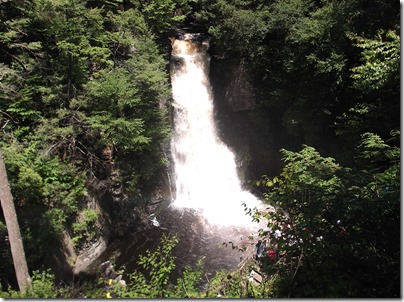 I bought a book at the Bushkill Falls gift shop, Pennsylvania Waterfalls: A Guide For Hikers and Photographers by Scott E. Brown. I figured this book would help me to identify the waterfalls I've already seen. I have many photos to tag. There are also some waterfalls in the Delaware Water Gap National Recreational Area which I plan to see.
Fortunately I did not find my car boxed in when it was time to go. I had no problem backing out of my parking space on the grass lot. US-209 South was still a bit congested on the way back. There are just too many establishments along that road to tempt motorists to slow down and turn off the road. I passed a few golf courses and the Pocono Palace Resort. I forgot to mention that I grabbed a bunch of brochures at Bushkill Falls. I also took brochures at rest stops on my way to the Poconos and back. I am making many improvements to my Pennsylvania travel guide this summer. I needed these brochures for further research.
Next on my itinerary was another visit to Stroudsburg. The focus of this visit was East Stroudsburg because I could find few photos online of establishments in this part of Stroudsburg. Although I could have followed US-209 to East Stroudsburg by taking the Business Route, I thought it would be easier to backtrack along my original route to Interstate 80. I took exit 307 to reach Broad Street in Stroudsburg. This was important because I need to know how to get off Interstate 80 West to get back to Stroudsburg. I turned left to drive down Ann Street to park in the same place as my previous trip.
I walked east on Ann Street and took a photo of the Stroudsburg post office for my custom travel guide because I did not like the photo I found online. The post office building is an attractive art deco building described on the Monroe County Historical Association web site. I also noticed the Willowtree Inn on Ann Street so I took photos of that restaurant. I thought this restaurant was supposed to offer views of woodlands? Yet here it was on a residential street downtown. I have to add this place to my notes.
I did finally eat at a Stroudsburg restaurant. I had dinner at Marco Antonio's, which specializes in Spanish and Portuguese cuisine. I ordered the Alentejana plate, which is seasoned pork, clams, and  potatoes sautéed in a savory white wine and garlic sauce. Marco Antonio's is a Bring Your Own Beer establishment and I saw a large party bring in a bottle of wine. In Pennsylvania, you can only buy wine at a state run liquor store. Stroundsburg has a Wine & Spirits store on Main Street. My bill was only slightly more than $25.00 which was about what the Alentejana costs. This was a pleasant surprise after my sticker shock at the bill at Osteria al Doge in New York City which was unexpectedly twice the cost of the main entree.
It was getting late and I was very tempted to skip the next item on my itinerary and just go to Stroud Mall. Fortunately the prospect of making another long trip to the Poconos to make up for what I didn't do on this trip, steeled me to making the trip over to East Stroudsburg. I was reluctant because I did not have precise directions to find Crystal Street. Fortunately it was easy to get to Crystal Street. This street is supposedly the main drag of East Stroudsburg but I did not find it very impressive. I took many photos of interesting establishments because you cannot see Crystal Street on Google Street View and few photos exist of East Stroudsburg. I took photos of; the Trackside Station with the Liquid Restaurant & Martini Bar, the Municipal Building with its clock, the Alexander Loder house, the Pocono Cinema which was advertising a Frazettta Screening, Franzettta's Fantasy Corner and Golf World in a Masonic Hall building, and the Lackawana Hotel Tavern.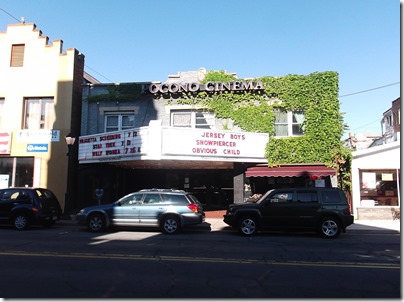 After leaving East Stroudsburg I drove back to Stroudsburg and followed Main Street to 9th Street. I turned right onto 9th Street and went to Stroud Mall. Stroud Mall is quite similar to our Lycoming Mall with the same stores. First I went to Books-A-Million where I bought a Time Out guide to New York for Visitors, a 128 page magazine. I didn't really need this but it had a great cover photo of the Empire State Building. I also bought Bill Bryson's A Walk In The Woods, a humorous account of his attempt to hike the Appalachian Trail. You can actually reach the Appalachian Trail at the Delaware Water Gap National Recreational Area. But I was mainly interested in this book because I've been doing a lot of walking in the woods. I can tell from my sales receipt that it was 5:00 p.m. when I made my purchase. I'm glad I managed to spend the entire day in the Poconos without cutting short my trip. I then went to Fye which is practically the only chain of stores left which sells physical CDs and DVDs. I was looking for DVDs on Flight 93 on September 11 but I had to settle for Oliver Stone's film on the World Trace Center.
Before going home I did stop at the Lycoming Mall where I did find the United 93 film on DVD at Fye. I also visited Books-A-Million in this mall and bought the book Off The Beaten Path Pennsylvania which has the Reading Pagoda on its cover. I had seen this book at Stroud Mall and regretted not buying it. I have been reading all my Pennsylvania travel guides since I'm doing some intense exploration of the state this summer. And finally I stopped in at Sweet Frog in my neighborhood for a treat of frozen yogurt just to make the day complete.
This trip did much to advance my knowledge of the Poconos which is still a popular destination for New Yorkers and people from Philadelphia. I really enjoy hiking in the woods which is sort of nostalgic since it is a quintessential experience for residents of Pennsylvania. I even remember a rare instance of being sent to a summer camp but I don't remember its name. My sister used to take us hiking in the woods far up our road which climbed a mountain into mysterious private land. I should probably invest in some hiking gear if I'm going to visit state parks often. For my next trip to the Poconos I will concentrate on the Delaware Water Gap.