On Saturday I made my 30th day trip to New York City. So I have spent a month in New York City without paying for a hotel room (except for one overnight trip). I can still find things to do in the city but my trips are becoming a bit repetitive.
The first item on my itinerary was to visit an establishment on 28th Street.  My Metrocard had insufficient funds for the fare on the 1 train. Instead of buying a new Metrocard as usual, I used a smaller vending machine to add value to my card. I'm ridiculously pleased with this accomplishment. However, you can only use a debit card or a credit card to add value to your card. You cannot use cash. I saw a lot of stores selling flowers on West 28th Street. It is New York's Flower District.
Next on my agenda was to visit Poets House, part of New York City's literary community. New York City has always been the center of America's publishing industry and a mecca for aspiring writers. I was planning on finding a poetry book and reading a poem or two at Poets House but all I really did was pop in and examine a showcase of independent presses. There were some musicians performing in the exhibition space which was open to the outside. I was practically the only one there and it seemed a bit awkward. Anyway, I had a reservation for the 9/11 Museum so I was in a bit of a hurry.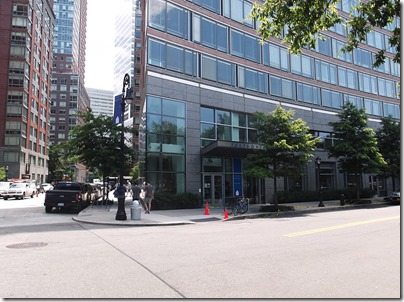 I then found the Irish Hunger Memorial which I only recently discovered while looking at Google Maps of the area. The Irish Hunger Memorial was created in 2002 so it hasn't been there for long. The memorial is a peculiar park built atop a oyster-like pedestal.  You enter the park through a tunnel in the pedestal and then climb a grassy hillside. It will be hard to picture the memorial based on this description so find some photos online. The Irish Hunger Memorial features the ruins of a 19th century Irish cottage. I'm not sure why you would want to place a memorial to the Great Irish Famine in New York City. The famine did cause millions of Irish to emigrate to the United States and New York City. They should create a giant empty whiskey bottle for an Irish Thirst Memorial.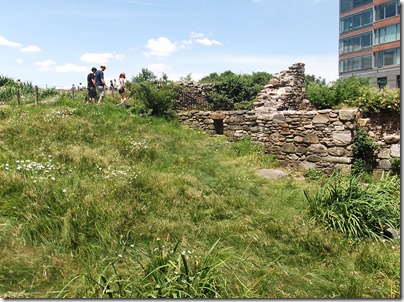 Next I walked east and found St. Paul's Chapel and Zuccotti Park. St. Paul's Chapel has many exhibits honoring its role in providing a shelter for the victims of 9/11 and later the recovery workers. You should definitely make this church part of your visit to the 9/11 Memorial and Museum. The Zuccotti Park was interesting because that is where the Occupy Wall Street protesters camped out.
After that I went to the 9/11 Memorial and Museum. I wasn't terribly interested in seeing the new museum and the memorial but I was going to be in the area anyway so it made sense to go there. The memorial pools are an impressive sight and a great use of the footprints of the World Trade Center Twin Towers. For the best view, position yourself on any corner. Considering how massive those buildings were, it does not take long to walk around the pools. There are of course, two pools since there were two towers. I did see the new One World Trade Center which is now the tallest building in Manhattan. There is still a lot of construction going on in the area. I think they are building a new World Trade Center PATH station. The World Trade Center Transportation Hub is a peculiar structure which looks like the ribs and spine of a giant, alien dinosaur.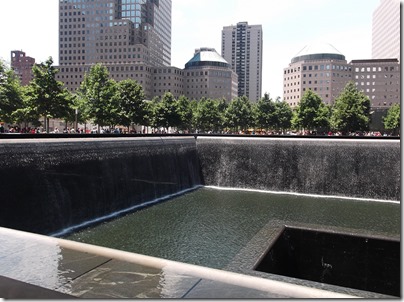 The 9/11 Museum opened in May 2014, last month, so obviously I could not have visited the museum on previous trips. The museum is a bit crowded because it is a new attraction. You should definitely buy a ticket online to reserve a time for your visit. I suspect that eventually you will find it easier to visit the museum, but right now it requires a reservation and a bit of hassle. I arrived 20 minutes early but there was still a long line for the 2:00 p.m. entry time. There was some security to go through. You just had to empty your pockets of any electronics and large metal items. The security around the 9/11 Memorial is kind of annoying because the target of the terrorist attacks is long gone.
It took a lot longer to go through the 9/11 Museum than I expected. I think you should give it two hours. There is actually an extensive series of exhibits and it takes quite a while to see everything. I saw the personal effects of people killed in the attacks and various pieces of rubble. There were multimedia presentations to explain the events. The 9/11 Museum also includes material on the Pentagon attack and the crash of Flight 93 in Shanksville Pennsylvania. The museum is full of grim reminders of the tragedy that struck that day. Some artifacts seem dated, like the cell phones, while other things like the Metrocards are the same today.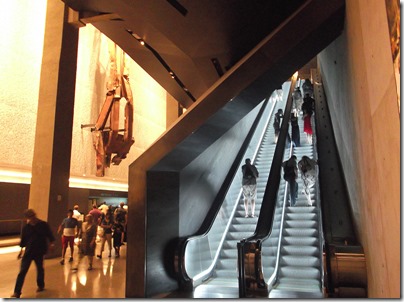 I have not given much thought to September 11 on my trips to New York City, although it is mentioned in contemporary travel guides. September 11 was a Tuesday and I was at work that day. I was working as a web developer for a small web design company and we used to go to the Internet World shows at the Jacob K. Javits Convention Center. So at that time I was enjoying trips to New York City which made my profession seem especially glamorous. My very first trip to New York City was a complete nightmare but I remember seeing the World Trade Center Plaza.
Before leaving the 9/11 Museum I went to its controversial store. I looked for a book that would explain everything that happened that day. They did have the 9/11 Commission Report but I feared that would be too tedious to read. I saw they did sell some books with other viewpoints like Noam Chomsky's 9-11: Was There an Alternative? but not any of the stupid conspiracy books. I bought the book 102 Minutes by Jim Dwyer and Kevin Flynn which appears to tell personal accounts of survival in the Twin Towers. I also bought a 9/11 Museum bookmark which was cheap enough for an impulse buy.
My final goal for this trip was dinner at Osteria al Doge. I was going to eat at Pigalle but you can't make a reservation online and when I called to make a reservation they hung up on me when I told them when I wanted I eat. Osteria al Doge is on West 44th Street so I made my way uptown with plenty of time to spare. I wandered around the theater district a bit but it was even more crowded than usual. There were bus loads of people outside the stage door of the Richard Rodgers Theatre and it was difficult to squeeze through. They may have been hoping to see Idina Menzel, the leading actress  in the blockbuster Broadway musical Wicked. I bought a slushie at the Theatre District Shopping Court because I was dying from thirst. When I finally made my way to West 44th Street I discovered that 6th Avenue was blocked off for a huge street fair. New York City street fairs are an excellent opportunity to walk down the center of a street and take photos from that unusual perspective. My meal at Osteria al Doge was ridiculously expensive, $51.00 for just one person. I ordered the Calamari Alla Griglia, lemon and  herb marinated grilled calamari served with tomato, sweet bell pepper, and cucumber salad. I also had a glass of wine and tiramisu for dessert. In the future, I think I will stick to Japanese ramen restaurants which offer a cheap meal which is exotic enough.
After dinner I still had an hour to kill so I went to the Kinokuniya Bookstore across from Bryant Park. I went upstairs and found the DVD section where I selected the Japanese science fiction movie Gantz. I like to watch contemporary Japanese films. I bought several on Amazon before my trip to New Orleans. I didn't do much shopping on this trip to New York City. I only bought one book and one DVD. But it was still an expensive trip. I found a table at Bryant Park and sat there for a while before heading to 51st Street to catch the bus home. I think Bryant Park might be a good place to kill time for the last hour of my NYC trips instead of the crowded Times Square, but it is a little far from where I need to be.
Next week I plan to continue my exploration of Stroudsburg and the Poconos. We drove past Stroudsburg on the way to New York City and I could see part of the city visible from the highway now that I know what to look for. If I lived in Stroudsburg PA I could visit New York City even more often and without such a tedious bus trip!