Today I finally drove north into New York State to see some of the attractions. I've gone on a few bus trips to Niagara Falls which went through New York, but this was the first time I ventured up there on my own. I have done so much traveling this weekend that it seems like a real vacation, with multiple attractions seen each day as if I had limited time.
The drive north into lower New York State was very scenic. I drove through some fog in the higher elevations so there was an interesting mix of bright sunlight, patches of fog, and green mountains. I arrived at Watkins Glen State Park around 9:00 a.m. I wanted to be early because I heard the parking lot gets full on weekends. This did seem to be the case by noon. You are supposed to pay a $8.00 vehicle use fee when you enter the park but there was nobody around to take the money and give out tickets. I wasn't asked to pay when I left so I got to visit the park for free!
Watkins Glen State Park has some spectacular waterfalls and a deep gorge making for some incredible rock cliffs. It was better than Ricketts Glen State Park. The trail was also better with well made stone steps, rock tunnels, and strategically placed rock bridges. The falls trail in Ricketts Glen State Park is primitive in comparison and far more treacherous. There was a lot of places  where water was dripping onto the trail so I got a little wet and had to walk through some puddles. I had to worry about getting water on my camera lens. I took a lot of photos and even some video which I will upload to YouTube. On the Indian Trail I saw a small mountain cemetery with some impressive monuments so I photographed that too. Watkins Glen State Park has a gift shop but I only bought a heart shaped polished stone for $7.00 as a memento.
After leaving Watkins Glen State Park I went to the Corning Museum of Glass in Corning, New York because it was only a short drive from the park. There is a billboard advertising the Corning Museum of Glass in Williamsport. I pass that billboard every day on the way home from work so I thought it was about time to visit the place. But I'm not very interested in glass.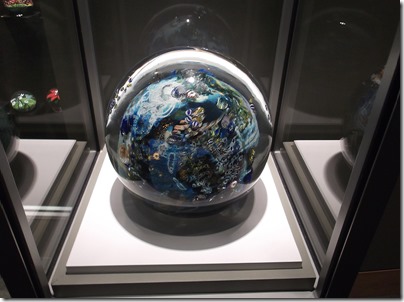 The Corning Museum of Glass was better than I expected. They have an extensive collection of glass objects from throughout history including ancient Roman glass, Venetian glass, glass eyes, stained glass windows, glass paperweights, and contemporary art done in glass. They seemed to have a few international visitors. There was also a massive gift shop selling glass animals, glass paperweights, glass chess sets, and books on glass artwork. I bought a glass paperweight which was 50% off.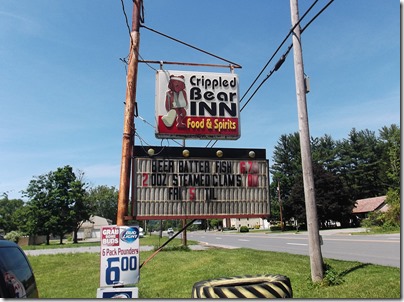 After driving back down Route 15 I stopped in at the Cripple Bear Inn for one last adventure. Cripple Bear Inn has "local character". The restaurant is full of hunting trophies, stuffed bears, bear skins, and deer antlers. It also serves as a biker bar so there are always a line of motorcycles lined up outside. Their food is pretty good and I always find the place packed with patrons. Today was Father's Day and I thought the place looked half empty but then I noticed they have a courtyard and I saw the waitresses take a lot of food out to the courtyard. I ordered a prime rib sandwich with sautéed onions and melted provolone and a glass of Pepsi. Cripple Bear Inn is pretty close to my house so I could go there often but I'm rarely heading in that direction.